In response to the COVID-19 pandemic, air purifiers have become a ubiquitous presence in homes, businesses, and schools. Now, everyone's favorite kitchen gadget company is launching one, too. That's right: Instant Pot is selling an air purifier.
The decision to get into the air purifying business was entirely inspired by the pandemic. "We felt a deep responsibility to help solve for a major concern facing our customers as the pandemic surged," said Ben Gadbois, Instant Brands CEO, in a press release. "We knew that a new normal was going to emerge where air quality would matter more than ever. So, over the past year, our teams engineered a revolutionary innovation to improve air quality while still offering an affordable solution for homes, work spaces, dorm rooms, or wherever our Instant families need us."
The Instant purifier comes in two sizes, small and large, and boasts medical-grade HEPA-13 filters and the ability to "remove 99.9% of the virus that causes COVID-19." The claim is based on testing the purifier against SARS-COV-2 in a 13-cubic-foot laboratory chamber, where the air inside the space passed through the device 10 times. The company does not claim to prevent COVID-19 transmission. The Association of Household Appliance Manufacturers (AHAM) independently checked the Instant air purifier's ability to clean the air: The $130 small air purifier can handle 126 square feet, and the $240 large air purifier can filter up to 388 square feet of space.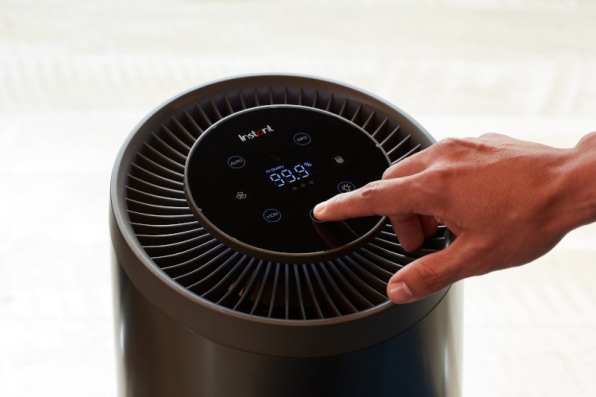 Last year, government agencies suggested indoor air filtration systems could be a good supplement to mask wearing, social distancing, and handwashing against COVID-19. Researchers seem to agree that HEPA (High Efficiency Particulate Air) filters can do a lot to remove small particles from the air, including viruses. Schools around the country have spent millions on air purifiers.
But the pandemic has also ushered in a whole new wave of air purifying technology called bipolar ionization, which uses electricity to produce positive and negative ions that attach to molecules and neutralize them. This technology is much more controversial. Studies have shown that these systems aren't particularly effective and may add harmful volatile organic compounds (VOCs) to the air. The Lancet Commission on COVID-19 has warned that these technologies are unproven. One manufacturer of bipolar ionizing filtration systems, Global Plasma Solutions, is currently facing a lawsuit for falsely marketing that its air purifiers can eliminate VOCs and COVID-19 virus particles based in part on an independent review conducted by Boeing.
The Instant air purifiers use both HEPA filters and plasma ion technology. During its test against SARS-COV-2, the company used both HEPA filters and the less proven ion technology, showing it does effectively reduce levels of the virus. The company says the combination of the advanced 3-in-1 HEPA-13 filtration plus plasma ion technology produced the best results in their independent lab testing.
If you were already using your Instant Pot to sterilize your N95, you might consider Instant's new air purifier.