As you walk into the room, you realize it's no normal room. It's a living forest, transported into the frame of four white walls.
This is Invocation for Hope, a new living installation by the speculative future group Superflux for the Vienna Biennale that asks viewers to look climate change in the eye. (The installation runs now through October 3, and is free to attend inside the Museum of Applied Arts.).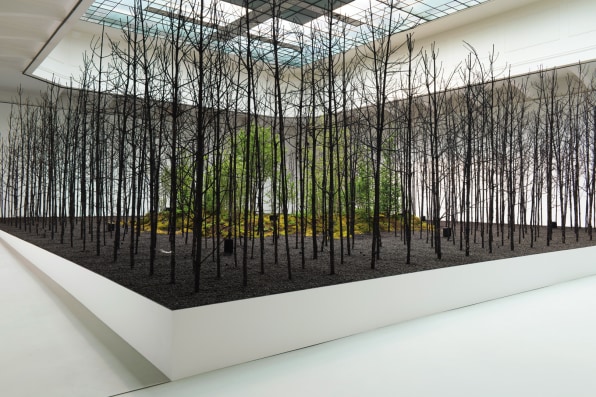 You walk through a perfect grid of burned trees, to reach a thriving, free-form forest. And in the middle, there's a pool to gaze into where you will see, not your own actual reflection, but other animals thriving.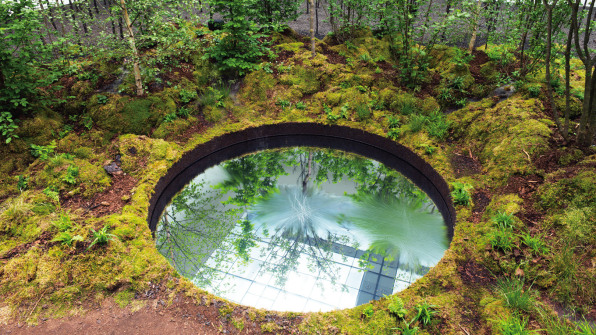 To build the installation, Superflux worked with forest and fire departments in Austria to source and transport hundreds of trees into the space inside the museum. The burnt trees were already lost to a wildfire—one that occurred in part because the trees were part of a human-planted monoculture. (When forests lack natural biodiversity, they are more susceptible to all sorts of issues, including burning.)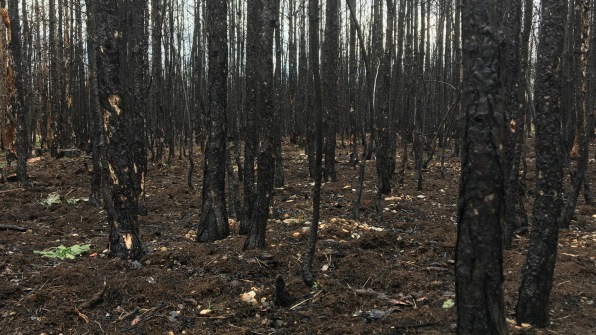 The burned grid represents human interference in nature. And once you escape it, you arrive at a green oasis filled with young trees, ferns, and mosses. It's a literal symbol of regrowth and resilience. While this scene is built indoors, this forest is still living. A floor of coconut fiber, sand, and soil hold the plants in space. The floor is built to allow full irrigation. (At the end of the installation's run in October, the trees will be donated to local schools, while the burnt trees will be turned into mulch.)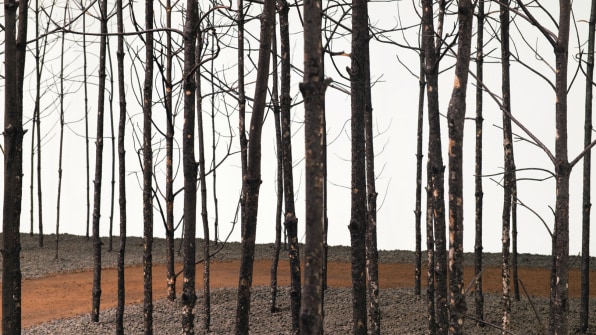 Of course, you might wonder why Superflux put so much effort into transporting and recreating a forest, when it could have brought people into a real forest instead. And the answer is that they wanted to curate an experience, and a statement, that they didn't feel like they could create in nature itself.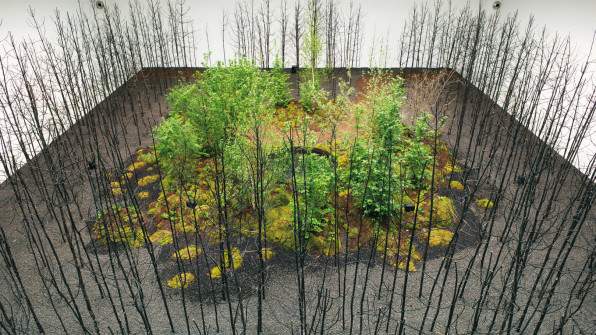 "We wanted to tell the story of our journey from current destructive human behavior toward a hopeful future within the installation," says Superflux cofounder Anab Jain. "The immediate [transition from] a wildfire-destroyed forest to a resurgent multi-species plants, trees, birds, and animals is not so vividly clear in our encounters 'in nature.'"