Now the company is expanding by adding a few staples to its roster: a $95 walnut cutting board and a trio of essential knives, starting at $40.
Our Place founder Shiza Shahid introduced her direct-to-consumer kitchenware brand in 2019 with a 'do more with less' mentality—like, why have an army of pots and pans from a traditional cookie cutter box set when you just have one that does it all? And does it all well?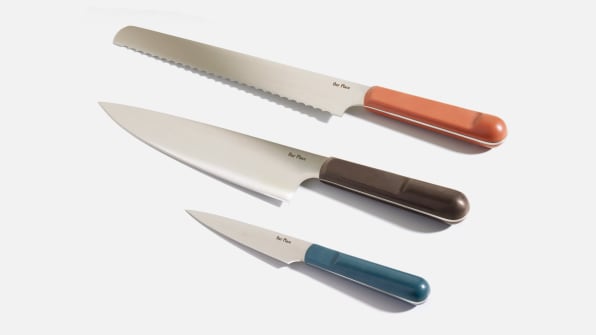 The similar mindset went into the development of the brand's new additions: the Everyday Chef's Knife, Serrated Slicing Knife, and Precise Paring Knife are each designed to last a lifetime and to train its chefs to use them properly. Each full-tang knife (meaning: the German steel blade runs through the handle) comes in Our Place's signature Seventies-esque colors colors and features a unique grooved "pinch" grip handle, so your hand is naturally positioned to chop like a pro. The collection, which is sold individually and as bundles, is made to replace that clunky knife block or piecemeal set with something more streamlined and simple.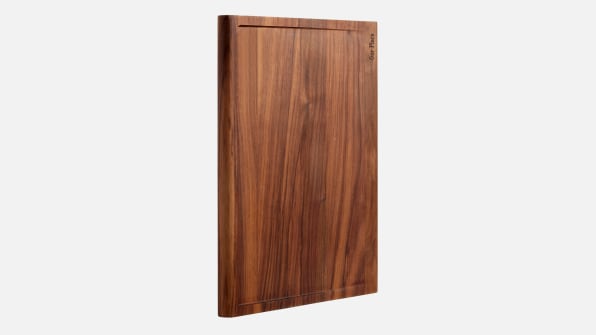 Likewise, the Walnut Cutting Board keeps thing simple. She's handsome. She's thick. She's got a nice trenched rim to capture any stray liquids while you chop. And Our Place positions her as a dual purpose serving platter: Just flip the board on its back and place charcuterie across the other side. While the concept is fairly basic, I can't imagine a cutting board needs to be much more complicated than this. I suppose the main selling point is that if you're going to spend money on a cutting board, it should be a quality one. 
Both are solid additions to Our Place's extremely aesthetic family of products, which include  porcelain dinnerware and Always Pan accessories, and hew to the company's mission to serve multiethnic households. There's nothing overtly cultural about these four new items, but they feel accessible and useful all the same. Our Place just wants to keep us in the kitchen. And for those of us who hate clutter, it wants to do that by making it a much nicer place to be.  
Fast Company's Recommender section is dedicated to surfacing innovative products, services, and brands that are changing how we live and work. Every item that we write about is independently selected by our editors and, wherever possible, tested and reviewed. Fast Company may receive revenue from some links in our stories; however, all selections are based on our editorial judgment.