Banksy is the mysterious artist you love to hate to love . . . to hate? And now, there's a Banksy children's book you'll love to hate to love reading to your children.
Banksy Graffitied Walls and Wasn't Sorry ($16) is a new book written and illustrated by Fausto Gilberti, which aims to teach kids a bit about graffiti art, and a bit about the spray-paint provocateur.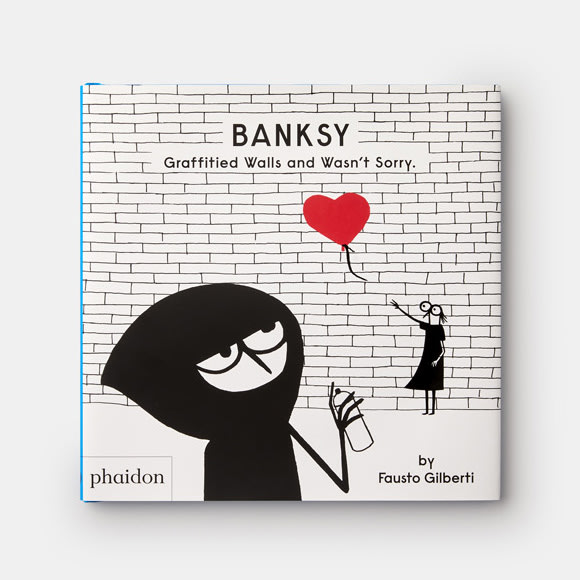 Of course, we probably know the Bristol-based artist's real name by now. But let's be honest—whether Banksy is opening his own dystopian Disneyland, shredding his $1 million canvas right after it's sold at auction, or hawking his own priceless prints for $60 a pop on the streets of New York—it's a lot more fun to pretend that we do not.
The new book, published by Phaidon, homes in on the artist's anonymity. A version of Banksy appears on the black-and-white, ink-illustrated pages looking something like a hoodied version of Spy vs. Spy. Gilberti tells Banksy's story from the first-person perspective (a Phaidon spokesperson says that Banksy was not involved with the project, but Banksy's company Pest Control has been in contact with Phaidon and provided an image of Banksy's "Girl with Balloon" for the back of the book).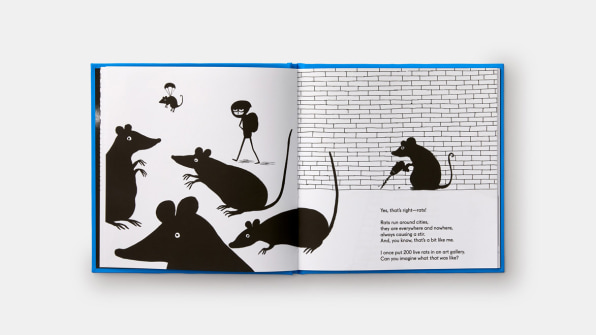 "I am an artist," the Banksy-voice explains. "My work is called graffiti. I do it without permission and I am not sorry."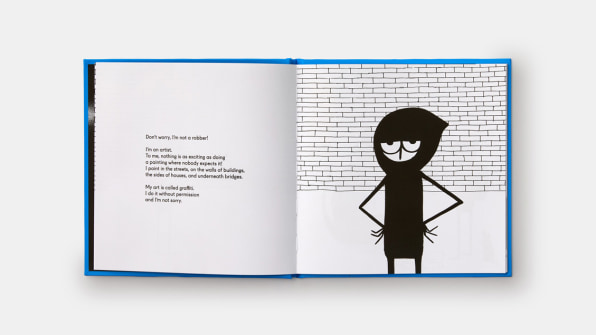 Over the course of 48 pages, Gilberti, writing as Banksy, explains his approach to art, along with the many motifs that have made Banksy so famous, from painting countless rats to secretly hanging up his own work in the Louvre and the Met. Along the way, Gilberti touches on the themes of Banksy's art: irreverence, impermanence, and, yes, occasional illegality. The tone is just right for a young grade schooler (the book is recommended for ages 4 to 7), capturing Banksy as a force of individual thinking and positive trouble. I must say, even I was won over by the 1,000-foot storybook view of the attention-grabbing artist.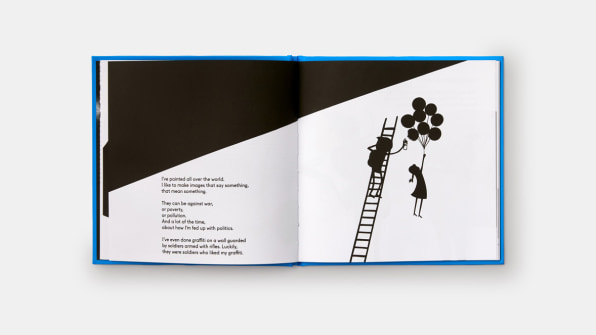 However, if Banksy isn't the artistic role model that you imagine for your children, that's okay! The book is actually the fourth in a larger series written and illustrated by Gilberti. Other subjects include Jackson Pollock (known for paint-dripping abstract expressionism), Yves Klein (the multimodal artist behind the timeless Klein blue), and Yayoi Kusama (who works in infinitely Instagrammable infinity rooms and dots). And if you don't find Pollock, Klein, Kusama, or Banksy to your liking, I just don't know what to say. Maybe your child needs another art teacher.