Ray Dalio, the billionaire founder of Bridgewater Associates, seems to have mellowed in recent years. Bridgewater, of course, still commands respect on Wall Street, and not a small amount of fear. The world's largest hedge fund is perhaps best known for its fiercely competitive and "radically transparent" office culture, in which employees are encouraged to challenge one another in what Dalio has called "an extreme meritocracy of ideas." Nearly every meeting and interaction in Bridgewater's secluded Westport, Connecticut campus is recorded, and employees use a special tool to provide real-time assessments of each other's ideas.
Dalio, doing little to dispel the company's cult-like reputation, has even published a management manifesto, Principles, which is given to all personnel and studied with Biblical zeal. (Among its more memorable aphorisms: "Don't pick your battles. Fight them all," "Treat your life like a game," and "pain + reflection = progress.")
While he stepped aside as CEO in 2017, Dalio has continued to spread the good word: In 2017 he published a new, 600-page version of his manual, Principles: Life & Work, which became a New York Times best seller, and in 2019 he released an illustrated version (Principles for Success) that's advertised as for "readers of all ages." The books themselves, once removed from the context of the Bridgewater panopticon, are surprisingly readable and occasionally moving. For those who dislike print, there's a smartphone app called Principles in Action that includes case studies and videos.
But Dalio, now 71, still has more to give. Completing his evolution from L. Ron Hubbard to Dale Carnegie, last month Dalio announced PrinciplesYou, an online personality assessment that anyone can take for free. "I wanted to pass along the most valuable things that I acquired, to help people," he told me when we spoke over Zoom, sitting in front of a curtain in a hotel room. "[The test helps] individuals understand themselves, understand others, understand their relationships," he continued, encouraging me to take the 20-minute exam for myself.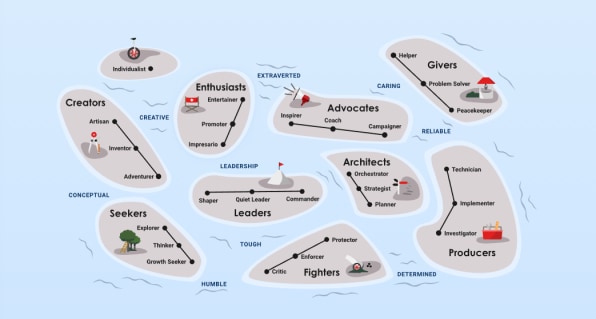 I have a complicated relationship with personality tests. In ninth grade, a career quiz told me that the best job for me was likely working as a hotel concierge, throwing me—a fairly anxious high schooler intent on being a journalist—into an existential panic. A couple of years later, at the height of the Buzzfeed-quiz fad, I learned that the teen drama character I most resemble is Dawson's Creek's Joey Potter, that I am 90% trash based on the potato chip flavors I like, and that if I was a chain restaurant, I would be Red Lobster. None of these results were particularly illuminating.
But I was curious how Dalio's test might stack up against the brightest minds at Buzzfeed, and intrigued by the science that allegedly went into it. To create PrinciplesYou, Dalio turned to Wharton professor Dr. Adam Grant (who has also attached his name to Sheryl Sandberg's book, Option B) as well as Cambridge research professor Dr. Brian Little, who studies personality psychology, and Dr. John Golden, the president of a psychological assessment company. The result is a combination of five different psychometric tests that Dalio has employed during the hiring process at Bridgewater. "[It helps them] find out what jobs work for them," he explained. "How they could have better personal development, and can help managers figure out how to put together teams."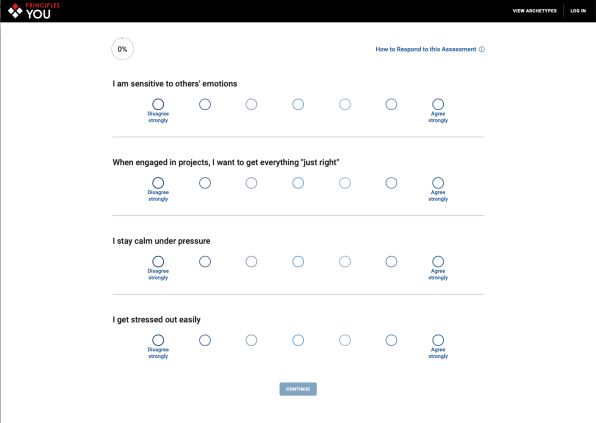 I logged onto the sparse website and spent half an hour taking the test. After rating my response to statements including, "I am fascinated by the sights, sounds, and smells of exotic destinations," "I avoid drawing attention to myself," and "I find other people and their life stories rather boring," on a scale of one (disagree strongly) to seven (agree strongly), PrinciplesYou took me on "a journey" of psychometric self-discovery.
The results began by revealing my top three "archetypes": broad classifications that are meant to elucidate my personal strengths and weaknesses. I rank primarily as an Individualist, according to the test, which means I "make an art out of brushing aside tradition and conventions to do things my own way . . . defying the rules with a flare for the creative and sometimes for the dramatic." Dalio is primarily an Adventurer, someone "motivated by taking part in fun, exciting, and adventurous pursuits." Given his passion, big-game hunting, this computes. The platform also has a function that lets users compare their tests to help them figure out the best ways to work together. (Dalio encouraged me to get my boyfriend to take it so that we could compare results and improve our relationship.)
Broadly, I agreed with my assessment and even found the test interesting. Dalio, in his characteristically blunt fashion, suggested that I share my results with my boss. I am hesitant—PrinciplesYou says that I can be disorganized, a trait I've recognized in myself and have made a great deal of effort to fix.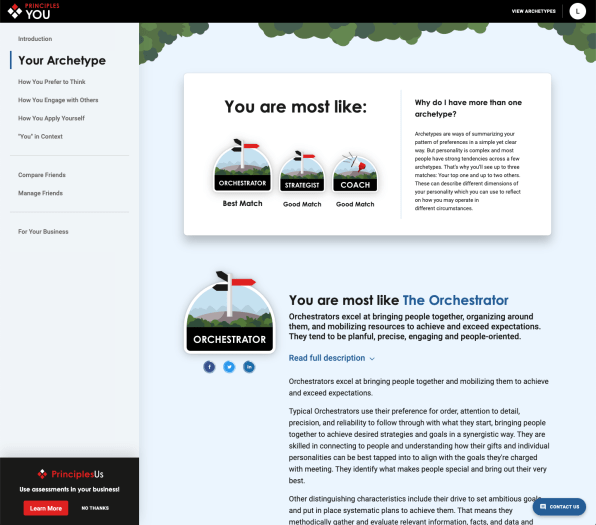 Dalio himself is skeptical that most adults can radically change their personalities. "The psychometricians and my experience show that if you work really, really hard on some things, you can move them maybe by one standard deviation of the population, but it doesn't change a lot." Instead, he suggests, tools like PrinciplesYou are most useful for recognizing your strengths and weaknesses in order to improve your approach to situations. "You can have compensating mechanisms if you recognize something needs to change."
The key to excelling at work, in relationships and in life, according to Dalio, is to know yourself. A devoted practitioner of transcendental meditation, Dalio hopes that deeper understanding of our flaws can help anyone transcend their "ego barrier," a Bridgewater term for avoiding an emotional reaction when responding to criticism.
Dalio's metaphysics seem a little rigid to me—maybe it's because, as an Individualist, I dislike the idea of being put into a box. But Dalio is a true believer: Candidates who want to work for him take five quizzes, including the Myers-Briggs Type Indicator, to help assess whether they would be a good culture fit at his legendarily high-pressure firm. Whether these screening procedures help to account for Bridgewater's stunning financial success is an open question. Even Adam Grant—the same professor who helped put together PinciplesYou—has questioned the science behind the Myers-Briggs.
In the spirit of radical transparency, I will confess that I once took the Myers-Briggs test online, and that I'm an INFJ: Introverted, Intuitive, Feeling, and Judging. ("The rarest personality type, shared by Nicole Kidman and Hitler!" the website cheerily informed me.) But being aware of my "F" personality type has only made me second-guess myself more, leaving me constantly wondering whether I am feeling too much or not thinking enough. After all, I can't imagine there are too many Fs at Bridgewater.