On a half-vacant block a few miles outside of downtown Detroit sits an unabashed oddity. Nearly 200 feet long and 23 feet high, it's a gleaming half-cylinder of metal surrounded by trees. Built out of a military-style Quonset hut and plopped into the dwindling remnants of a residential neighborhood, this alienlike arched steel structure may be the world's most unexpected new apartment building.
Dubbed the Caterpillar, the steel structure is a window-pocked eight-unit residential building, with bright white interior spaces and ceiling heights that rent for less than most other new apartments in the city. Its basic architecture is the Quonset hut, the prefabricated, quick-to-build utilitarian structure originally developed by the U.S. Navy during World War II. Today, the huts are typically used for storage on farms. In Detroit, however, the low-cost Quonset hut is being reimagined as the residential structure of the future.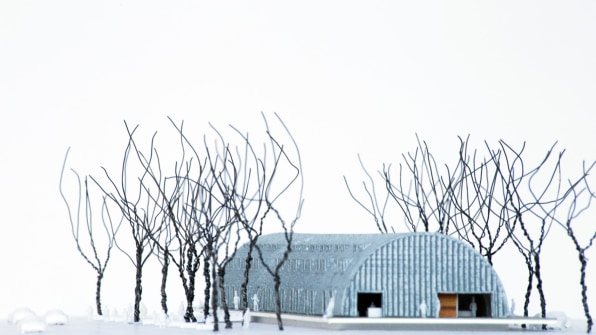 The Caterpillar was developed by Philip Kafka, a real estate investor and developer who has now built several simple Quonset-hut-based residences in Detroit. The huts themselves were sourced directly from a manufacturer, and their ease of construction helped keep the project's cost much lower than traditional buildings: the Caterpillar cost just $1.5 million. With simple interiors and an emphasis on outdoor space, these projects are Kafka's attempt to inject affordable but well-designed buildings into the city.
"I call what we do Home Depot architecture," says Kafka. "It's figuring out how to use Home Depot materials and make good architecture."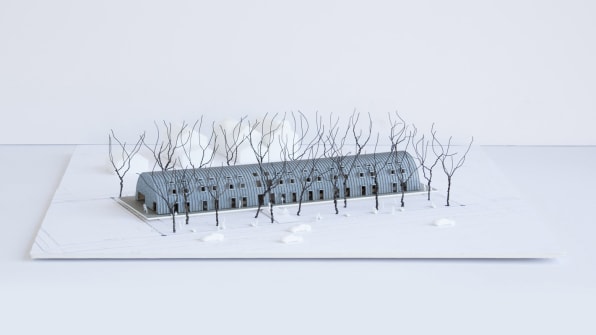 Originally from Texas, Kafka previously ran a successful advertising company in New York, and began visiting Detroit to look for investment opportunities in 2012. The city's abundance of vacant land and a resurgence of interest in urban living led him to begin developing real estate. Through his company, Prince Concepts, Kafka has been buying land and building unique projects in Detroit ever since.
His first project, True North, was a hit. A collection of nine rental homes and duplexes built using Quonset huts and oriented around shared open space, the project opened in 2017 and was soon winning architecture awards. It has been fully occupied ever since. As Kafka acquired more land in the city, he began looking for other opportunities to use the Quonset hut. Down the street from True North, he combined seven vacant residential lots to create the setting for what would become the Caterpillar.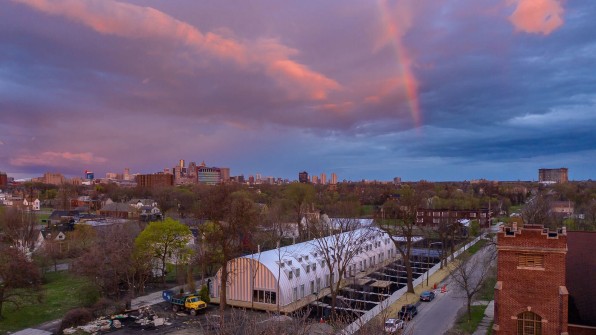 Each of the eight units occupies a slice of the hut, with areas ranging from 750 to 1,350 square feet. Their interiors are nearly identical, with two large open spaces on each end intersected with a plywood-based central core that holds the bathroom, closet, and kitchen space. Insulated with spray foam to handle Detroit's cold winters and clad in bright white, each unit's 23-foot domed ceiling is sliced with at least 12 windows.
"You get a sunrise view in your bedroom and a sunset view in your living room. That was intentional. It's all about light, this project," Kafka says. "The real benefit isn't that the Quonset hut lets me build a project so inexpensively, it's that it lets me give people extremely high-quality space for a reasonable price."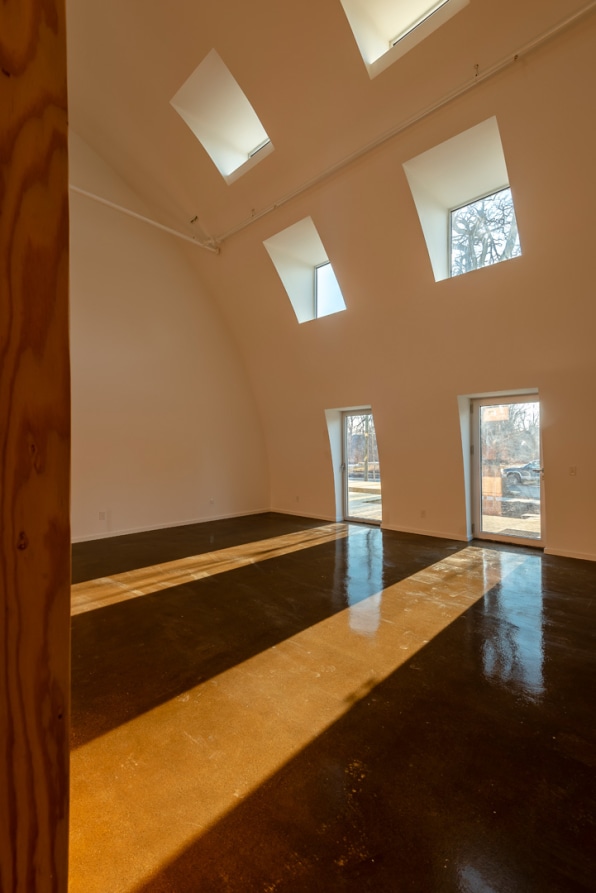 Turning a utilitarian storage hut into a light-filled apartment wasn't easy. Ishtiaq Rafiuddin, the project's architect, says he had to collaborate with the hut's manufacturer, SteelMaster, to figure out how to cut holes for windows without compromising the structural integrity. Working with the company's engineers, Rafiuddin was able to design the windows so that none of the apartments felt dark or cavelike. "There's a lot of gravity. You feel like you're in a cathedral," he says. "To deliver that quality of space to the average residential tenant, that's an incredible idea to me."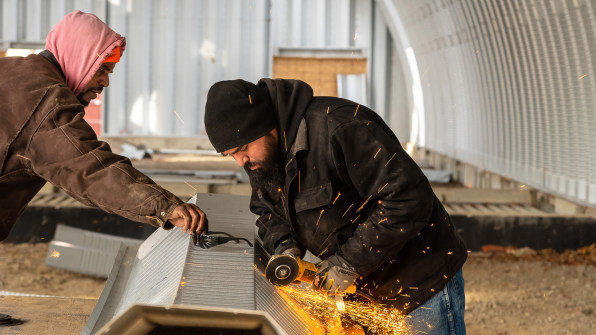 For Kafka, quality space outside is just as important. He hired the landscape architect Julie Bargmann of D.I.R.T. Studio to design the space surrounding the hut, and her design includes a grove of 150 trees all around the building, which is also wrapped by a communal front and back deck.
"Developers are playing around with amenities and fixtures and faucets and those sorts of things, but they're not playing around with space," Kafka says. "Detroit was a great opportunity because your land acquisition price is so low, you have room to experiment, and you have room to be very generous to the people that are occupying your property."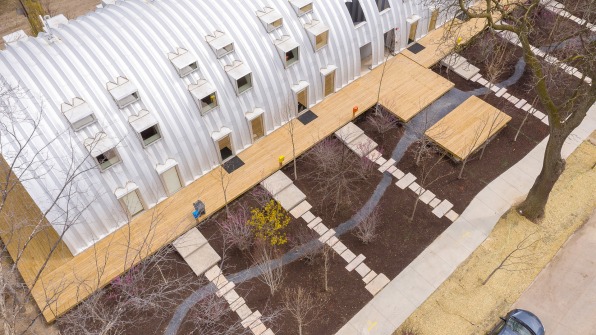 The Caterpillar was completed earlier this year, and Kafka says it was fully leased before construction was even complete. With low construction costs and rents that he says are 30% lower per square foot than other up-and-coming neighborhoods in the city, the Quonset hut approach is offering an affordable alternative.
Though the area now has two Quonset-hut-based projects, Kafka isn't pigeonholing himself to one architectural idea. "Even though there's a lot of nuance and a lot of opportunity in doing Quonset huts in many different ways, I don't want this neighborhood to just become the Quonset hut neighborhood," he says.