Since the Syrian uprisings began in 2011, Bashar Al-Assad's regime has committed multiple human rights abuses, including the reported mass use of chemical weapons and the slaughter of thousands of detainees, in a civil war that's left almost 400,000 people dead. During that time, 5.5 million people have been forced to find homes elsewhere in the world, mainly in bordering countries—but some in Europe. A relatively small number ended up in Denmark, where they've been rebuilding lives and contributing to the economy. Now, Denmark wants to send some of them back.
The current Danish government, which won power in 2019 by balancing left-wing economic policies with an extremely anti-immigration stance, is the first country to start the process of repatriating Syrian nationals. The government reasons that conditions have improved enough in parts of Syria that it's safe for refugees to return, and that the protection status was always temporary. But the Danes' actions have attracted opposition from human rights groups and fellow EU governments, who say they threaten to uproot a newly settled people by sending them back to a county that's in no shape to receive them.
"Denmark is really locking the doors for refugees," says Lisa Blinkenberg, senior advisor at Amnesty International Denmark. "Many of them have been well integrated into Danish society, and now they don't know anything about their destiny."
Of the 32,000 asylum seekers granted settlement in Denmark, some were granted only temporary stay, not full refugee status under the UNHCR Convention's definition. That was an intentional decision by the newly elected government, which said that only very specific personal threats in the home country would be a condition for granting more permanent stays. "It will not be enough to say, I'm risking my life because I come from this part of Syria," Blinkenberg says.
As soon as the government was installed in 2019, it started reviewing—and revoking—residence permits. But in June 2020 the government published new "fact-finding reports" that asserted that conditions in Damascus had improved. In response, the Danish Immigration Service director, Mattias Tesfaye, directed authorities to expedite the reviewing. In February 2021, the checks were expanded to Syrians from the outer communities around Damascus, the so-called Rif region.
The number of people from Damascus and its surroundings who were granted the temporary status is thought to be about 900, according to Amnesty International. Between January 2020 and April 2021, the Danish Immigration Service decided to revoke the permits of 380 Syrians—including 94 just in March this year. Those people have then been allowed to go before the Danish Refugee Appeals Board to plead their case, but the ones who lose are sent to one of two "return centers," where the refugees are relocated. They are allowed to come and go (they must check in once a day), but are not legally allowed to work, attend school, or apply for benefits. Denmark says it will not forcibly deport any Syrian citizens, because the departure must be voluntary; the idea is that the unsustainable lifestyle in the return centers will pressurize them to self-deport. "They are saying you will no longer have a dignified life in Denmark," Blinkenberg says.,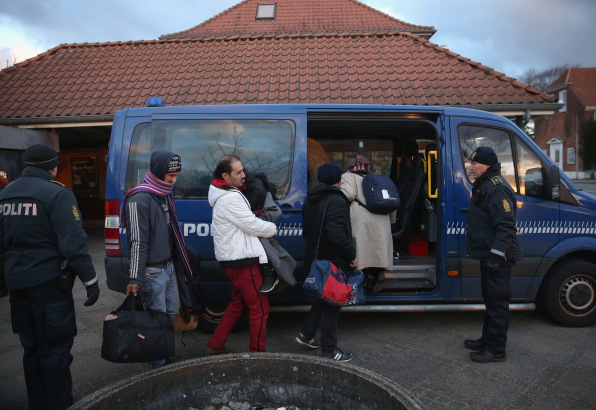 Denmark has been at the forefront of the wave of anti-immigrant-fueled populism that grown more prominent across European politics. The previous, conservative administration passed a string of Islamophobic legislation, including a 2016 "jewelry bill," which allows officials to strip immigrants of their items of personal value, to be reallocated into benefits funds; and banned Muslim face coverings in public. Then, the left-wing opposition, taking note of the successes, ran a campaign combining left-wing economics and anti-immigration policy. Very soon, the Social Democrats, led by Mette Frederiksen, followed through on its promises, creating a plan to demolish all "ghettos," a coded term for Muslim-majority neighborhoods, by 2030.
The entire basis for the acceleration of permit reviews is Denmark's claim that conditions in Syria are now fit for return. Replying to a letter from Amnesty International from January 2021, which was shared with Fast Company, Tesfaye wrote: "A stay as a refugee is only temporary; it is a very basic condition of the Danish refugee system. When the need for protection ceases to exist, one should travel home and help with the reconstruction of one's homeland." He stressed that it was not forced deportation. "Danish authorities will continue to assist persons in Denmark with arranging voluntary returns to Syria and offer financial assistance in case of such return." (So far, about 250 Syrians have reportedly left with "a bag of money" of $28,150.)
Though active conflict essentially stopped in Damascus around May 2018,  Amnesty International says the region is still very unsafe. UN Secretary-General Antonio Guterres said "the situation remains a living nightmare." There are still 6.7 million internally displaced people in the country, the majority of whom are facing food insecurity, and 90% are living on $1 per day.
Economic fears aside, there are still ongoing risks of arbitrary detention, torture, military conscription, harassment, and discrimination. That's according to a joint statement this month from experts, analysts and researchers who the government contacted for its fact-finding reports. The group says that the government used their answers deceptively and out of context to form the basis for its "flawed refugee policies." Those experts, 11 of the 12 sources contacted by the government, called on Denmark to reverse its policies, adding that returns, according to international law known as non-refoulement, must be "voluntary, safe, and dignified."
Now, says Blinkenberg, Syrians are living in limbo after being settled for years. High schoolers are concerned they may not even be able to complete their final year. Amnesty International is calling for global action, and has started an urgent action campaign where people can lend their signatures to the cause. Thirty-three EU lawmakers from 12 countries also signed a letter addressed to Denmark, writing: "Deportations to a country at war must never be normal. Denmark should not take a vanguard role here."
The worry is that, as anti-immigrant sentiment increases in Europe, Denmark's actions could set a perilous precedent that could take root in other countries, especially among establishment parties that could be inspired by the "winning formula" of the Social Democrats, says Susi Meret, an associate professor of politics at Aalborg University. says. After all, Germany and Sweden have taken in far more Syrian asylum seekers than Denmark. Blinkenberg agrees: "We are really fearing that this will have a domino effect."