---
David Oyelowo's pedigree of being a classically trained stage actor has largely translated into his career in film with weighty roles in Selma, The Butler, Nightingale, and so forth. So when the opportunity to make his directorial debut with the kid-centric fantasy The Water Man came about, his fear was double-fold: stepping behind the camera and going left of what people have come to expect from him as an actor.
"I tend to gravitate towards roles and projects that are terrifying to me," Oyelowo says in an upcoming episode of Fast Company's podcast Creative Conversation. "This is a story that I knew, and it's been confirmed, that people will be like, 'But you do those important movies? You do those historical movies. Why have you gone off and done this family-adventure movie?'"
Directed by and starring Oyelowo, The Water Man follows Gunner (Lonnie Chavis), an 11-year-old boy who embarks on a journey to find the Water Man, a mythical figure said to possess the ability to heal. Even though the Water Man is believed to be nothing more than an urban legend, Gunner is desperate enough to seek him out with the aid of his friend Jo (Amiah Miller) to cure his mom (Rosario Dawson), who's dying of cancer. But when Gunner and Jo get in over their heads, Amos (Oyelowo), Gunner's dad—with whom he has a strained relationship—embarks on his own mission to save them.
"Of course I was incredibly nervous about going into this task," Oyelowo says. "I was talking to Ava DuVernay about this, and she said, 'David, the reality is with the career you've had, you've been on far more film sets and had far more film set experience than most world-class, prolific directors.' And she's right."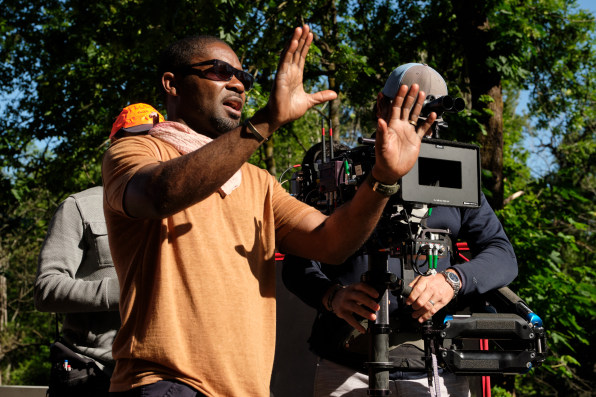 Oyelowo's acting career also served as his film school. And when he leaned on his Rolodex of directors he's worked with for advice, the prevailing sentiment was, "Hire people who are far more experienced than you at what they do," Oyelowo says. "Be very clear about your vision and then let them do their thing."
As for his vision, Oyelowo saw The Water Man, written by newcomer Emma Needell, as an opportunity to tap into the '80s fantasy adventures that shaped him as a kid, while also dialing into themes that are central to who he is as a husband and father.
"I've had to go and show [my kids] The NeverEnding Story, E.T., Stand by Me, Gremlins, The Goonies, but there are fewer of [those movies] to show them these days," Oyelowo says. "What I loved about them was the confluence of reality and fantasy, which is so baked into what it is to be a kid. The fantasy element is partly what gets eroded when you get older. But that imaginative side of ourselves is often what helps us to cope with the toughest sides of life."
Having that connection to a project was Oyelowo's most substantial takeaway from his first foray into directing with his 2009 short film, Big Guy.
"What it really taught me was, yes [directing] was something I wanted to do but my goodness, it needs to be a story you're passionate about, because you spend a lot of time with the film," Oyelowo says. "So if you're going to say something with film, you better say something."
So what did he want to say with The Water Man?
"I think people who know me, and thankfully this is something that people have said, my biggest preoccupation—the thing I value the most in my life, the thing I try to put out into the world the most I can—is love," Oyelowo says. "I tried to direct it from that point of view. I tried to empower people to do great work from that point of view. It was one of the themes of the film that was top of mind throughout the course of the film: How far are you prepared to go for the ones you love?"
Adding to that are the personal touches Oyelowo imbued the film with, like changing the character of Jo, who was originally scripted as a boy, so his daughter could see an adventurous girl like herself on-screen. Or tapping Nigerian artist Ric Hasani for two tracks in the film, as well as incorporating Afrocentric touches into the wardrobe.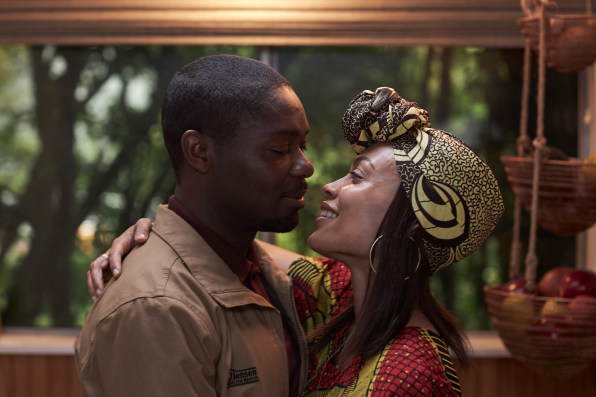 "There are so many things in this film that are what I believe in, what I want to see in the world, whether it's representation, whether it's my culture, whether it's the films I loved as a kid but I never saw myself represented in," Oyelowo says. "I now get to have a little drop in the ocean of those movies in terms of The Water Man. What filmmakers should do is bring themselves, all of themselves, to the project and speak from that truth."
Listen to the latest episode of Fast Company's Creative Conversation podcast on Apple Podcasts, Spotify, RadioPublic, Google Podcasts, or Stitcher.