The Baldwin Hills Crenshaw Plaza mall in Los Angeles's Crenshaw neighborhood opened in 1947, one of the first of its kind in the country. Since then, it's looked like a typical mall, with a sprawling parking lot. But community members in the surrounding majority-Black neighborhood now want to transform the 43-acre site into something different—mixed-income housing, community gardens, and new worker-owned cooperatives, all run by a nonprofit that can return proceeds to the community.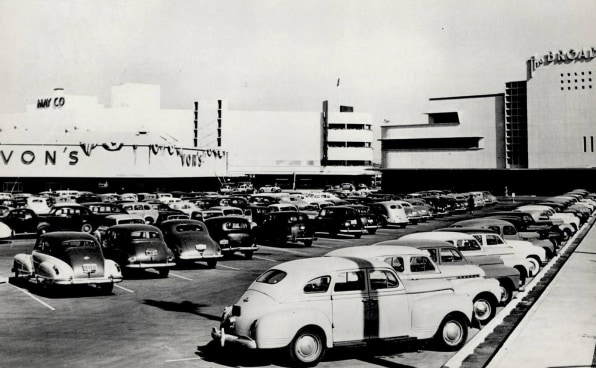 The project, called Downtown Crenshaw, is part of a larger vision that has been in discussion for decades. "We've been talking about the need for pulling resources together to acquire real estate to be collectively managed, and to bring in businesses that truly serve the community, that are Black led and collectively minded and community centered," says Damien Goodmon, a founding board member of Downtown Crenshaw.
Los Angeles is the least affordable city in the country, and Crenshaw sits next to Inglewood, a neighborhood where property values are surging. As the area gentrifies, there are concerns about people being forced to move out of the neighborhood because they can't afford to stay. It's the latest of a long list of pressures on Black Angelenos, from neighborhoods that were razed to build midcentury highways to disinvestment. "Whether it was in the '60s, '70s, '90s, or today, we've been long asking for true community control and self-determination by Black folk, because in either situation, we've not been in control of our space," Goodmon says.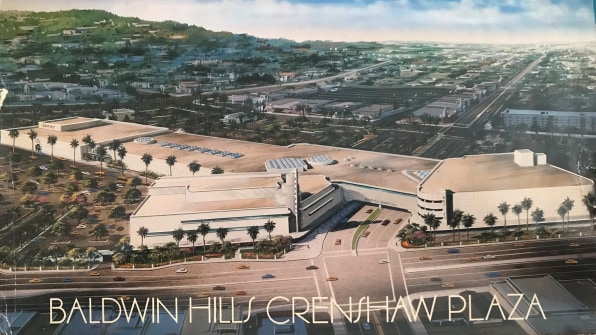 When the mall came up for sale last year, community groups analyzed proposed redevelopment plans and argued against them, arguing that the new housing that was planned for the site would end up displacing thousands of people who lived nearby. "That's typically how organizations engage—we don't like the project, we say don't build it. They say build it. And then we come to some consensus where everybody's not really happy, right?" he says. Goodmon and others started talking about an alternative: Instead of continuing to negotiate for months with a prospective owner, they could try to raise the millions of dollars necessary to buy the building themselves.
Community members successfully blocked two bids for the mall in 2020, including one from CIM Group, which has ties to the real estate group owned by Jared Kushner's family. In late March, the coalition announced that they had raised $28 million from donors, enough to make a down payment on the property. The campaign attracted large donors, but also called for donations as low as $5. "It was an intentional decision to have a very low, inclusive price, where literally anyone who's houseless is sitting at a table with a voice at the same table with large institutions, and far more affluent people, he says. "Because we truly believe that the only way in which we're able to write a different chapter for communities undergoing different communities facing and engaging in development is getting as many people as you can."
It's not enough, he says, for a redevelopment project to bring new jobs to a community, which is as far as many projects go. "If you bring in a Home Depot that provides poverty-level jobs and can leave any moment of the day, it doesn't change the circumstances and conditions of the community," Goodmon says. After the uprising in Los Angeles following the 1991 police beating of Rodney King, he says that the community began talking about the need to collectively repair longstanding damage, something that a new business coming to the neighborhood can't do alone."What we're really talking about is attacking this individualistic, capitalistic mindset that is dog-eat-dog, based on one talented entrepreneur or one individual getting ahead, and talking about the collective power of just being at a table and seeing the interwovenness of our economy, our community."
Goodmon says that Google was reportedly interested in buying the space, as well as Amazon. But community groups didn't want to see another tech giant come to the area, as has happened repeatedly in nearby Culver City, and drive up housing costs even more. Instead, Goodmon and others would like to see a tech training center in Downtown Crenshaw that teaches local students the coding skills they need to start businesses themselves. The redeveloped space would likely still have some chain stores, but the community wants to help negotiate better working conditions for the people those stores employ. Though the mall does currently have some locally owned businesses, the nonprofit wants to bring in more, particularly worker-owned co-ops. The former parking lots would hold hundreds of new units of housing. The nonprofit would hold the land in perpetuity and give the community the opportunity to invest in ownership shares.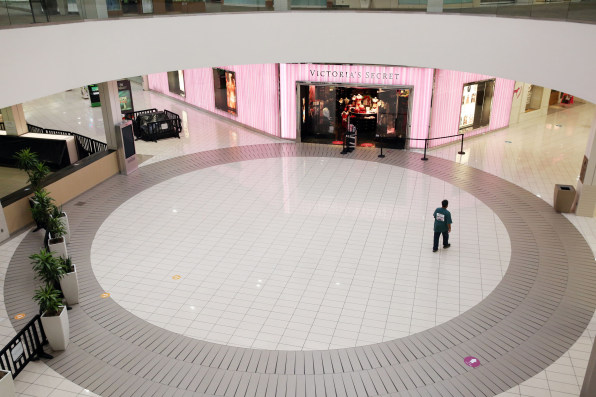 The plan also aims to be environmentally sustainable. The site will soon have a new Metro rail stop, and the designers want to make it easier to walk and bike in the area (or plug in an electric car). Community gardens can include individual plots and space for food production at a larger scale. Native trees and plants will add green space that can help reduce pollution and heat in the area. New buildings would be designed with the lowest possible carbon footprint, and solar microgrids on the site could potentially provide renewable energy for people living nearby, helping lower energy bills. All of the work will help bring green jobs to the community.
"I work in the clean transportation sector, and I'm the only black woman in my meetings," says Niki Okuk, a board member for Downtown Crenshaw. "I wonder how we are going to get that next generation of professionals who are really thinking about sustainability principles in building and transportation and mobility and water preservation and urban planning. The way that those things are going to happen is if we use projects like this—a 10-year, 43-acre, potentially $1 billion project—to commit ourselves to making sure that every step of the process lifts up the local community, creates employment and training opportunities, and nurtures conversations and interest in the entire suite of careers that are going to be the green or sustainability industries."
All of this could be a model for other cities—but it also may not happen. Despite having the cash ready to invest, the project leaders have struggled to get meetings with DWS, the Deutsche-Bank affiliated brokerage firm for the property. DWS rejected a bid from the team and has reportedly accepted another bid, though it could still be re-awarded. (DWS did not respond to a request for more details for this story.)
"We have a lot of big, powerful friends who are trying to maneuver that," Goodmon says. "And even if they sign a contract, they did that twice before. I think the community won't hear it. They didn't hear it before. They definitely won't hear it when we have so much money in the bank account, and we're continuing to raise (more) every day."