The history of a place is as much about what's there as what came before. But so often, unless it's memorialized or made obvious in some other physical way, the historical context of places simply disappears.
For Paul Farber, director of Monument Lab, a Philadelphia-based public art and history studio, this is a problem worth solving. To try to resurface the disappeared pieces of a place's history, Monument Lab has created OverTime, an augmented reality app for smartphones and other devices that aims to reveal the overlapping histories that have shaped places over time.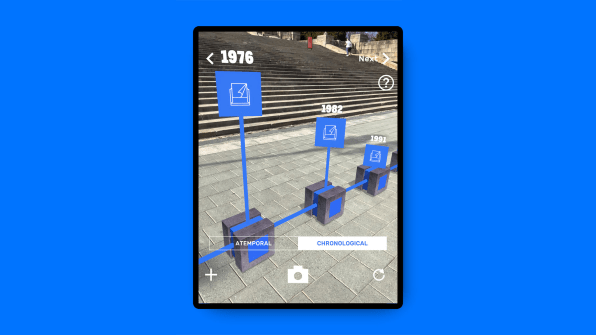 "Sometimes it's really visible, sometimes that relationship is rendered in a statue or historic marker, but most of the time, history lives with people, and you're balancing what is seen and unseen," Farber says.
Monument Lab is actively reimagining how history is represented in cities. One of its major projects, now underway and funded through a $4 million grant from the Andrew W. Mellon Foundation, is a nationwide effort to assess and collect the stories behind U.S. monuments. This new AR-based app was initiated just before the pandemic and supported through a grant from the Knight Foundation, and seeks to build on the concept of reimagining the ways that history is built and remembered.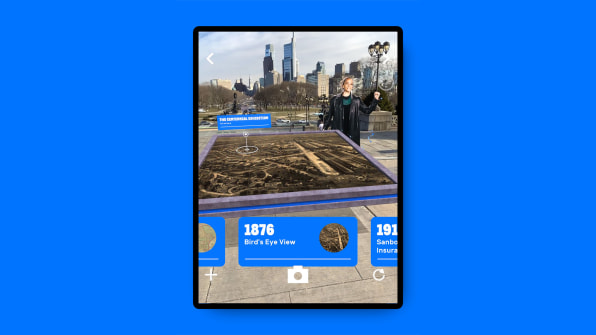 "We're really interested in the metaphor of digging up histories and stories that are under-told," Farber says. "With augmented reality you can do that in a way that is really thoughtful and engaging."
The OverTime app, currently available free for iOS devices and soon for others, is optimized for use in Philadelphia, but can be used anywhere. The physical setting of the app is one of the city's most famous and visited places, the steps leading up to the Philadelphia Museum of Art, a local landmark also known for a scene in the film Rocky. "It's the ultimate pedestal," says Farber.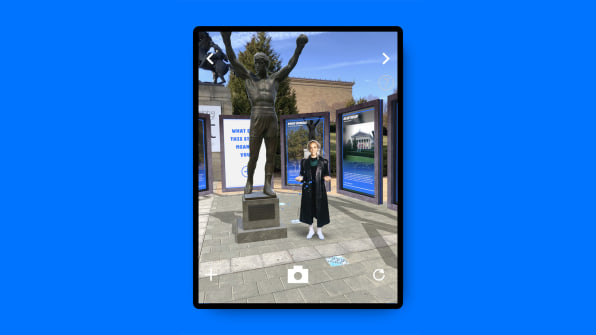 It's also a place with deep and overlapping histories. Part of the Lenape people's land before colonization and the establishment of the city of Philadelphia, the site saw hundreds of years of settlement and industrialization before housing the museum, which itself has a unique backstory. Its famous steps were designed by Julian Abele, one of country's the first Black architects.
The app brings together all this history, offering users a self-guided tour of the site that allows them to look back at maps showing how the site and city have changed throughout the centuries, and to delve into specific stories from various points in that timeline. One can see how the museum steps have been a place of protest for decades, or read about how the famous Rocky statue near the steps has been replicated in a town in Serbia. Through augmented reality and the screen of a device, maps and imagery are superimposed over the physical setting of the steps and the city it looks out on.
One important element of the app is to invite people to contribute their own stories and interpretations of the site. Users can text responses to questions posed to them: What has happened here? What can you see from here? What does this statue mean to you?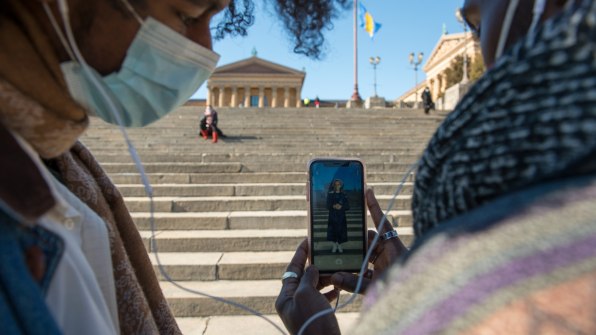 "You're invited to inject and add and build your own story into it," says Ursula Rucker, a Philadelphia-based poet who serves as the app's tour guide. Participation, she says, is key to helping people engage with the space, but also to feel that they are a part of its ever-changing story. "It exponentially grows," she says. "Then it's not just the history sitting over here on an island, which is how it's always been."
Farber says technology offers new venues for this more expansive view of history to emerge. The app, he says, can "look for the built monuments and structures that define a place but also pull in and gather the stories that are known but often carried in individual people or communities and not always put in a shared frame."
Created in collaboration with technology company Dream Syndicate and the Center for Public Art & Space at the University of Pennsylvania Stuart Weitzman School of Design, OverTime's Philadelphia steps edition is a prototype tour for what Monument Lab hopes will be a series of augmented reality guides to other public spaces around the country.
"The work of the app is not to present a finished history," Farber says. "It's to offer something that gestures to the fact that the story is still being written every day."