In the age of remote work, a smart ring for productivity such as the Genki Wave seems like a clever idea.
Instead of making you search for the right keyboard shortcuts to unmute yourself on Zoom or turn your laptop's volume down, the Genki Wave for Work ($149, with a launch price of $99) lets you wear those same shortcut buttons and more right on your index finger. And since you're not working in an actual office, no one's going to judge you for wearing an unashamedly dorky accessory.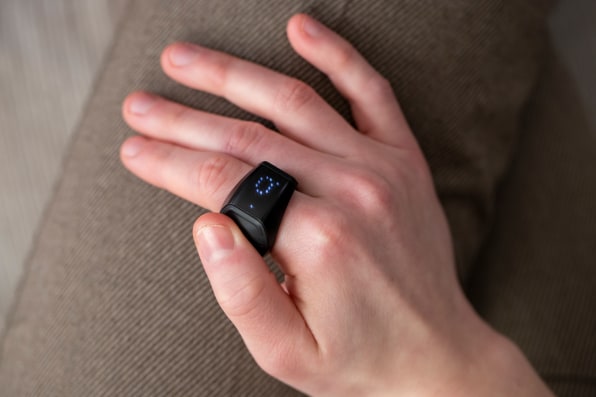 But the more I used the Genki Wave myself, the more disappointed I became by all the things it wouldn't let me do. While the idea of wearable computer shortcut buttons has some promise, Genki's approach doesn't live up to its potential yet.
Not your typical ring
The Genki Wave is technically not a new product. It debuted last year as a wearable MIDI controller for musicians, the kind you'd use to quickly trigger a drum fill or dial down the volume. But during the pandemic, Genki Instruments saw a chance to pivot to a broader audience by using the Wave to help people deal with an onslaught of Zoom calls and remote PowerPoint presentations.
To that end, the ring is decidedly utilitarian, with one half containing its eight-hour battery and electronics, and the other half comprised of a Velcro loop. You wear the ring on your index finger, and the chunkier half is supposed to stick out to the side, letting you easily press its three rubberized buttons with your thumb. The Wave uses Bluetooth to connect with your computer, and it has a companion app to control what its buttons do.
Despite its bulk, I found the Wave to be fairly comfortable. I wore it loosely enough to pull on or off without undoing the Velcro strap, and at one point I forgot that I was still wearing it after getting up from my computer.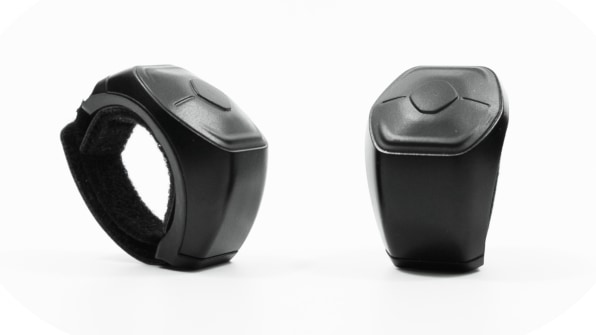 Out of the box, the ring is most helpful for video calls in apps such as Zoom or Google Meet. You can press the top button to raise your hand, press the middle button for mute (or hold it down for push-to-talk), and press the bottom button to toggle your camera.
The app also has a music mode for playing, pausing, and skipping through songs, and if you twist your hand while holding down the middle button, it'll control your computer's volume slider as well. Another mode for presentations lets you advance through slides in PowerPoint or Google Slides.
Waiting for more
All these functions worked pretty well in my experience, and I can see some value in using remote controls instead of looking for the right set of buttons on your screen or keyboard. Still, a smart ring that costs $150 should do a lot more than the Genki Wave does.
More intriguing than any of Genki's preset modes, for instance, is its "Custom" setting, where you can map the Ring's buttons to keyboard shortcuts. I love this idea and quickly mapped the buttons to Microsoft Edge's shortcuts for cycling through tabs, closing tabs, and highlighting on the URL bar.
I really wished the Wave's hand-twist gesture could do more than just control volume.
Yet I also became frustrated by this mode's limitations. As of now, the Wave only supports shortcuts that use Ctrl (in Windows) or Cmd (in macOS). You can't use shortcuts that involve other modifiers such as Shift, Alt, or the Windows key, which means the Wave can't help you switch between apps (which requires Alt-Tab) or workspaces (Shift-Alt-Tab). You also can't press the buttons to do anything else, such as launch apps.
I also really wished the Wave's hand-twist gesture could do more than just control volume. If I could scroll through articles or e-books with the ring instead of my trackpad or mouse, that alone might be worth $150.
A couple of other minor nitpicks: In Windows, the Wave app doesn't minimize to the system tray when you close it, so the only way to keep it open is to give it a permanent space in the taskbar. It'd also be nice if the app provided some kind of visual confirmation on your screen when you switched between control modes, rather than just through the LED lights on the ring itself.
Genki does say that it plans to add more software features over time—and that it'll fix the taskbar issue in its next software update—but at present this gadget's productivity features seem a bit like a proof of concept. Hopefully the company can flesh things out before we start going back to work in person and have to explain to colleagues why a $150 productivity ring was a worthwhile investment.