Even if you don't know the midcentury American designer Paul McCobb, you may still find his furniture familiar. He specialized in simple, minimal wood and metal pieces that defined the Mad Men era of American design.
CB2 will be among the first U.S. companies to reissue McCobb's designs in half a century. Starting in April, the brand will debut 36 of his most iconic furniture and lighting designs. While vintage McCobb pieces can be very expensive, CB2's collection will allow consumers to get his designs at affordable prices, ranging from $129 to $2,999. There's a large selection of table lamps that mix metal and wood, outdoor chairs with lattice designs on the back, and simple black nightstands with pops of gold.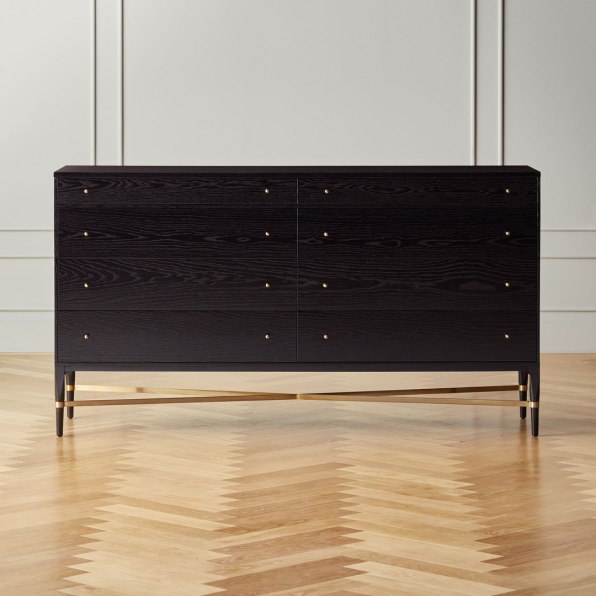 McCobb is famous among design aficionados, but he isn't a household name like his contemporaries Charles and Ray Eames. He died suddenly in 1969 at the age of 52, in the prime of his career. Some historians say that he didn't have many champions willing to keep his legacy alive, partly because he was quick-tempered and had problematic business relationships. But his aesthetic was quietly influential. "His work has become classic," says Ryan Turf, CB2 president. "So much of what became popular in midcentury design started with him, and that's why I think this furniture will resonate with many people, even if they don't know the man who first created it."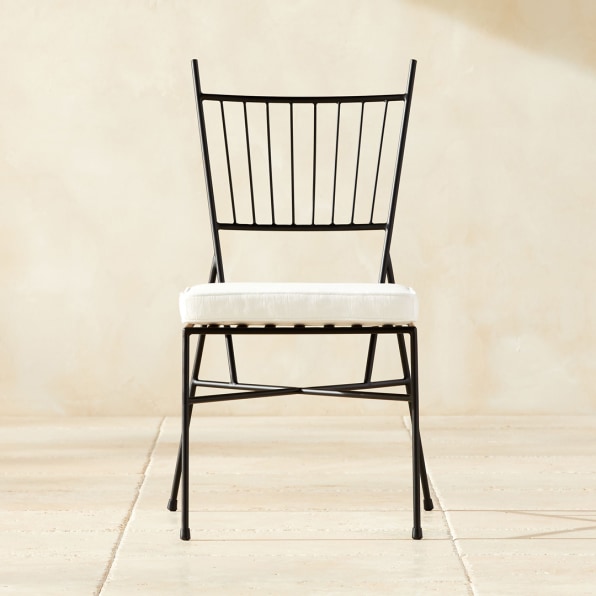 McCobb's furniture was defined by clean lines that created a feeling of spaciousness. The outdoor tables and sofas for this collection, for instance, are held up by thin slivers of aluminum that don't block your view of the garden. He was obsessed with craftsmanship, finding inspiration in the American woodworking tradition. He created many chairs with spindles on the back—some of which are featured in CB2's collection—that are reminiscent of Shaker chairs. These wooden chairs, featuring slats or ladders on the back, were first designed by Shaker woodworkers in upstate New York in the late 1700s. They eschewed ornamentation and prized functionality.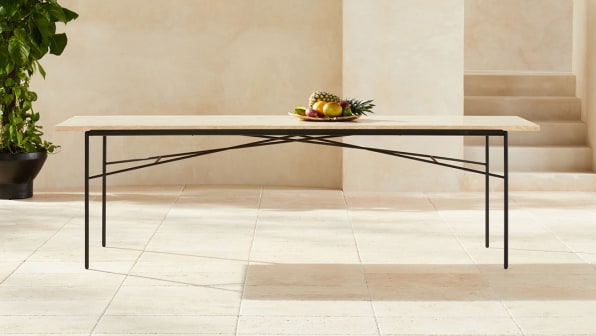 McCobb grew up outside Boston and knew early on that he wanted to be an artist. He attended art school, where he focused on drawing and painting, but his education was cut short by World War II. After joining the military, McCobb served in the Army Corp of Engineers.
After the war, he opened his own design firm in New York. His Planner collection was manufactured by the Winchendon Furniture Company and became one of the best-selling furniture lines in the 1950s; it continued to be made until 1964. In 1957, Bloomingdale's offered 15 McCobb room settings. Since his pieces were high in quality but also affordable, they became the go-to furniture for the middle class during the postwar years. And despite being mass-produced, McCobb designs remained highly detailed: You can identify his tables by the subtle narrowing of the steel at the base of their legs.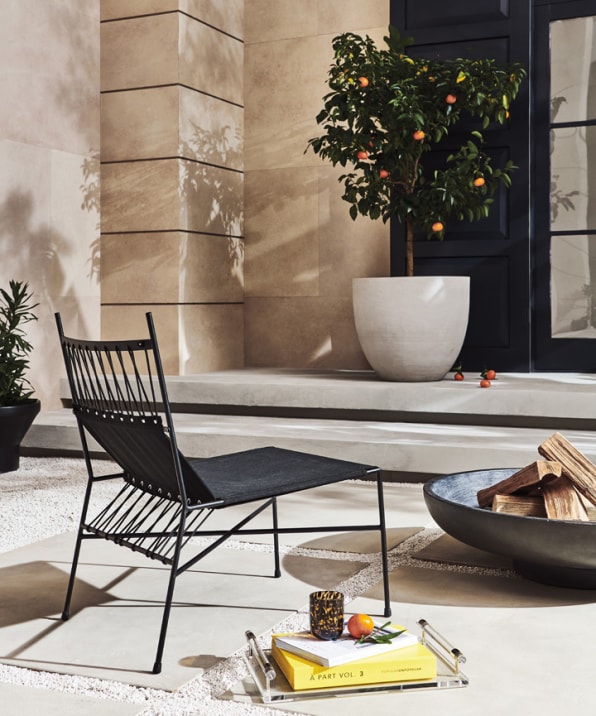 Over the next five decades, McCobb's furniture ceased to be mass-produced, and he ceased to hold the public imagination. That started to change in 2016, when FORM Portfolios, a Danish-American company, acquired the design rights from McCobb's estate and began actively reaching out to furniture manufacturers to bring back his work. Danish brands Fritz Hansen and Karakter launched collections of tables and shelves. In 2019, luxury furniture house Ralph Pucci reissued five of his pieces, including a dramatic green upholstered sofa.
This is the first time that a mass-market American furniture company has licensed McCobb's designs and begun manufacturing them at scale. It comes at a good time, since the pandemic lockdowns have spurred consumers to spend more time and money upgrading their homes. Turf says it took months for the two brands to figure out how to recreate the pieces. The team worked to faithfully reproduce every aspect of the original designs, from the materials to aesthetic details. "It's a unique challenge," Turf says. "We had to carefully look through sketches and recreate them as accurately as possible, down to the smallest detail, like the foot of a chair."
Replicating designs from half a century ago with current materials presented particular obstacles, says Mark Masiello, managing director of FORM, who worked closely with CB2 on creating these pieces. For instance, they had to scour the market for the right "on-off" switch and other original hardware for the some of the lighting. And getting the tension right for an outdoor armchair with a hammock seat required attention to detail. "Strings, seat, and base needs to work together to provide the right comfort," he says. "Proportions and design have been an essential focus for the entire collection, however, getting the functionality right is equally important."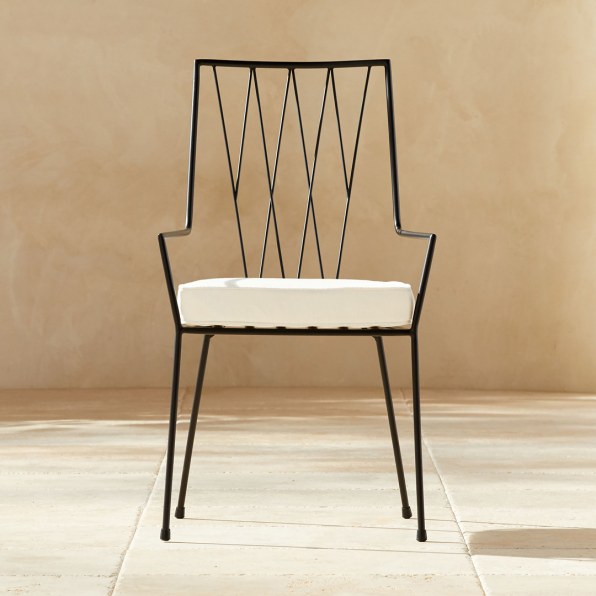 One difference, however, is that these pieces are made using CB2's existing supply chain, which is largely based in Asia; McCobb's furniture was largely made here in the United States, since there was still a thriving domestic furniture-manufacturing industry in the 1950s.
Managing a designer's estate is a delicate business: FORM is tasked with getting McCobb's designs out into the world, while also ensuring that his work doesn't get devalued by creating reissues that are not faithful to the original pieces. Masiello says that there is no simple formula and its important to treat each designers' work individually. "During the heydays of the midcentury modernist movement, Paul McCobb had mass-appeal like few others from that era," says Masiello says. "His original designs found increasing popularity and demanded high prices, so what once was an affordable product for many became only available to a few. CB2 is a great match: They merge attainable with exquisite in a way that celebrates and builds on Paul McCobb's legacy." 
Turf points out that when you closely study McCobb's work, you begin to notice a playfulness in his design language, in the midst of his simplicity. A hanging lamp has clean triangular lines, but it has unusual proportions that draw the eye. A set of outdoor chairs are minimalist, but the zigzag lattice pattern on the back creates visual interest. "It's so much about form and function, but there's always a little twist," says Turf.
Note: An earlier version of this story said that CB2 was the first U.S. company to license Paul McCobb designs. In fact, Schwinn Hardware began licensing his hardware designs in 2017.