Since the 7th century, master carpenters in Japan have maintained one of the world's most unique forms of building. Through the use of specially designed tools, elaborate full-scale models, and puzzle-like joinery that requires no nails or screws, Japanese carpenters have been building and rebuilding massive wooden shrines by hand for more than a millennium.
A new exhibition at Japan Society in New York reveals the hidden marvels inside these ancient Japanese buildings by exploring the tools and processes of the master carpenters who design, build, and renovate them.
The exhibition, When Practice Becomes Form: Carpentry Tools from Japan, is open now through July 11. It features a large collection of hand tools from the early 20th century, including dozens of planes, chisels, axes, and saws, as well as hand-drawn plans for shrine renovations and intricate full-scale plywood cuttings that carpenters traditionally use to test out and refine their designs before construction.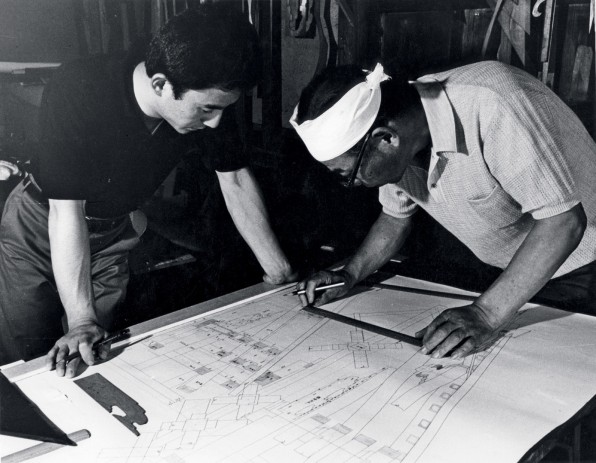 In addition to these artifacts, the exhibition includes a series of handmade models that show, in minute detail, the precise geometries of Japan's ancient joinery technique. With wood pieces showing the design of individual joints and computer animations further visualizing their seemingly impossible junctures, the exhibition brings tongues, grooves, tenons, and mortises into full view.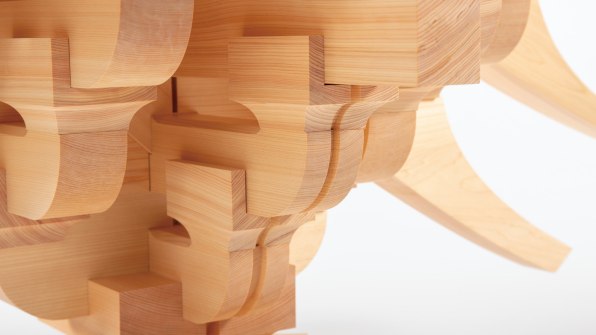 "Usually those parts are hidden in the building," says Yukie Kamiya, gallery director for Japan Society. The exhibition design, by Japanese architect Sou Fujimoto in collaboration with Brooklyn-based Popular Architecture, also includes scale mockups of the bracketing used in the rafters and scaffolding of Japan's oldest shrines, offering a close-up view of the delicate pieces that have functioned for centuries. "It's a little bit like a natural history museum, showing inside the body," Kamiya says.
The tools in the exhibition come from a museum operated by Takenaka Corporation, a building firm founded in the 1600s. Kamiya explains that after World War II, when power tools began to emerge in Japan, the corporation started a collection of tools and designs used by traditional carpenters. They wanted to preserve them as more people started to transition from old methods to newer technology. "More power tools, less handwork," Kamiya says.

The exhibition includes the complete tool sets of a few master carpenters, and they show a remarkable range of shapes and sizes. Master carpenters in the prewar era could have upwards of 80 different tools in their toolkits. One carpenter's tool set included 30 different chisels. And each tool had a specific purpose. Kamiya points to a massive whale-shaped saw that was used for cutting large pieces of wood that needed to be exactly level. Each carpenter's tools were often unique, or even bespoke. Many would build their own handles, sized specifically to their bodies, and work with master smiths to craft metal blades to fit their precise needs. "It's really almost like an extension of the body. So the variety is fascinating," Kamiya says.
The exhibition is a celebration of a building technique born from local materials and environmental conditions. This form of carpentry, a response to Japan's frequent seismic activity, has created an architecture based on renewable materials that can withstand some of the forces of earthquakes and be rebuilt after damage rather than demolished. The exhibition's opening on the 10th anniversary of the Great East Japan Earthquake, the source of the tsunami that led to a nuclear disaster in Fukushima, is an acknowledgment of the importance of resilient design.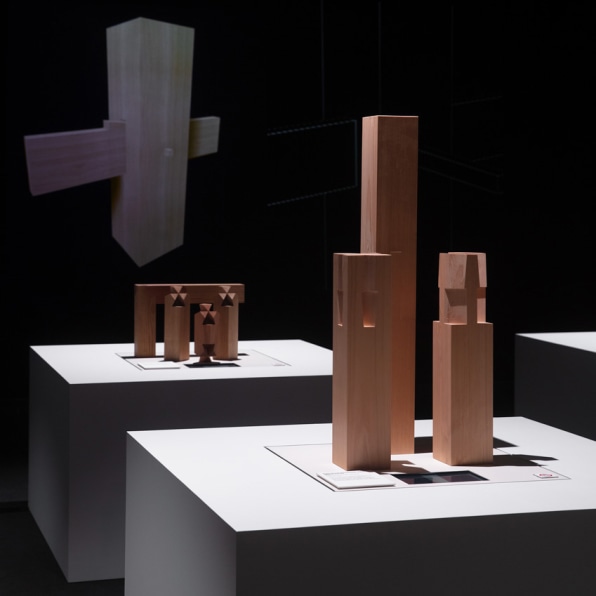 Though this building technique has largely been replaced by modern practices, traditional carpentry has deeply influenced generations of architects in Japan, according to Kamiya. She points to Kengo Kuma, the architect of the Japan National Stadium, a project for the postponed 2020 Olympics. His design was inspired by ancient Japanese temples and uses a mix of wood and steel in its layered facade and latticed roof.
But while traces of the old art form can still be found, the number of master carpenters still practicing these design and construction techniques is declining. "It's getting very, very limited," says Kamiya. That almost posed a disastrous problem for the exhibition, which planned to use the services of some remaining masters to create the scale models and detailed joints on display. Because of the pandemic, masters from Japan were unable to come to New York. Luckily, Kamiya says, the gallery was able to find a few American carpenters who had trained in Japan. Through video calls, the master carpenters in Japan guided the Americans in creating the pieces for the exhibition.
Kamiya says the result is an exhibition that gives visitors a look inside a rarefied world, using the seemingly simple tools of the trade to illuminate the multitudes within this ancient form of building. "It's not art, it's tools," she says. "But when you can see this craftsmanship, it's so beautiful."