The microwave is the most used but least cherished device in my kitchen. Unlike my beloved KitchenAid mixer or snazzy convection oven, it's never used for cooking. Instead, I use it to reheat previously cooked food—such as leftovers or frozen meals—that never ends up tasting particularly delicious.
Anyday, a direct-to-consumer brand that launches online today, wants us to reimagine our relationship with our trusty microwaves. Founded by Steph Chen, whose family owns the cookware conglomerate Meyer Corporation, the brand debuts with a line of four attractive glass dishes in different sizes that come with steam-releasing lids, all carefully designed to help heat food evenly. The brand's larger goal is to help customers fall in love with their microwaves by teaching them how to cook complex, nutritious—perhaps even gourmet—meals from scratch.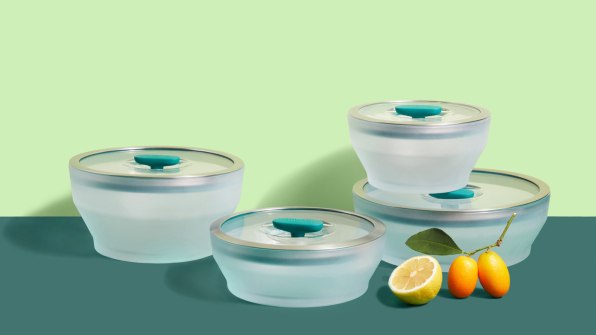 When the microwave became widely available in the 1970s, it was hailed as a revolutionary appliance that would change cooking forever. In a way, it did: It helped spawn the TV-dinner industry along with brilliant inventions such as microwavable popcorn. But there were always some who believed the device could be used for much more than just defrosting and heating. In 1987, Barbara Kafka wrote a popular book called Microwave Gourmet that taught home cooks to whip up filets of sole with almonds and legs of lamb in minutes. More recently, celebrity chef David Chang, founder of the Momofuku food group and creator of Netflix's Ugly Delicious, has sung the microwave's praises and frequently shares microwave cooking hacks. (Chang has recently come under fire for the way he has mistreated employees.)
Several years ago, Chen met Chang, who promptly began talking about his love of microwaves. When Chen began building Anyday, she asked Chang to come on as a partner, to help with the design of the products and the development of recipes. "As I did research, I discovered that many chefs are already using the microwave to cook food, but the average person still doesn't," says Chen. "And yet the microwave is this game-changing tool we already have in our homes that can help us cook better and faster."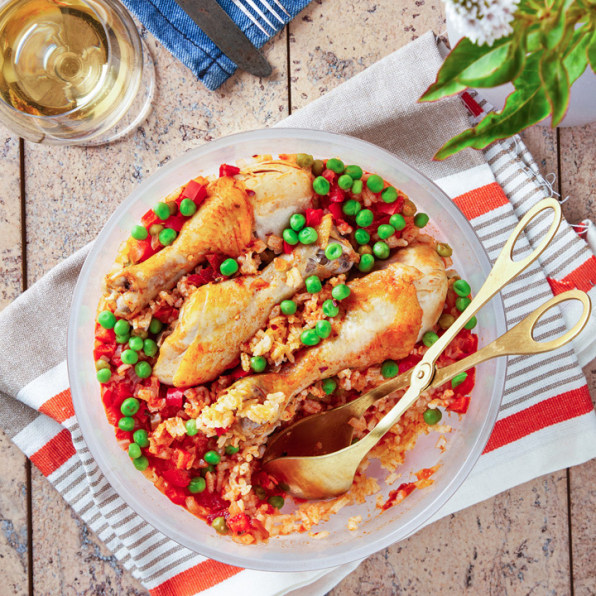 In her research, Chen found that about 85% of people don't cook fresh food in microwaves. Many consumers believe that the microwave isn't a healthy way to cook, but she believes this could be because the device is associated with TV dinners, which are highly processed. Chen also felt that microwave-safe containers on the market don't do a good job of actually cooking food. "The microwave cooks by vibrating the water molecules in food, and if you allow the steam from the food to evaporate, you get dry, rubbery food," she says.
This was a problem Chen believed she could solve. Meyer, her family's business, is the manufacturer behind cookware brands such as Rachael Ray and Faberware. Microwavable dishes are nothing new: Everyone from Pyrex to Viking to Meyer makes them. But with Anyday, Chen and Chang use their respective experience with manufacturing and cooking to create products that encapsulate the best features available, with the goal of giving the consumer a better cooking experience.
Anyday's dishes are made from borosilicate glass, which is known to withstand dramatic changes in temperature without cracking and which gives the dishes a solid, sturdy feel. The lids are also made of glass, and there's an airtight seal made from silicone to prevent it from popping off. Importantly, the dish is designed to trap moisture during the cooking process, with a steam-releasing knob at the top that allows you to control exactly how much moisture to retain. Part of learning how to cook in the microwave is to control the moisture content in your food.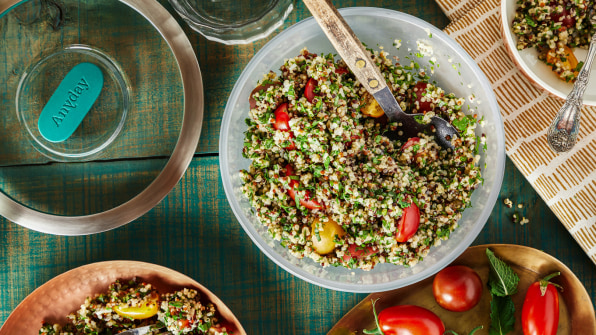 When I received a box of the dishes to test, I found that I had to make a mental switch from seeing them as containers for storing leftovers to regarding them as vessels for cooking, like pots and pans. The products come with a handy guide that explains how long to cook key ingredients, such as fish fillets, chicken breasts, green beans, and quinoa. It also explained how to change the wattage of your microwave, something I had never considered before. The higher the wattage, the faster the dish will cook, but some dishes, such as poached eggs, tend to cook better at a lower wattage. The deeper dishes are better for grains, since they will expand upward, while the shallow ones are good for proteins. And the frosted glass is designed to be so beautiful you can serve the food directly in the dishes.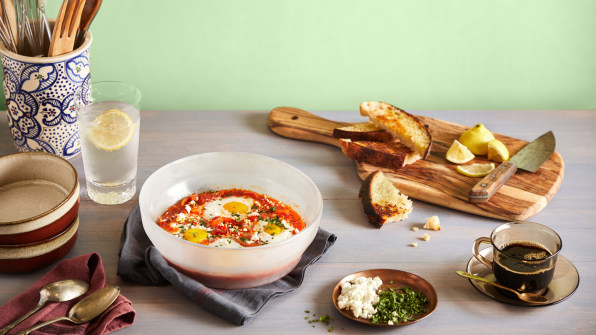 The recipe cards that come in the box provide a lot of inspiration. There's an easy one-dish meal of chicken and rice that involves throwing drumsticks over uncooked rice and adding marinara sauce and vegetables. The whole thing cooks in 21 minutes, for a yummy family dinner. Another recipe shows you how to cook a chocolate lava cake in under two minutes. One of my favorite recipes is for a delicious shakshuka that's perfect for a family breakfast on the weekend. (The instructions helpfully explain you have to gently poke a hole in the egg yolk—otherwise, it will explode.)
Many of these recipes bear Chang's fingerprints, since they're full of spice and color, such as kimchi tofu and mushroom stew, and salmon with spicy braised peppers. But being closely associated with Chang right now is a tricky business. Over the past three months, he has come under fire for his long history of verbally abusing his employees and creating a culture of terror in his kitchens. In January, New York Times restaurant critic Pete Wells went so far as to wonder "if Mr. Chang was finally in for it this time." For her part, Chen says that working with Chang has been a good experience. "I've personally never experienced any craziness from Dave," she says. "I can't speak to the 'restaurant Dave,' but the 'home cooking' Dave is just very passionate about helping people cook at home."
Chen is also fully aware that it will take time and effort to change consumers' behavior and convince them to use their microwaves in new ways. But she believes in Chang's power of persuasion. "During the pandemic, we've been forced to spend more time in the kitchen," she says. "After making banana bread and sourdough bread, many of us are tired and just want to make meals quickly. I want to show that there's already a device in your home that can help you do that."