Masks are one of the best tools we have to curb the spread of COVID-19. But a year ago, that statement would have been considered false.
As we approach the one-year mark of the first major COVID-19 shutdowns in the U.S., it's a reminder of how our knowledge of the virus has evolved over the last 12 months—and how some early inaccurate public statements continue to sow confusion and misinformation even now.
The Twitter account Covid One Year Ago has been a constant reminder of just that since launching in January. The account doesn't deal in breaking COVID-19 news; it simply tweets pandemic news that happened a year ago that day. Again and again, the contrast between the information we knew then versus now is striking. (Take this U.K. government guideline on March 6 that said "face masks don't provide protection from respiratory viruses" or New York City Mayor Bill de Blasio's March 2 tweet encouraging New Yorkers to "get out on the town." Oof.)
This particular Twitter account goes day by day, but it's pretty easy to find ridiculous statements from the past year. Here, we outline the biggest misfires in the sometimes unwitting, sometimes intentional misinformation campaign against masks.
Feeling fine? No mask needed
When the coronavirus pandemic first hit the U.S., people who felt healthy were actively discouraged from wearing masks. Part of this was to prevent a run on surgical and N95 masks needed by health workers, but it also shows how medical professionals didn't yet understand the nature of the virus. On February 17, 11 days before the first COVID-19 death in the U.S., USA Today reported that Dr. Anthony Fauci said to skip the mask unless you're contagious.
29 Feb 2020

"You do NOT need to get or wear any face masks- surgical masks, N95 masks, respirator masks, or anything else- to protect yourself against the coronavirus. Not only do you not need them, you shouldn't wear them"https://t.co/gBbCqvbvuh pic.twitter.com/LAPLU89tfy

— Covid One Year Ago (@YearCovid) March 1, 2021
Masks can actually increase your chance of getting the virus
About two weeks later, at the end of February, Forbes ran a story that quoted a doctor suggesting that not only would a mask not help, it could actually increase the possibility of infection because it could make you touch your face more. (Forbes has since changed the headline.) Then U.S. Surgeon General Jerome Adams also said wearing a mask could "increase your risk" if you're not a healthcare professional back on February 2.
'Seriously people, stop buying masks'
On March 1, the U.S. Surgeon General tweeted, "seriously people, stop buying masks! They are NOT effective in preventing general public from catching #coronavirus."  The tweet, which seems ridiculous now, was in line with public officials' thinking at the time. In February, the LA Times had quoted Alex Azar, secretary of the Department of Health and Human Services, saying that if you're not sick, masks are "unnecessary."
WHO: No symptoms, no mask needed
Even as late as March 26—after New York State shut down—the World Health Organization said you didn't need to wear a mask if you weren't experiencing symptoms. WHO updated the recommendation in June once more evidence was available. On April 1, a CNN article hypothesized that most countries would soon start recommending masks—despite the fact that they'd been saying the exact opposite. The prediction couldn't have been more prescient.
Sure, wear a face mask. I won't
On April 3, the CDC recommended that people wear masks in public. Former President Trump, however, chose not to lead by example, saying the masks were voluntary and he wouldn't be wearing one. Masks remain a political wedge issue to this day.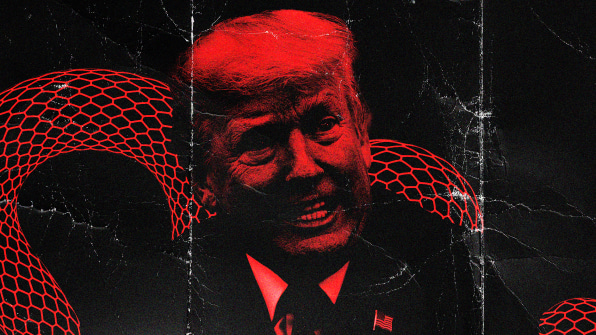 New York State mandated masks in public 10 days later, and many other states followed. But the messaging remained mixed at the federal level, with Trump's own actions muddying the guidance from federal agencies. In May, Trump mocked then-candidate Biden for wearing a mask. He held an infamous rally in Tulsa over the summer, in opposition to CDC guidelines, that didn't require social distancing or masks. Then, after contracting COVID-19, he forced Secret Service agents to ride in a car with him so he could wave to well-wishers outside of Walter Reed Hospital.
Masks decrease oxygen intake and increase carbon dioxide
Another reason anti-maskers said you shouldn't wear face coverings? A Facebook post claimed masks can make it harder to breathe because they decrease oxygen intake and cause carbon dioxide to build up. (The post was subsequently flagged as false news and removed.) Politifact debunked that myth on June 8. Even Fox News wrote up a story correcting this myth, though a major caveat is that the embedded video shows a Tucker Carlson guest calling masks "useless." The myth has been debunked by Mayo Clinic and University of Maryland Medical System, among many others.
The Facebook post included some other common anti-mask myths: that masks shut down the immune system, increase risk of contracting the virus, that the science is inaccurate, and their effectiveness not sufficiently peer-reviewed or studied; Politifact debunked them all.
Masks don't prevent transmission of the virus
Following President Trump's own diagnosis with COVID-19 in October, he repeatedly claimed that "people with masks are catching it all the time." In mid-October, he falsely claimed in an interview on Fox that 85% of people who wear masks catch the virus, based on a CDC study he misconstrued. Beside the fact that it's false, it should be noted that wearing a mask isn't just to protect yourself, it's also to protect those around you.
It's easy to look back at inaccurate statements from the beginning of the pandemic and be aghast at the ignorance. And yet a number of states, including Texas, Iowa, and Mississippi, have ended mask mandates in recent weeks. This is despite the presence of more contagious variants and a death toll that continues. Let's hope COVID One Year Ago doesn't keep getting new material.