"A mixed breed. Mostly white and dark brown fur. Short-haired cat with light blue eyes. She has a naturally furrowed brow and frown, making her appear grumpy. She's laying in someone's lap, belly up, and her head is cradled in the person's hand. And it looks like she's looking up at her owner, totally pissed."
Most of us have probably never had to so vividly describe the appearance of Grumpy Cat, the celebrity feline (née Tardar Sauce), who became an internet sensation and the subject of some of the most iconic memes in history. But for blind and visually impaired people, many of whom won't instinctively know the visual details of Grumpy Cat, descriptions are essential to allow them to enjoy memes. These viral images have become such important cultural touchpoints—but they are a highly visual medium, leaving some members of society excluded.
"I really, deeply believe that memes are important, and that blind people should be able to enjoy them and use them to enhance their social and cultural credibility," says Will Butler, VP of community at Be My Eyes, a company that connects blind people with sighted volunteers when they need visual assistance. "This is how people communicate."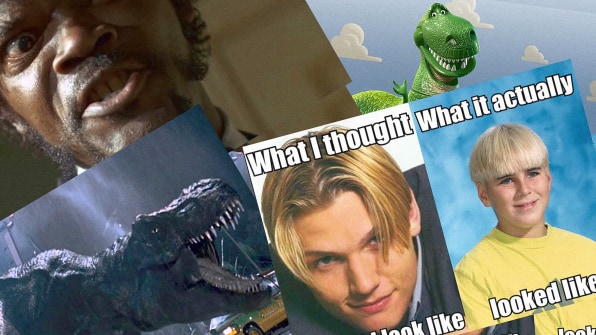 To that end, Butler has started a new podcast, Say My Meme, which literally describes some of the internet's most famous memes for a blind audience. On the show, his cohost, Caroline Desrosiers, describes them to Butler, who is legally blind, meaning he gets the same experience as the audience in hearing about many of them for the first time. "Millions and millions of blind people and people with low vision [are] just not participating in this whole cultural expression," Butler says. "So, when she describes it to me, I feel like I'm being let in on a whole new slice of culture." He says that, just a few weeks into the show, he's been able to have more dynamic conversations with friends because can now reference memes.
The podcast episodes, which air every week, are themed: So far, the hosts have delved into cat memes, sassy memes, and '90s memes. The issue for blind people is generally not in being unaware of cultural references; those who grew up in the '90s know the T. rex from Jurassic Park, Nick Carter from the Backstreet Boys, and Samuel L. Jackson's character in Pulp Fiction. "Blind people still understand that salmon is pink, and sky is blue," Butler says, "and that the Toy Story dinosaur is goofy, and school photos are awkward." They have the same cultural reference points but need a more textual way to access the images.
Butler has avoided memes in the past simply because they're a hassle to access—and that's because of the often-missing "alt tag." That's text that website makers can add to describe the images they place on their sites. During their online access, many blind people use screen readers, which read text aloud to them; as the screen reader comes across an alt-tagged image, it reads the description. But the majority of memes lack alt tags, so screen readers just utter "image" when they get to them. Creating memes without tags, Butler says, is like creating "internet dark matter."
Memes are chiefly user-generated, and there's little awareness among users of the benefits of alt-tagging. (Another huge benefit for site owners is SEO: Because "Google is blind," alt tags make images more searchable.) Butler hopes that, as well as describing memes for the blind, his show will also raise awareness among the sighted about the importance of alt-tagging, to eventually make it as mainstream as putting a caption on an Instagram photo or a YouTube video.
So, how should alt-taggers describe memes? It's a careful balance between being overly descriptive, and thus losing the "punch" of the meme, and being so sparing of details that it's not informative enough. On the show, Butler and Desrosiers (who is the CEO and founder of Scribely, which writes optimized alt text for businesses) offer a "quick and casual description," as well as a more technical description that's closer to traditional alt text. Take the condescending Willy Wonka meme, which is used to portray someone who has no interest in what another person is doing or saying. For some people, "sarcastic Gene Wilder" may be enough. Others may prefer to know the minute details of Wilder's facial expression.
It's not an exact science. To get a better feel for users' preferences, the hosts have launched a crowdsourced element of the show, in which listeners submit their favorite memes along with their own descriptions of them. For Butler, memes are "like folk art" in that they're open to interpretation—so the descriptions should be just as subjective. "It should be just as diverse a pool of people describing them as it is making them," he says. He suggests they could even start a leaderboard for the best user descriptions, an incentive to help the descriptions keep evolving for the better.
Say My Meme is effectively exposing the fact that memes, like literary texts, are open to interpretation and constantly being refashioned as they're applied in different contexts. In that way, the podcast is enjoyable for all audiences, including sighted folks who dissect memes themselves. Ultimately, memes—and the podcast—reflect the shared experience of humor, which Butler calls a civil right. "I hope we can bring together those who care deeply about accessibility with those who have never heard of it," Butler says, "over laughter and fun."
Butler has another fun idea, for another, meta layer of humor: to try to get celebrities on the show to participate in the tagging. "What if Chuck Norris wants to come on and describe his own memes for the blind community?"