After a year of lockdowns and social distancing during the COVID-19 pandemic, many people are feeling lonelier and more isolated than ever. Left primarily in our homes and apartments, we have felt our worlds shrink down to the space within our walls. This is mostly the pandemic's fault. But, according to architect Andreas Tjeldflaat, it's also the fault of the way our homes have been designed.
Housing has been disconnected from its social function, according to Tjeldflaat, founder of Framlab, an architectural research and design studio based in New York and Bergen, Norway. "This incentivizes the development of cookie-cutter studios and one-bedroom apartments in order to maximize rentable square meters and return-on-investment," he explains, via email. "A financial optimization mindset will typically discount the social value of shared spaces within and between buildings and neglect the social implications correlated with factors such as building size and housing density."
To counter the isolation that this model creates, Tjeldflaat has developed a new housing concept that uses the roughly 20% of space within apartment buildings dedicated to hallways, stairs, and other circulation to create space for social interaction. He calls his alternative approach Open House, a kit-of-parts system that seeks to recalibrate the division and distribution of space within multifamily residential buildings.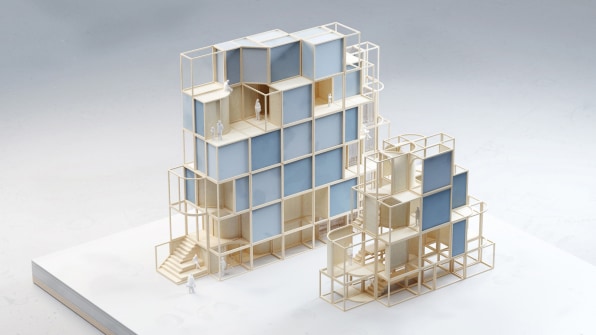 Inspired by Scandinavian cohousing models, the design increases the potential for social encounters by dedicating more square footage to the transitional space between the housing and the street, and between individual apartments and their shared hallways and staircases. Each unit has a large entrance area connecting to a hall or stairway, sort of like a front porch on a single-family home. Through the use of a retractable wall, this entrance area can either be closed off from the common areas of the hall or stairway or opened up to create a more fluid space where public and private spheres blend. Built-in seating is there to encourage residents to use it like a front porch, a semi-private space where they can still see and interact with neighbors.
"The flexible partitions enable the residents to regulate their level of engagement with the social programming of the common areas," Tjeldflaat says. "In an open configuration the common area becomes a continuous extension of the unit, while a closed configuration enables the resident to retreat for privacy."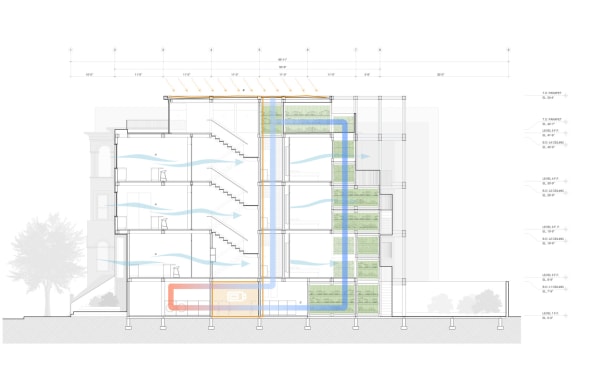 The design of Open House is more than just a hopeful vision for a more social future. It was informed by Tjeldflaat's experience working as an auxiliary nurse at a psychiatric hospital, where he saw just how much the subtle elements of space, access, and movement can affect people.
"In a psychiatric hospital environment, the ways in which space can reinforce or prohibit certain social interactions become clear," he says. There's an added emphasis on territoriality, or the ability to monitor and regulate the use of space and to enable patients and staff to have strong sightlines and multiple points of access. For patients, having some ability for personalization of space helps establish a sense of social control and trust. And for all inside what can be hard, complicated environments, the spaces in between rooms become almost as important as the rooms themselves. "The provision of thoughtful transition spaces can reduce the feeling of isolation and associated fear of moving between rooms and zones," Tjeldflaat says. Integrating these concepts into housing can have the same benefits, and maybe even stave off the loneliness and isolation that can degrade peoples' mental health.
Tjeldflaat's design splices these social spaces into the traditional walkup apartment building by creating hallways and stairwells that are much bigger than minimum building code requirements.
"Pocket spaces serve as natural 'collision points' for social interaction while areas for reading, meeting, and enjoying a cup of coffee have been distributed throughout to encourage activities and social engagement among neighbors," Tjeldflaat says. "As this series of shared spaces effectively becomes an extension of the apartment unit, the total area per resident can be reduced, allowing for higher housing densities."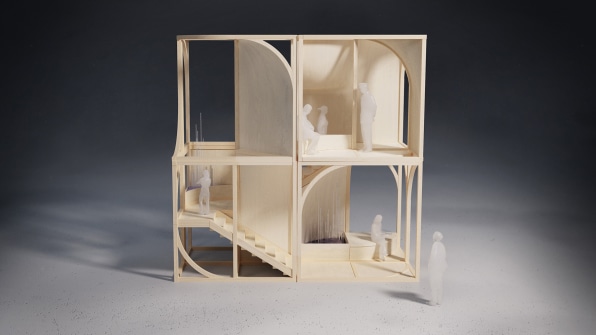 If smaller apartments and more interaction in the hallways sound like a violation of pandemic-related social distancing rules, that's part of the idea. Tjeldflaat's design looks to a time post-pandemic when more casual, spontaneous social interaction is a new kind of amenity people will seek in their housing designs.
Today, most housing is designed for a fairly static existence—but that has been put to the test as homes have been turned into offices, schools, and gyms during the pandemic. Tjeldflaat says housing should be more responsive to our desires and needs, with more flexibility to adapt as conditions evolve. "While we do not know what the future holds, housing ought to take this element of [the] unknown seriously," he says. "Rather than force people to adapt to their home environment, we should enable our home environment to adapt to these ever-changing circumstances and expand the opportunities for behavior, activities, and life."
Tjeldflaat hopes a pilot version of the design will be built soon but says it's too early to discuss any concrete plans. As vaccinations increase and pandemic lockdowns ease, Tjeldflaat argues that our relationship with the design of our homes will necessarily change. Open House proposes what he calls "a new typology of urban housing foregrounded in inclusion, connection, and well-being."