If you're a Safeway customer in Northern California, your grocery delivery person might soon seem a bit clunky.
That's because it's a remote-controlled, zero-emission delivery cart.
Albertsons Companies, which owns the Safeway chain of supermarkets, is joining forces with Tortoise to have what is essentially a robot bring food and household items to homes within a 3-mile radius of a Safeway. Tests are running at stores in the California towns of Tracy and Windsor.
A remote control operator in the store uses a camera and speakers to navigate the battery-powered robot to your house. The cart, which can hold as much as 120 pounds, carries orders for two households and travels an average speed of 3 mph. When it arrives at your home, you get a text to say it's there and the operator unlocks the container with your order.
During the pilot program, a human will escort the delivery cart.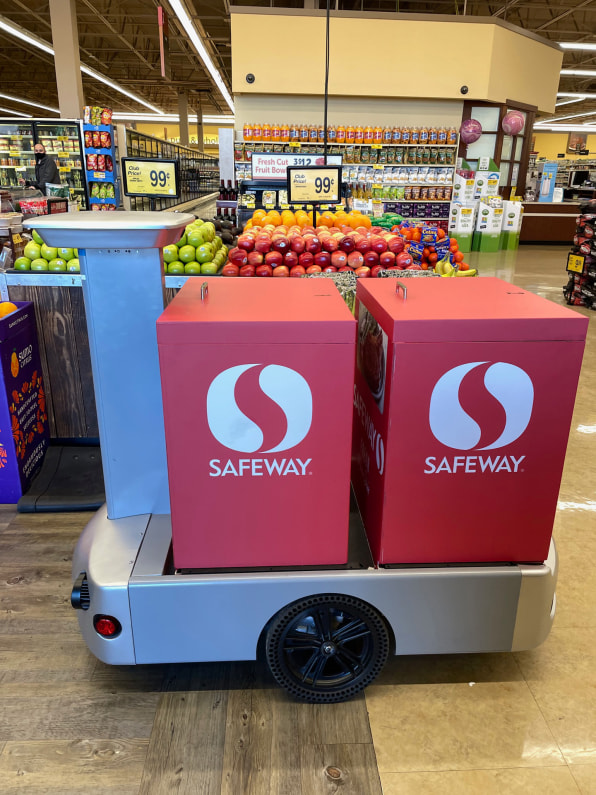 "We have been looking for technologies that allow us to serve customers faster and better," Chris Rupp, Albertsons Companies executive vice president and chief customer and digital officer, tells Fast Company. "For now, we have a human involved to translate what the robot is doing."
Online grocery was already a growing segment before the COVID-19 pandemic, but its pace of growth has accelerated since lockdowns and concerns about catching the virus began last year. It's expected to be 21.5% of total U.S. grocery sales by 2025, about $250 billion of the $1.16 trillion in grocery sales, according to a study by Mercatus, a grocery retail e-commerce company, and the research firm Incisiv. That's up from 10.2% in 2020 and only 3.4% in 2019.
Some types of food and drink are ineligible for the Tortoise robot delivery, like those that include alcohol or items with awkward dimensions, like extra-large deli trays.
Safeway's minimum order for delivery is $35.
The Boise, Idaho-based supermarket giant, whose banners include the eponymous Albertsons, has been working on this for six months, Rupp explains. It's an effort to reduce click-to-deliver rates; speed and convenience are key. The company is looking to offer same-day delivery across the board, which it currently doesn't do.
Albertsons came under fire in January when it laid off delivery personnel and replaced them with gig workers through third-party providers such as DoorDash.
The company declined to say how much a remote-controlled delivery cart costs.
Albertsons went public in June 2020. Its other chains include Vons, Jewel-Osco, Shaw's, Acme, and Star Market.
Tortoise, headquartered in Mountain View, California, was founded in 2019 by Dmitry Shevelenko, a former director of business development at Uber, and David Graham.