Water is the quintessential paradox of Los Angeles. For decades, the water system in arid and drought-prone L.A. has relied on water pumped in from outside sources at great financial, social, and environmental expense. But the water it gets for free—through rain and snowmelt off nearby mountains—is mostly ignored and sent flowing speedily through its stormwater drains and the channelized Los Angeles River out into the Pacific Ocean. An estimated 100 billion gallons of water is lost every year in Los Angeles County.
A new park design is attempting to show that L.A. doesn't have to buy all its water from outside, and it doesn't have to throw away the water it naturally gets for free. Through a reengineered system of storm drains, pumps, and two lakes that gradually recharge the area's groundwater, the park is using environmentally conscious design to improve L.A.'s relationship with water.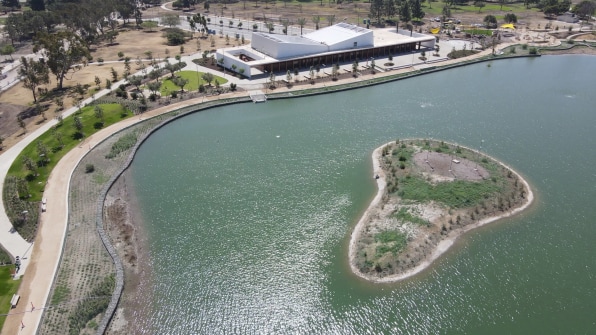 Though water scarcity is fundamental to the identity of Los Angeles, it is hardly unique to Southern California. As climate change results in more common and extreme weather events, from floods to droughts, communities and governments around the world need to rethink their entire approach to water. Doing more to reduce water usage, and better harvesting the water each place has, will be essential. L.A. is taking some major steps with this new approach to parks.
The design is the first phase of a major renovation of Earvin "Magic" Johnson park, located in unincorporated Los Angeles County land in the South L.A. community of Willowbrook. Near the intersection of two major interstate highways, Willowbrook is a lower-income neighborhood that's been underserved for years. The 126-acre park was originally designed in the 1980s and is the largest open space in South L.A., which has made it a popular but heavily used public space. "It was primarily turf and trees," says Gary Lai, principal and director of regenerative design at the planning, design, and landscape architecture firm AHBE | MIG, the project's prime design consultant. "This is a park that was underdesigned and overutilized for the last 30 years."
The new design exchanges the old irrigation-heavy design for a more regionally appropriate landscape, with drought-tolerant plants and a marsh-like lakeshore that naturally filters pollutants and bacteria from the stormwater coming onto the site. The first phase of the renovation, which was completed in January, acts as a stormwater collecting point for 375 acres of the local watershed. One of a growing network of groundwater recharge sites in greater L.A., the park is part of a paradigm shift.
"It is somewhat inconceivable that we spend all the money that we do importing water from the Colorado River and Northern California simply to put it in the ground and irrigate turf and plants," says Dan Lafferty, deputy director of Los Angeles County Public Works. "The more that we can utilize our existing local sources and reduce the reliance on sources that are so far from L.A. County, the greater our resiliency is."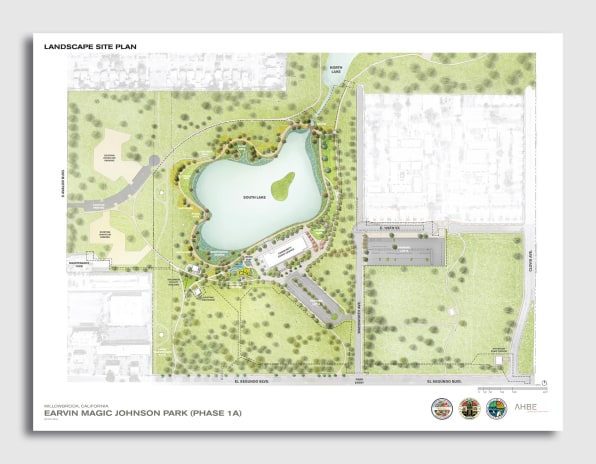 Lafferty calls the park a significant step in improving local water supplies and undoing some of the water engineering mistakes of the past that turned L.A.'s rivers, creeks, and waterways from places for natural recharge to oversized storm drains. "The decisions that were made back in the early part of the 20th century into the middle part of the 20th century sort of eliminated many of the opportunities we would have liked to have seen along those watercourses to make them more natural," he says. "We're now looking at how we can remake our existing landscapes in a way that somewhat mimics those natural processes."
According to Lai, studies performed by the design team show that the park's stormwater capture system will be capable of recharging the groundwater and irrigating the entire 126-acre park, even when the region experiences prolonged drought.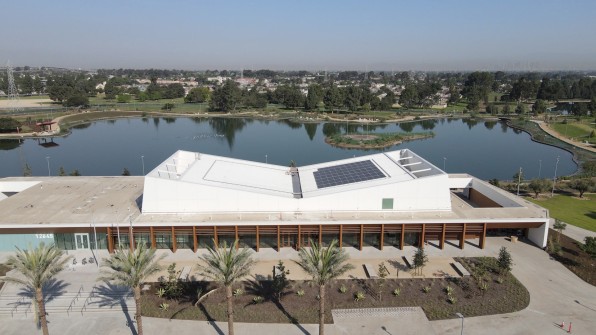 In addition to these environmental features, the park is also a park—with playground facilities, a half-mile walking loop around the lake, picnic tables, and even those thirsty but much-loved lawns. They are all elements that resulted from extensive public participation during the design process. Another key amenity resulting from community wishes is a 20,000-square-foot community center, with a flexible event space, a commercial kitchen, three classrooms, and an indoor-outdoor patio space that opens up to the lakefront. Designed by Paul Murdoch Architects, the building is long and low-slung, with a striking bowtie-shaped roof rising up over the generous indoor event space. "We understood pretty clearly how important an asset this was going to be, so it needed to announce itself a little bit from a civic and community point of view," says architect Paul Murdoch.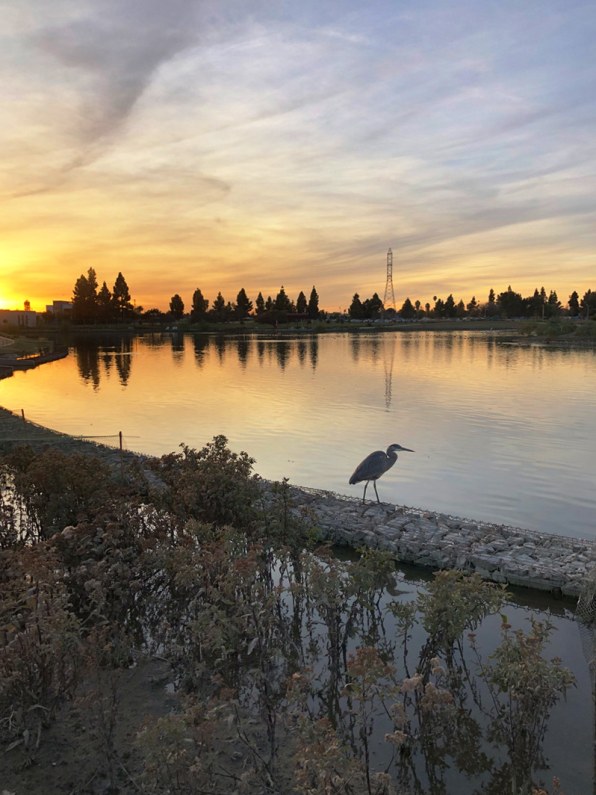 Though the park is filling community and recreational needs, the stormwater capture is the centerpiece of the design. Lai says the environmental benefits it provides may not be what brings people to the park, but that the park can serve as a kind of tool to show people how it's doing more than just providing a better public space.
"It's infrastructure that does all this great stuff in terms of cleaning the water, but it's also infrastructure that the community can use, can see," Lai says. "We can educate the community with this about what we're doing here, and get a lot more support for other similar projects."
More may be on the way. With $300 million in annual funding from a recently approved countywide measure that aims to help capture some of the 100 billion gallons that are lost every year, the county is hoping that lessons learned from this park renovation will help guide the creation of new sites where water is collected instead of thrown away.
"This is the next generation in terms of water conservation," says Lafferty. "Over the next 20 years or so you're going to see these types of projects be the template and the model for future projects."