The November 2018 announcement that Amazon would be siting HQ2, its second headquarters, in Arlington, Virginia, triggered some not-unexpected anxiety about the company's impact on the local housing market. The projected influx of around 25,000 employees (and their salaries) from one of the world's biggest companies is pushing prices and demand to new heights.
Within a year of Arlington's selection, median home prices in HQ2's Crystal City neighborhood had jumped more than 50%. More than two years and one pandemic after the announcement, the market has cooled a bit, but prices are still high and inventory is tight. As HQ2's buildings complete construction and Amazon becomes a dominant presence in Arlington over the next few years, housing is likely to become even more scarce.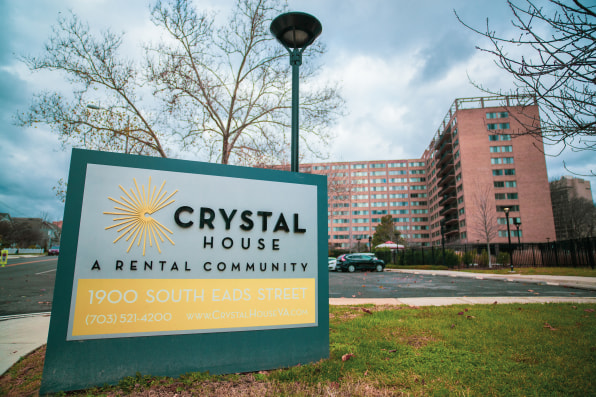 And that's just for housing that sells or rents at market rates. For people with lower incomes, affordable housing is under extreme threat as the area's fortunes rise. To try to counteract pressure on the housing market, Amazon has taken the unusual step of financing the purchase of a market-rate apartment complex next to HQ2 that will be preserved for 99 years as affordable housing.
The building is an 825-unit luxury apartment complex two blocks away from the office towers, open space, and spiraling climbable artificial mountain that will make up HQ2. It was purchased for $381 million, through below-market financing and grants from Amazon, by the Washington Housing Conservancy, a two-year-old nonprofit focused on preserving affordable housing in areas facing a high risk of displacement. Over the next five years, as renters and leases turn over, 619 of its luxury units will be made available for rental by people earning less than 80% of the area median income, or about $80,000 a year for a family of four. The other 206 units will stay at the market rate. The purchase also includes a nearby vacant lot that will be developed into a project that hasn't yet been determined, but which is planned to include 700 affordable housing units. In total, the deal will add about 1,300 units of affordable housing to the area.
Amazon's involvement came through its recently established Housing Equity Fund, a $2 billion pot of money dedicated to preserving or creating 20,000 units of affordable housing near its main office locations—the region around Amazon's Seattle headquarters, in the Arlington area, and in Nashville, Tennessee, where the company has a large operations center.
Similar in some ways to a $4.5 billion fund created by Apple, Google, and Facebook to offset the tech giants' effect on the housing market in the San Francisco Bay Area and Silicon Valley, Amazon's fund is an unspoken recognition that the company has seen significant backlash against its presence and impact in some cities. When HQ2 was originally planned to be split between Arlington and Long Island City in New York, activists wasted little time in mounting a campaign against the project, the displacement it would likely cause, and the estimated $1.5 billion in tax cuts it would receive. In Seattle, home to Amazon's HQ1, skyrocketing housing costs have been blamed on "the Amazon effect," which contributed to new home prices increasing at twice the rate of new homes nationally. The financing for the Arlington deal, and another deal in King County, Washington, are the Amazon Housing Equity Fund's first efforts at using the company's financial clout to offset some of those negative impacts and to be a better neighbor.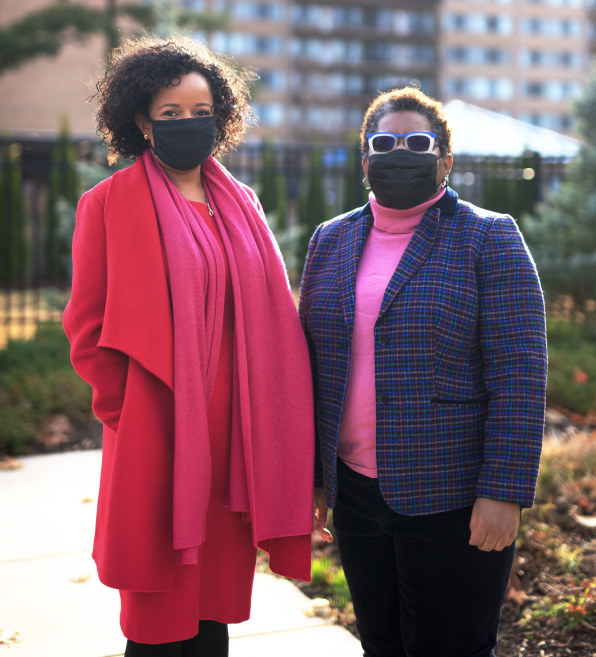 "The way I look at it is really being in alignment with the community to make sure, whether it's an Amazon or changes that are already happening in the housing market or some other effect, that the impacts are being addressed in a thoughtful and equitable manner," says Catherine Buell, head of community development for Amazon in the Community, the company's corporate-social-responsibility arm. "In a lot of the communities that we're moving into, housing affordability has already been a challenge. So we didn't necessarily create it, but we also didn't want the problem to get worse just by virtue of the fact that we're moving into communities."
The problem is most certainly getting worse, and not just in cities with a growing Amazon footprint. Kimberly Driggins is executive director of the Washington Housing Conservancy, and she says the organization was founded to take a more proactive approach to preserving the naturally occurring affordable housing that is being lost simply through the process of housing markets heating up. By buying up these homes and placing long-term deed restrictions on how much they can rent for, this preservation ensures low-cost, or "workforce," housing doesn't get bought by profit-motivated investors who jack up the rents beyond the means of low- and middle-income people. "This is the type of affordable housing that's being lost at the greatest rate around the country," she says. "Any city where the market pressure is strong, you're going to see this phenomenon."
And though government entities have some power to increase the affordable housing stock, those efforts are mostly geared toward new construction funded through local subsidies and the federal Low Income Housing Tax Credit—projects that can be slow to materialize and that create far lower quantities than the level of need. "We can't keep up with demand. We need new solutions in addition to the ones that we've been using for the last 30 or 40 years," says Driggins, who previously was director of strategic planning for the city of Detroit. "It's easier, and it's cheaper to preserve what's already there."
Her organization's partnership with Amazon is an attempt to forge a new solution. Driggins says the conservancy is eschewing government subsidies in favor of private capital that can more quickly acquire and preserve affordable housing while providing its investors with a return. "We're doing something that the market doesn't want to have happen. We're disrupters. We're able to leverage private capital, and we have a social-impact investing fund to really compete with for-profit developers in the space," she says. "We're able to move quickly because we're not relying on government funding to close deals."
For the conservancy, Amazon's below-market rate financing was instrumental, Driggins says. But the conservancy's unconventional approach was also a way for Amazon's Housing Equity Fund to experiment with new ways of addressing affordability issues.
"Being able to convert those buildings into workforce housing and to keep the rents low was not something that had been tested at scale, and was quite frankly a missing piece in all of the different tools that the capital region has to address affordability," says Buell, a former president and CEO of the Atlanta Housing Authority. "Government dollars typically aren't spent on innovative models that haven't been tested."
The company wants to use its massive spending power to make these kinds of innovations possible in its three target regions. Buell says it can be challenging to understand the dynamics of these markets and the submarkets within them, but she hopes that partnering with organizations such as the Washington Housing Conservancy and learning the priorities of local jurisdictions will enable Amazon to use its $2 billion pool of funds to quickly and creatively address community needs.
It's something that both Driggins and Buell agree should be a bigger part of the way corporations support the communities where they locate—and where they inevitably drive changes in the local housing market. "That's where an Amazon can come in," Buell says. "And we think that there are other corporations that, if we can show how this works, would also step into this space."
Amazon's approach here is new, though the long-term impacts remain to be seen. The money is there to do good, especially for a company such as Amazon, and so is the need. But for local governments and residents already feeling the housing-market effects of big corporations coming to town, there may be at least some hesitance in giving companies even more sway over the fate of their communities.