As the Persian Gulf nation of Qatar prepares to host the 2022 FIFA World Cup soccer tournament, the toll on the mostly migrant workers building its venues and related infrastructure is rising. According to a new report from The Guardian, more than 6,500 migrant workers have died in Qatar since it was selected to host next year's World Cup back in 2010.
Due to inconsistent and imprecise records, it's difficult to know exactly how many of these deaths are directly connected to projects being built for the soccer tournament, but the report draws a clear relationship between Qatar's World Cup building spree and a labor rights system that puts migrants at risk.
"The numbers of deaths revealed by The Guardian are deeply alarming and further raise fears that migrant workers are paying the highest price in this tournament," says May Romanos, a Persian Gulf region researcher at Amnesty International. "It was clear from the beginning that there is a need for Qatar to strengthen its occupational health and safety standards as well as protection mechanisms so that we do not end up with the sad reality of thousands of migrant workers losing their lives in order for the country to host this World Cup."
Most of the construction work is concentrated in and around the capital city, Doha, with a total of seven new stadiums, hotels, a new airport, and significant road and transit infrastructure being built ahead of the tournament's start in November 2022. These projects rely heavily on migrant workers who've come to Qatar on often exploitative and low-paying work contracts that push workers in the region's extreme climate and limit their rights. Coming mostly from poor countries, workers had been lured unknowingly into a labor system in which migrant workers could not leave the country or change jobs without their employer's permission. Some have even been tricked into paying to be recruited for this work and having their passports confiscated by employers upon arrival. The 6,500 deaths tallied by The Guardian only account for workers from India, Nepal, Bangladesh, Pakistan, and Sri Lanka, but with a large number of migrant workers coming from countries such as Kenya and the Philippines, the true death toll is likely much higher.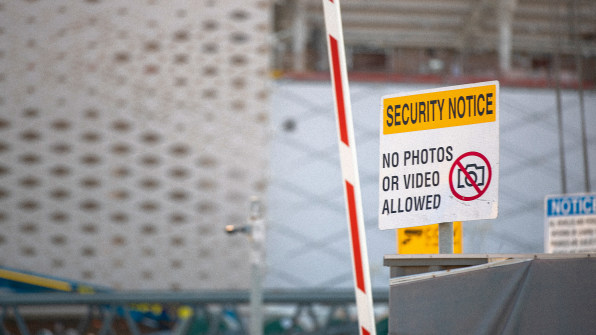 Only 37 of those deaths are directly linked to construction at World Cup stadiums, according to The Guardian's reporting, and most of them are classified as "non-work related." But these classifications obscure the grim realities behind many of the deaths at construction sites and beyond, according to Romanos.
"The lack of transparency surrounding this issue—especially that most deaths tend to be reported as 'natural causes' or 'cardiac arrest' without proper investigations and autopsies carried to determine the real cause of death—makes it very difficult to get the full picture," she says.
Romanos also notes that only 2% of migrant workers in Qatar work directly on World Cup projects, such as stadiums, qualifying them for higher labor standards and protections, while others working on ancillary projects are left largely unprotected. "We believe that all migrant workers, including those who constructed the roads, metro, hotels, and the infrastructure needed, played a vital role in making this World Cup possible for Qatar," she says. "All measures should be taken to protect every single one of them from the risk of death and exploitation."
The plight of workers building Qatar's World Cup has been well known for years, with many workers housed in overcrowded group dorms, working long hours, and facing delayed or unpaid wages. These conditions—and their inescapable connections to the global architecture and design industry—were brought to international attention back in 2014 when they were addressed by architect Zaha Hadid, the designer of one of the main stadiums to be used in the tournament. "It's not my duty as an architect to look at it. I cannot do anything about it because I have no power to do anything about it," she said, highlighting the complex nature of this type of megadevelopment. She also noted that none of the deaths occurred at the stadium her firm designed. "I think that's an issue the government—if there's a problem—should pick up. Hopefully, these things will be resolved."
In November, Amnesty International released its own report on the working conditions of the roughly 2 million migrant workers in Qatar, and though some of the most egregious conditions are changing, much is still to be resolved. Qatar has made commitments to improving conditions there, making a partnership in 2017 with the International Labor Organization to bring its labor laws up to international standards. In 2020 it completely eliminated the legal requirement for workers to obtain their employer's permission to leave the country or change jobs and instituted a mandatory minimum wage for all migrant workers, though that wage starts at just $275 a month.
Romanos says this is important progress, but that the reforms remain weakly implemented and enforced. With more than a year and a half to go before the World Cup, the already high death toll among migrant workers is likely to keep rising.
"Qatar must ensure full implementation and enforcement of the reforms introduced to date, get serious about holding abusive employers to account, and take action to address major weaknesses in key areas including the payment of wages, access to justice, and workers' voices," Romanos says. "More work needs to be done so this upcoming World Cup will leave a positive legacy for all workers."