During a time of social isolation and distancing, people have realised just how much human connection is essential to feel…well, human. Empathy and compassion have never been more important.
Zepp, a smart wearables brand, aims to empower users with personal health management. The company is a proponent of physical-mental-emotional wellness. Innovative features, such as the Personal Activity Intelligence (PAI) health assessment platform, turns sophisticated information on users' heart rates and daily activity levels into a single metric, to guide them on the state of their health. This simple gesture shows how the heart of the wearable technology company is humanism.
As we have seen from the pandemic, people are changing the ways they manage their health and well-being. During this challenging period where physical interaction is limited, it is even more important for tech companies use their innovation to serve the communities.
A WELL-MEANING SMARTWATCH PLAYER
In light of the pandemic, Zepp worked with experts, including general practitioner Dr. Sarah Jarvis, to study whether the classic bodily indicators of attraction, such as your heart rate, have changed. The result is a rational reference-slash-personal checklist of tell-tale body reactions indicating genuine attraction.
Adding in a real-life element, the brand also chronicled two potential matches on a blind date and monitored their heart rates with the use of Zepp E smartwatches. The mini film provided a light-hearted and heartwarming relief during a season of virtual Christmas celebrations, prompting people to celebrate the healing power of human connections.
The inspiration behind Zepp's vision stems from its history using sensors to empower humans to go further. Ten years ago, the company created waves in the North American exercise market by using a unique wearable sensor device to help people monitor and analyse their exercise data, enabling athletes to double their training results.
Fast forward to 2021 and Zepp is reimagining itself with a new look and feel, combining high-end design with superior health- and fitness-tracking capabilities. Since the brand's relaunch in August 2020, it has unveiled several wellness-centric initiatives for the public:
Zepp Global Sleep Study + World Sleep Society
In October, in consultation with global sleep health authority World Sleep Society, Zepp commissioned an independent Global Sleep Study of 12,000 respondents from six countries to understand the concerns, perceptions, and attitudes around sleep quality in these unprecedented times.
In recognition of the importance of what Zepp was doing, Dr. Lourdes DelRosso, who represents the World Sleep Society and co-chairs World Sleep Day 2021, commented, "Sleep is a basic human need—a crucial component of survival, much like breathing, eating a healthy diet, or getting enough exercise. We thank supporters like ZEPP for helping to increase awareness about sleep and sleep disorders."
Collaboration with Swedish creative masterminds to launch the Zepp Lullaby Generator
The Global Sleep Study also revealed music's role in helping people fall asleep. The free Lullaby Generator helps to create customized music based on users' sleep patterns for an enhanced night's rest. The result is an immersive journey that combines music and sleep metrics. Existing Zepp users can log in to share their sleep metrics and automatically produce a unique and personalized lullaby. Non-users can also participate by answering a number of questions about their sleep habits.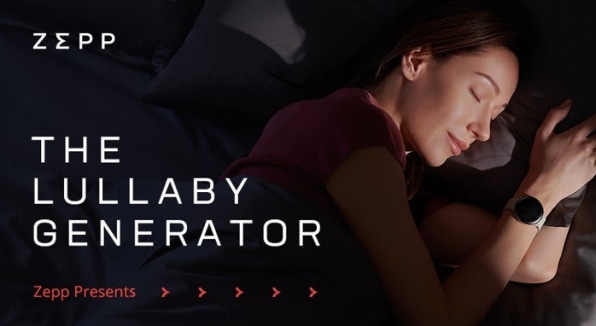 It is no wonder the Lullaby Generator garnered a cadre of fans, with huge recorded impressions, and received shout-outs from fitness influencers Obi Obadike and Julie Germaine, actress and writer Natalie Anderson, and neuro-acoustic research expert Dr. Jeffrey Thompson.
From robust research to personalized extension of the smartwatch experience, Zepp's efforts reveal an ambition for humanizing technology and extending its impact beyond physical wellness. In an age of dubious technology, Zepp continues to demonstrate an integration of technological innovation and human values, leveraging tech for good and putting people first.