Facebook users are currently caught in a fight between the social network and the Australian government over the sharing of news on tech platforms.
On Wednesday, Facebook banned users in Australia from sharing links to any local or international news stories, blocked Australian news publishers from sharing their own stories, and prevented users worldwide from sharing news articles published in Australia. The drastic move is a response to the Australian government's Media Bargaining code, which tries to counter tech giants' decimation of the news business by making Google and Facebook share some revenue with local news publishers.

The move by Facebook has sparked an international backlash, with one MP in the United Kingdom calling it "one of the most idiotic but also deeply disturbing corporate moves of our lifetimes." Amnesty International Australia campaigner Tim O'Connor said that allowing one company to dominate the information ecosystem "threatens human rights," and criticized Facebook for blocking access to community groups and emergency information. (Facebook itself acknowledged that some Pages were "inadvertently impacted.")
It's unlikely that the news ban will last forever, at least in its current form. Australia's treasurer, Josh Frydenberg, has said that he continues to have constructive discussions with Facebook CEO Mark Zuckerberg, and Google has already made its own made its own deal with News Corp, agreeing to pay the publisher for news in United States, United Kingdom, and Australia. Deals between Google and other publishers are expected to follow, which could put pressure on Facebook to be less belligerent in its response.
But in the meantime, Facebook users are stuck without a way to share reliable information on the world's largest social media platform. That's not ideal, given how easily misinformation can flourish on Facebook instead.
Fortunately, there is a workaround. By sharing links through a proxy website, you should still be able to post Australian news articles on Facebook.
The best service I've found for this is Outline, which presents articles in a reader-friendly view. Just visit Outline.com in any web browser, paste the link you want to share, and hit "Create Outline."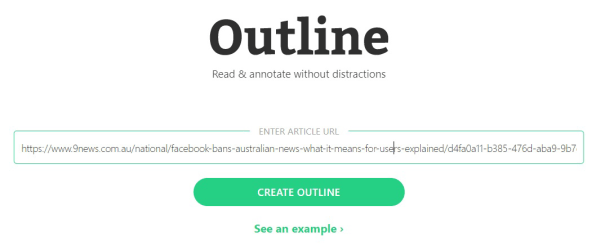 You can then copy the URL in your browser's address bar, or scroll to the bottom of the article and hit the green copy button for a link that you can post to Facebook. Best of all, Facebook will preserve the article's headline and image preview, similar to sharing the article proper.
You may be able to use other services to share links as well. I found that using cached versions of articles from the Wayback Machine also worked, but certain URL shorteners did not.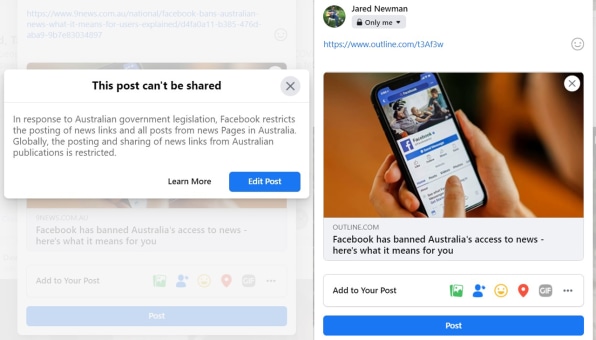 Keep in mind that if you're in Australia, this trick still won't let you view regular news articles from international publishers on Facebook. For that, the workarounds aren't as clear. I tried using a VPN called TunnelBear and a Chrome extension called Location Guard to pretend I was in Australia, but Facebook still seemed to think I was in the United States and placed no restrictions on viewing news content. Users in Australia may not be able to fool Facebook with these tactics.
In the short-term, then, the best option for Australian Facebook users is to share links through sites like Outline and encourage others to do the same. Granted, those sites won't provide publishers with any traffic or ad revenue, since they're effectively republishing the same content for free, but it beats not being able to share trustworthy information at all.