The temperature in Dallas dropped well below the temperature in Anchorage, Alaska—with a wind chill of minus 16 degrees Fahrenheit on Monday, possibly the result of climate change, as Arctic warming weakens the jet stream that usually traps cold air in the north.
The extreme cold took out power for millions of people in Texas and in other states. And it's only one example of the ways that the extreme weather spurred by climate change can impact the electric grid. Extreme heat makes power demand surge. Extreme drought increases wildfire risk in states like California, forcing grid operators to shut down power to avoid sparking new blazes. Smoke from wildfires reduces power from solar panels. Hurricanes can shut down power plants and take out transmission lines. And the list goes on. As the risks increase—at the same time as the electric grid transitions to renewable energy—how can the grid become more resilient?
"There are two big buckets of impacts of climate change," says Michael Craig, assistant professor of energy systems at the University of Michigan. "One is that it makes what used to be extremes more common—what used to be an extreme event might be more of an average event that we experience. And then we also see greater variability in the system."
That makes it harder for grid operators to plan how to keep the system running smoothly, especially when extreme weather causes multiple problems simultaneously. In an extreme heatwave, as millions of air conditioners suddenly turn on, power plants like natural gas plants may simultaneously experience more outages, and solar panels may generate less power as the heat makes them less efficient.
"The challenge here is really wrestling with, not just one thing, not just two things," Craig says. "It's not just the heat driving up your demand. You've got a whole host of events that are going to compound on one another, and collectively stress your system in ways that you didn't expect it to."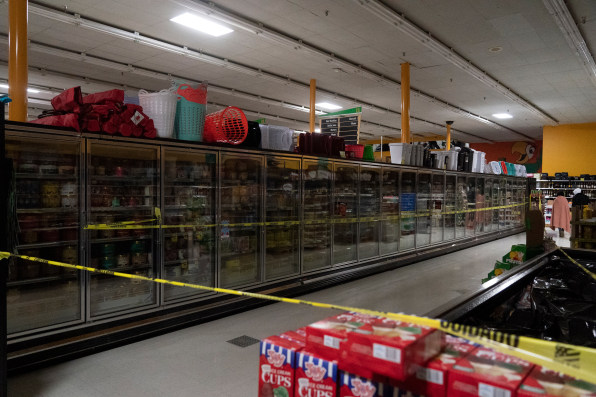 In Texas, the plummeting temperature made more people turn to electric heaters, spiking demand at the same time as a huge amount of energy from natural gas plants suddenly went offline. (It isn't clear yet why the natural gas plants stopped operating, but the cold appears to have impacted the gas supply, and may have caused problems like freezing pipelines.) Some wind turbines also stopped working in the cold, though that was a much smaller part of the problem.
It's possible to make systems resilient to cold weather. Wind turbines can be treated with chemicals to prevent icing, for example, or painted to soak up more radiation from the sun. Gas plants can store oil as a backup, and could also use technology to keep pipelines flowing. Grid operators can also pay to keep several backup power plants ready or be well-connected to nearby grids. (In Texas, the grid operates essentially on its own within the state, and the mostly deregulated industry has chosen not to invest in a network of backup plants.)
One challenge is cost: While grids in areas that regularly experience cold weather already make these investments, it's a harder choice to make when extreme cold is still unpredictable and rare. More battery-powered rooftop solar panels on homes could also help build resilience, but because batteries are still relatively expensive, it's a solution that's available only to wealthier homeowners now.
It makes sense for grid operators to do as much as possible to understand climate risks. "I think there's several different things we can do," Craig says. "One is making sure that we're looking proactively into the future. Are we planning for things that have already happened to us? Are we planning with the last five years of data? Or are we asking what is coming down the pipe—what is going to happen in the next 5, 10, 15, 20 years? The historic record isn't actually representative of what we're going to see, because the climate is non-stationary."
As we invest in new energy infrastructure, like the massive buildout of wind and solar power that the Biden administration is pushing for, it's critical to do that in a way that plans for the extreme weather that's coming, and is flexible enough to adapt when an extreme event happens. The same approach has to happen with older fossil-based infrastructure.
"Texas has shown us that just assuming that a gas plant is going to be there when you need it is not exactly a good strategy when we're facing extreme events—when we're facing things that we did not expect to happen before but are now going to happen because of climate change," Craig says. Something like wildfire smoke affecting solar power generation might not necessarily have been part of the planning for grid operators in the past, either.
There's also a clear case for accelerating the growth of wind and solar power to help reduce the risk of extreme weather in the future. In Texas, while attribution studies linking the cold snap to climate change haven't yet been completed, Craig says, "We're probably in this situation because of climate change. What we don't want is for this situation to happen more and more. So we need to reduce our carbon dioxide emissions."