On Wednesday, people looking for information about where they or their loved ones can get a coronavirus vaccine can turn to a somewhat surprising tool: ClassPass.
The New York company that's best known for connecting subscribers with fitness classes near them is now using its technology to aggregate information about where the vaccine is being offered. The information is available through the ClassPass smartphone app and its website, with details about vaccination sites visible on an interactive map.
Jeff Bladt, ClassPass's vice president of pricing and inventory, says the effort came after he and others in the company struggled to help older relatives find vaccination spots near them.
"It was frustratingly horrible to do so," he says.
There is still no comprehensive government database of who's eligible to get the vaccine at which sites and where it's actually available. With the dearth of easily accessible official information, the vaccine rollout has faced repeated criticism that it favors people with the time, internet connections, and digital savvy to search out doses and appointments.
As a result, a number of efforts around the country have sprung up to help people figure out where to get the vaccine. Some volunteer efforts crowdsource information from people who report back the results of their own hunts for vaccine centers, and others rely on phone banking to collect and verify data about where it's available.
These efforts, including ClassPass's, are a stopgap measure that doesn't address the underlying problems with the vaccine rollout. They don't cover the entire country—ClassPass, for instance, is launching in Chicago, New York, and Boston, though Bladt hopes to expand "as quickly as possible"—and they typically don't handle booking appointments, which remains a challenge in many places. But they can help people at least find out where shots are available and reduce calls to overwhelmed workers at vaccine locations. Other private companies, such as ZocDoc and EventBrite, have also stepped in to help manage the booking process.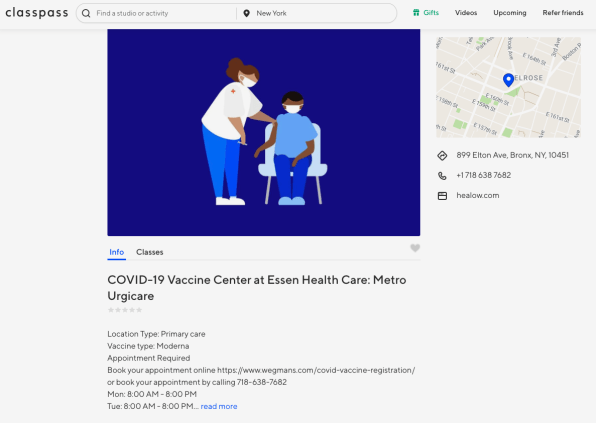 Since ClassPass already has people trained in standardizing and performing quality assurance on listings for places offering fitness classes, beauty treatments, and similar services, it was able to quickly adapt to doing the same for vaccination sites. The company is providing information on hours, the type of vaccine available, and how to make an appointment for a variety of vaccination sites, including government-run vaccine centers and private medical practices.
The ClassPass system currently doesn't allow people to make vaccination appointments directly through the app as they can for some other services, so users will still have to contact facilities directly by phone or web to book an appointment. But Bladt says he's hopeful the system will still remove some barriers to people getting vaccinated quickly.
"We are great at talking ourselves into delaying things that we know are good for our health with phrases like, 'I'll work out tomorrow,' or 'I'll get vaccinated next week,'" he wrote in an email to Fast Company. "At ClassPass, we've figured out how to remove that friction and convince people to make a reservation, and we want to use what we've learned to encourage more people to get vaccinated. Any platform that commands people's attention multiple times throughout the month has a responsibility to use their platform in a similar way."