During the coronavirus pandemic, few building types have been as scrutinized and debated as offices and healthcare facilities. Both have been forced to evolve, and there's a substantial question as to what they'll look like after the pandemic.
Global architecture firm Gensler is actively grappling with what this future will look like. With 50 offices around the world, Gensler is responsible for a significant number of the office and healthcare spaces being designed globally. The company has designed offices for companies such as Facebook, Etsy, and The Washington Post, and healthcare projects for organizations including Pfizer, Bayer Canada, and the sciences coworking hub LabCentral. How these buildings evolve through and maybe past the pandemic is already a focus for the company. As explained in the latest edition of its design trends forecast, released today, the company sees some big and overlapping changes coming to these two types of spaces.
The future of the office
The hybrid model of part-time office work and part-time remote work is here to stay, according to Janet Pogue McLaurin, Gensler's global workplace research leader. "We need to design workplaces where people want to be, because now they finally have some choice, and they've proven that you can work remotely," she says.
It's a trend the company is seeing globally, through surveys with workers in the U.S., France, the U.K., and Australia. And while half of the workers in the U.S. want this kind of flexibility, hybrid workplaces are in demand for two-thirds of workers in Europe and Australia. "This is an opportunity to reimagine how much space is required, how many people are going to be there, why are they there, and how can we design a place that allows them to come together in a safe way but really do their best work," McLaurin says.
Architecturally, this translates into workplaces that have a high level of flexibility, with rooms that can easily be subdivided or expanded to accommodate different uses. McLaurin points to simple adaptations such as rolling dividers as well as more elaborate design changes such as easily movable walls that can carve up office floors into different sized rooms for more privacy or collaboration. She says the hybrid model is leading to more focus on the latter. "Some clients are starting to think about, 'Should we do all of our focus work remotely and only design an office where we convene, where we come together, that's full of rich and immersive collaboration spaces?'" she says.
That's putting more pressure on the design of these office environments to provide the social and interactive opportunities that working from home lacks. It also means designing spaces that meet the changing desires of workers. According to Gensler's surveys, most of the top things workers want in their workplace are related to health and well-being, from gyms and outdoor spaces to health and medical services to childcare. "We know that any great workplace experience really needs to be grounded in how do we make spaces healthy and well-being-focused for employees moving forward," McLaurin says.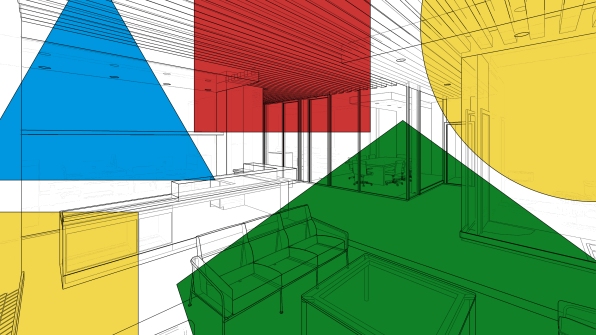 The future of health and science
The pandemic, and especially the first wave of cases, which overwhelmed many public health systems, have made it clear that hospitals have some design flaws.
"Our legacy health systems are like network TV in an age of streaming," says Scot Latimer, head of the health sector at Gensler. He points to virtual visits and hospital-at-home services that are seeing skyrocketing demand among people wary of the risks of walking into a hospital. "There are many more options for how you get care and services and how you and I as humans can pull services our way."
This is beginning to change how hospitals and healthcare spaces are designed. "The idea that we're seeing fewer physical visits is enabling organizations to look at potentially needing less real estate or redistributing that real estate," Latimer says. That could mean healthcare spreading out into more easily accessible spaces, such as community centers or neighborhood-serving locations in empty retail stores, he says.
And it's not just the patient experience that's changing. The pandemic is also having architectural implications on the science side of the healthcare industry. Latimer says Gensler has seen a huge increase in demand from clients either building or adapting spaces focused on life sciences, from established institutions such as MIT to startups. And unlike the specialized science buildings of the past, these new projects blur the lines between scientific specializations and parts of the company focused on lab work, regulatory requirements, and the business side of running a startup.
"In a business where speed to market is the survival of the company, we're getting deep into a lot of interesting configurations of the work of these companies," Latimer says. "If you're designing a life science campus, the lab isn't concentrated in one building over there, the lab is everywhere, and there's a lot more emphasis on connections."
That could also mean that life sciences spaces start changing in the way that Gensler thinks offices are changing—with flexible workspaces, a greater emphasis on collaboration, and a more varied geography beyond typical hubs such as Boston or San Diego. And in another sign the hybrid model really is taking over the typical office building, Latimer says some building owners are starting to think about how they can pivot away from offices and toward other growth areas, especially in healthcare and life science.
"A lot of developers are looking to us to retool their buildings to be life-science ready," he says.
For Gensler, the two sectors are almost beginning to merge. Life science and healthcare spaces are beginning to look more like offices, just as offices are being reimagined as places needing more elements of health and well-being. Whether this lasts into a post-pandemic age remains to be seen, but for 2021, the trends seem likely to hold.