We won't be leaving our home offices anytime soon. Even with the sweet siren call of the vaccine on our horizons. So it feels like the right time to invest in making the space more comfortable, efficient, and stylish. We looked around our own home offices and asked Fast Company staffers for their tried-and-true WFH gear, furnishings, and tech. Here are our favorites.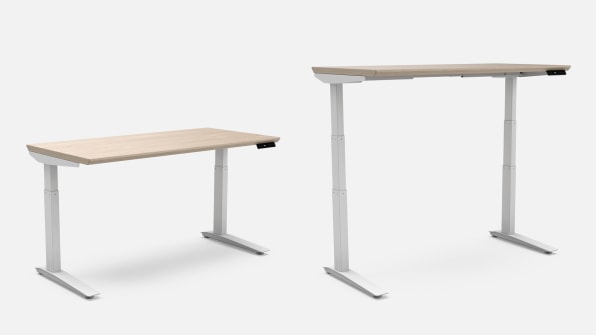 Floyd The Standing Desk
Floyd might be best known for its modern, modular, movable sofa—but its Standing Desk caught our eye with its sturdy engineering and simple design. With enough space to spread out (a generous 54-inch desktop) and a programmable OLED touch handset, the Standing Desk is designed to fit your work-from-home needs, no matter what they might be.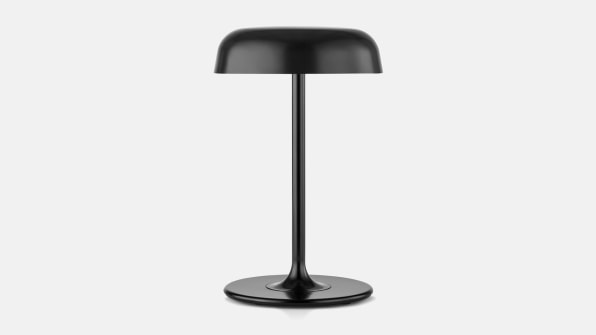 Ode Desk Lamp by Sam Hecht and Kim Colin for Herman Miller
It casts beautiful, warm light to offset the horrible cold blue of your computer, and you tap it to turn it on and off. I know a lot of lights do that nowadays, but this one always works. The other tappable lights I have are buggy. And I love the simple form factor. It looks like a little sculpture on my desk. —Suzanne LaBarre, Co.Design editor
Native Union Dock Marquetry Wireless Charger
I love standing wireless chargers because they keep your phone at eyesight, but prevent you from fiddling with it throughout the day. This one by Native Union is particularly luxe, made with patchwork Italian leather, and plays nice with most Qi compatible devices.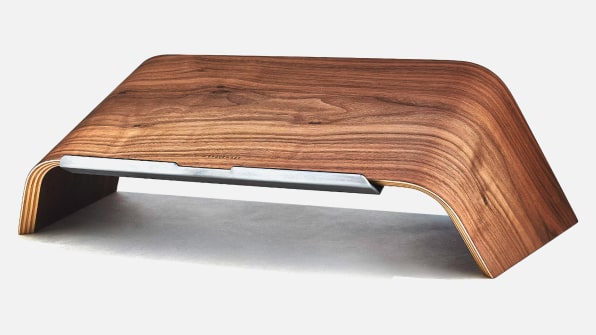 Grovemade Laptop Stand
After tweaking my back earlier this year, I realized I had to make big changes to my workspace. Giving my laptop a boost makes me sit up and keeps my eyeline straight on so I'm not turtling all day.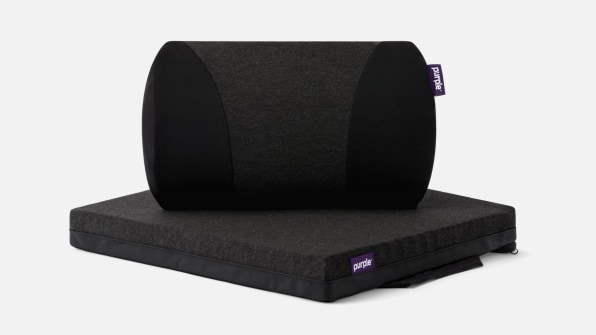 Purple Comfy Home Bundles
Purple's seat and back cushion combos use the same gel grid tech that keeps their mattresses springy and comfortable on all of your pressure points. Fast Company senior editor Amy Farley approves: "Take it from someone who recently had back surgery: These will transform your okay WFH desk chair into something much more comfortable (and safe)."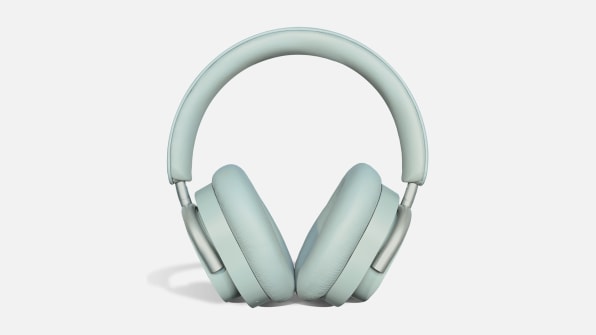 Know Calm Headphones
These lightweight, noise-canceling headphones are the perfect audio output device for podcasts and the hours of NPR I listen to every morning. Tuned specifically for spoken word (though they're solid for music as well), Know's Calm Headphones manage to disguise disruptive construction outside my window and feature easy swipe-able controls on the ear.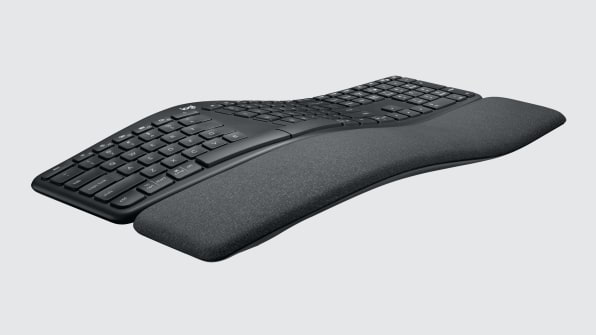 Logitech ERGO K860
Fast Company senior writer Mark Wilson reviewed the Logitech ERGO K860 when it launched last year: "It's the company's first keyboard that's split in the middle, so the letters your left hand types are on the left, and the letters your right hand types are on the right. Your wrists rest almost as if they're on two sides of a pyramid or a small wave, atop a firm yet soft washable cushion. And after about a week of writing on the K860 at my standing desk—while using the quirky, vertical ergonomic mouse Logitech released in 2018 that allows a similar posture—my back never wants me to go back."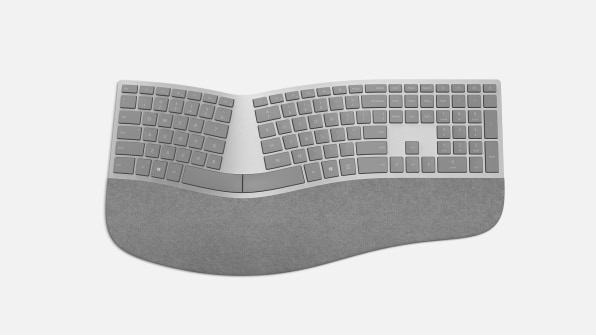 Microsoft Surface Ergonomic Keyboard
Ergonomic keyboards split the keys in two, angling them toward the center so your wrists sit in a more natural position. This sleek one from Microsoft's Surface family features a slightly arched profile, helping perfect your form and taking strain off your hands and wrists.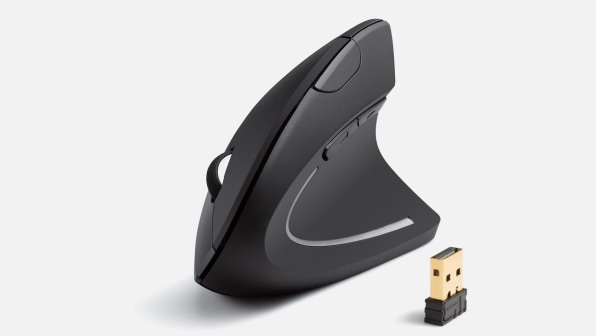 Anker Ergonomic Vertical Mouse
I've noticed a huge difference in my impending carpal tunnel after swapping to an ergonomic mouse. It looks awkward, but once your hand slips into the grip-like grooves, putting your wrists in a pressure-free position, you'll wonder why you've used a "regular" mouse for so long.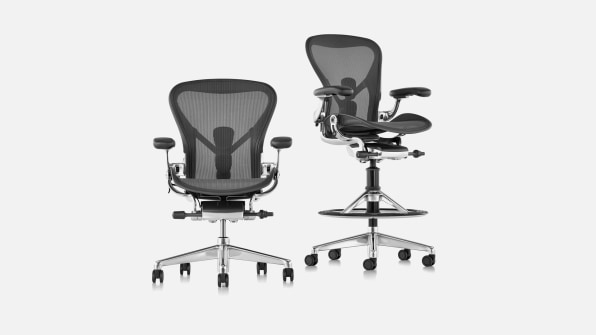 Herman Miller Aeron Chair
An investment in design—and an investment in your spine. Herman Miller's iconic Aeron Chair is a fave of photo editor Celine Grouard. She says, "I spent all my lunch money on this chair, and it was worth it." And if you're not quite ready for that commitment, you can also find the company's well-designed and built-to-last Sayl chair for nearly half the price.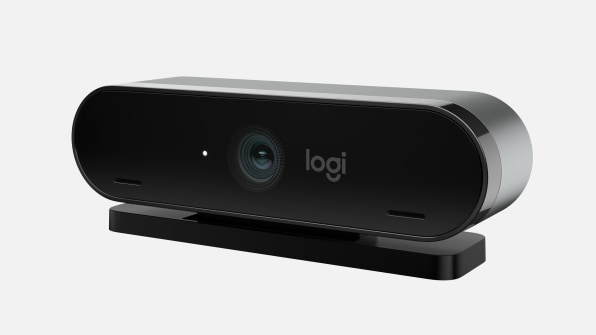 Logitech HD Webcams
If you're living your life on video calls, it's probably time to upgrade your camera. Or as Fast Company tech editor Harry McCracken puts it, "At the very least, a good HD webcam so you're not limited to the crummy one on your laptop and can put it on a tripod for more flattering camera angles for important meetings."
ReadyDesk 2 standing desk converter
This simple standing desk converter is affordable, attractive, and smartly designed with two risers and ample space to work on the table below when you want to sit. Again, take it from the editor who recently had back surgery: This could save your back. —A.F.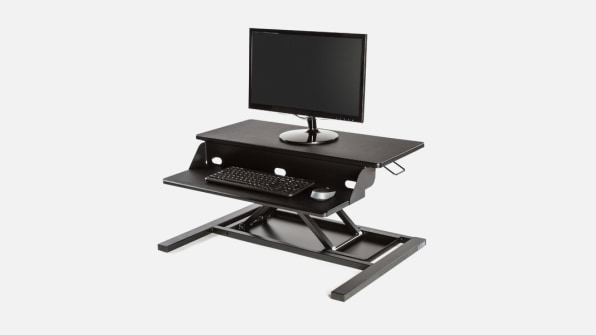 Symple Stuff West Wick Height Adjustable Standing Desk Converter
This two-tier desk converter grows up to 15.5 inches to accommodate for most heights when placed on a standard work surface. Additionally, it doubles as a monitor riser and keyboard shelf when compact.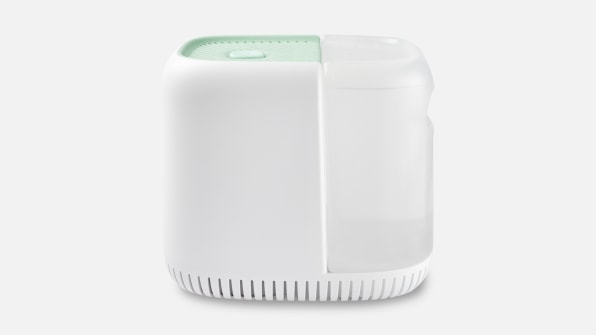 Canopy Humidifier 
Canopy's cute, clever humidifier packs a punch—adding mistless moisture to the air after cleaning water with embedded UV lights (a feature I've seen only in pricier models). We're big advocates of bringing a humidifier home, and keeping one deskside adds those skin- and sinus-hydrating benefits to your 9-to-5.   
Dyson Pure Hot + Cool
This smart Dyson hybrid—it's an air purifier, heater, and a fan—will look at home among your tech while staying quiet in the background of your Zoom calls. The Hot + Cool can freshen and clean stale air—and comes with a remote control, making it the most efficient cubemate you've ever had. 
Baronfig Squire Pen
I am totally obsessed with Baronfig's Squire Pen. It writes so smoothly and it is made from aluminum that has some weight to it, so it feels solid in your hand. I also like that you can easily replace the ink at $4 a pop. —Elizabeth Segran, senior writer  
Fast Company may receive revenue for some links to products on our site.