Back in November 2017,  Cleveland Cavaliers star Kevin Love had a panic attack during a home game against the Atlanta Hawks.
"I was having trouble catching my breath," he wrote in a piece for The Players' Tribune the following March. "It's hard to describe, but everything was spinning, like my brain was trying to climb out of my head. The air felt thick and heavy. My mouth was like chalk. I remember our assistant coach yelling something about a defensive set. I nodded, but I didn't hear much of what he said. By that point, I was freaking out."
Here was a pro athlete, among the best of the best, and he was openly talking about his vulnerability. Here was a man who had spent the better part of his life building his body into an elite basketball machine, but who had not spent enough time on his mind. "It's kind of strange when you think about it," he wrote. "In the NBA, you have trained professionals to fine-tune your life in so many areas. Coaches, trainers, and nutritionists have had a presence in my life for years. But none of those people could help me in the way I needed when I was lying on the floor struggling to breathe."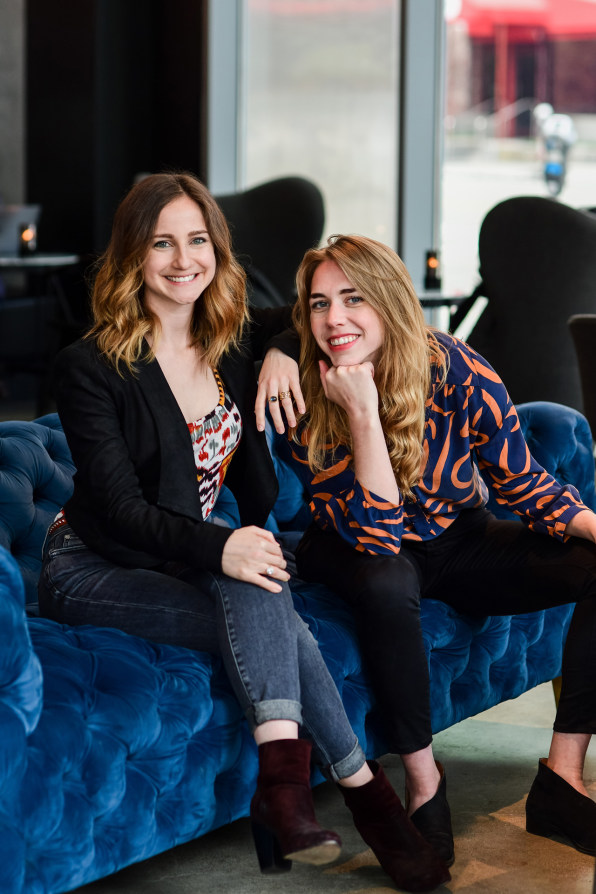 Now Love is helping to launch Coa, short for coalesce, the world's first gym for mental fitness.
Founded by Alexa Meyer and Dr. Emily Anhalt in 2019, Coa is a therapist-led, emotional fitness class platform that includes therapist matchmaking, group classes, and one-on-one therapy. The idea is to make mental health a proactive and daily practice—just like physical fitness. Coa's programs are built on Dr. Anhalt's research-driven method on the 7 Traits of Emotional Fitness: self-awareness, empathy, play, curiosity, resilience, mindfulness, and communication.
"Coa really aligns with everything I'm about," says Love. "It's a proactive approach to mental fitness. We're creating a safe place to talk about these tough subjects around mental health and mental wellness, in a group setting. There is nothing like this out there. This has never existed before. It's the first gym for mental health, which makes it super exciting to be a part of."
Meyer is a veteran of Interbrand and the analytics startup Keen IO, but she has always had an interest in mental health. She met Anhalt through Twitter, while putting together the idea for a pop-up mental health gym. The two launched pop-ups over the last two years in New York, San Francisco, L.A., Vancouver, and Toronto, as well as conducting classes with employees at Asana, Spotify, and Salesforce.
Mental health and technology has exploded since last year, with brands like BetterHelp and Talkspace seeing significant boosts in user numbers, but also challenges in balancing wellness with Silicon Valley's never-ending appetite for growth. Hannah Zeavin, a UC Berkeley lecturer in English and author of the forthcoming book The Distance Cure: A History of Teletherapy, told The New York Times last year, "The app-ification of mental health care has real problems. These are corporate platforms first. And they offer therapy second."
Meyer and Anhalt say one differentiator between Coa and others is having a psychologist in Anhalt in the C-suite as chief clinical officer.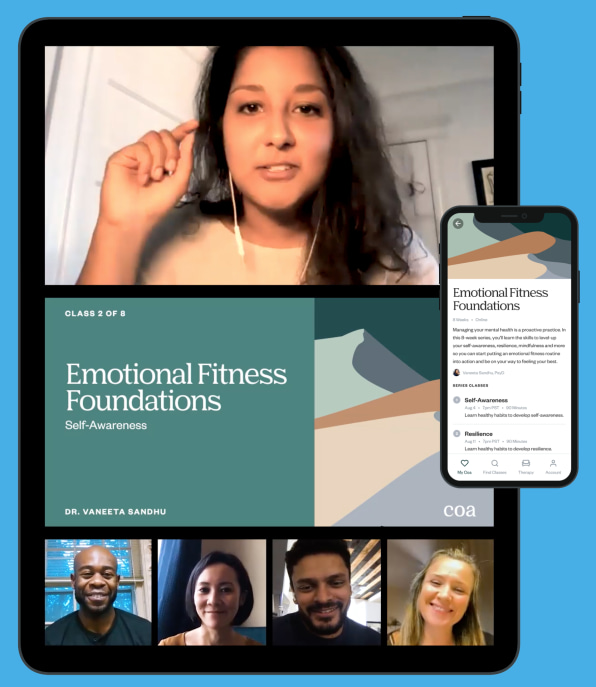 "One of the reasons I got into this in the first place is that mental health is complicated, nuanced, and complex, and I wanted to make sure it was done thoughtfully," says Anhalt, who points to core tenets of the Coa approach. First is making the practice proactive, like going to the gym. Second is clinical integrity. "This is really important," says Anhalt. "In addition to having me as a clinical cofounder, all of our content is based on research and clinical experience, and it's all created and facilitated by licensed therapists."
There are free intro classes, and after that various classes range in price from $25 to $30 per session. In addition to one-off classes such as Intro to Emotional Fitness, there are also several eight-week series at launch, including Emotional Fitness for Mental Wellness, and Emotionally Fit Leadership. The original plan was to set up a few brick-and-mortar studios in New York and San Francisco, then expand to an online platform. The pandemic flipped that script, and Coa is launching as a digital offering, and looking to set up physical spaces in the near future.
In creating Coa's brand, Meyer didn't want it to feel like a clinical healthcare brand, but familiar and relatable, using a color scheme of warm, earthy tones. "There's this huge wellness trend happening right now, where people are spending trillions of dollars a year trying to feel better, and there are some amazing brands, but none of them are rooted in clinical integrity and efficacy," says Meyer. "So our brand is a marriage of those two things: clinical integrity and safety, with this modern, accessible, fun approach."
One of the biggest lessons from the pop-ups was how group classes were an entry point into one-on-one therapy. Much like a gym, where classes can lead to signing up with a personal trainer. Talking about mental fitness in the same context as physical fitness is a deliberate way for Meyer and Coa to reinforce their message that mental health is best supported out in the open.
"It's a way to keep chipping away at the stigma," says Love. "We have to keep talking about it. You're far less likely to detect it if you're not talking about it, if you're living in the shadows."