Quick, what's the single technology product most closely associated with working from home during the pandemic? No contest: It's Zoom. The videoconferencing service has become so synonymous with WFH productivity that it's easy to forget that people used Zoom an awful lot even back when many participants were all sitting in a conference room together.
In the years before the coronavirus turned conference rooms into ghost towns, Zoom paid a lot of attention to the in-office meeting experience. Early in its history, the company created a service, Zoom Rooms, dedicated to helping groups at work call into Zoom meetings and manage conference-room availability. It also worked with hardware manufacturers to offer gear such as webcams designed to capture an entire room rather than a single person plopped squarely in front of a laptop.
Fast-forward to February 2021. People still aren't returning to the office in droves; a meaningful percentage may never go back. But with COVID-19 vaccines a reality, it isn't completely irrational to think ahead to the time when conference rooms might once again have human beings in them.
"The great news is as we look at 2021, we're starting to get ready to get back to work," says Harry Moseley, Zoom's CIO. "But the fact is that when you look at any of the survey data that's being done by either internal organizations or external agencies, the consensus is that 20% of the people are willing to be in an office five days a week, 20% of the people want to work from anywhere five days a week, and 60% of the people would prefer to go to the office two to three days a week."
So Zoom is thinking about a new era of hybrid work—in particular, a period during which people who do spend time at the office are understandably sensitive about safety. That presented some obvious challenges for Zoom Rooms, which has historically involved shared touchscreen experiences running on an iPad, Android tablet, or Windows computer dedicated to conference-room management.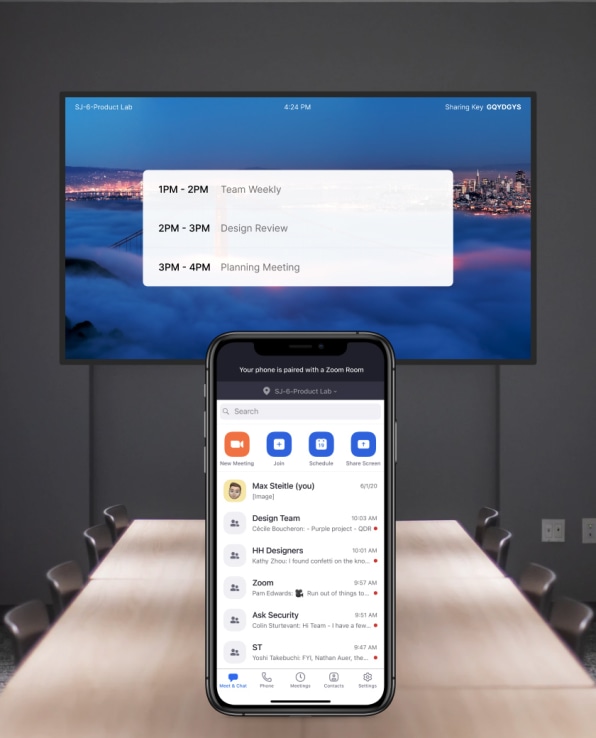 Now Zoom is rolling out the ability for users to pair a Zoom Room system with their own iOS or Android mobile devices. That allows them to control the experience from a screen that only they touch. With certain conference-room camera hardware, the company is also adding a head-count feature that will report the number of people in a physical meeting in the interest of ensuring that social distancing guidelines are met. A Zoom conference-room camera appliance called the Neat Bar will monitor and detail a room's air quality, humidity, CO₂, and volatile organic compounds.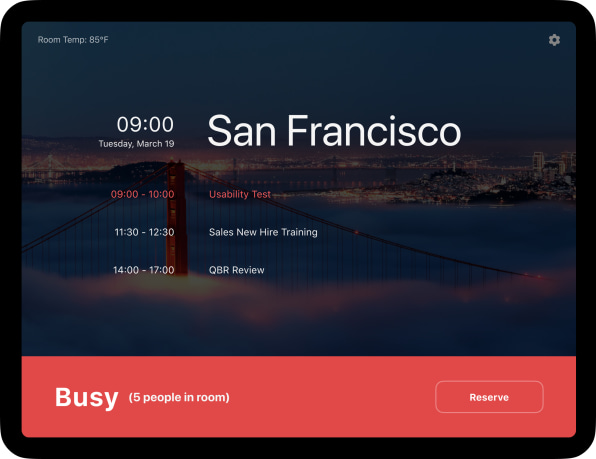 Zoom Rooms is also adding a virtual-receptionist feature that will let companies put a tablet in a lobby that allows visitors to check in via video with a human greeter who's safely remote rather than behind a glass shield—and who isn't necessarily dedicated to a single physical space. "You don't need to have five [receptionists] over five floors," Moseley says. "You could have a single receptionist covering all five floors."
Getting serious about security
In ways that go beyond the nuts and bolts of conducting meetings, Zoom will exit the pandemic as a different company. Early on in 2020, as new users flooded onto the platform, the company's privacy and security measures came under sudden heavy criticism. It then made dozens of adjustments to better protect users and foil COVID-19-era hazards such as Zoombombing. In the end, it did get credit for the speed and thoroughness of its response.
"We made a commitment last April to not just raise the bar on privacy and security from the Zoom perspective, but raise it for the industry," Moseley says. "And I think we're staying true to that credo." He points to the new end-to-end encryption for meetings, which supported a maximum of only 200 attendees when it rolled out last October but now goes all the way to the maximum Zoom capacity of 1,000.
Another thing that's changed about Zoom: It may be a handy tool for conducting business meetings, but as in-person gatherings of all sorts became impossible, its users proved that it was capable of far more. They've been doing everything via Zoom, from musical collaborations to religious services to summer camps to visits with Santa Claus.
When such activities can once again be safely experienced in person, will Zoom go back to its corporate roots? Moseley doesn't expect so.
"What [pandemic-era Zoom] has done is, it's flattened the world and it's made the world a lot smaller," he says. "I was talking to a client in Madrid and she was telling me how excited she was that she was able to take a yoga class from an instructor in Bangalore. Okay! Why not? So yeah, I think that a lot of this will persist."