During the pandemic, consumers curbed their spending, focusing on buying items they deemed essential. The crisis forced fashion and style brands to look inward and rethink their purpose. Luxury brands like Hermes and Gucci, and tech companies like Renewcell and Bolt Threads, deepened their commitment to creating a more sustainable future for the fashion industry. Home goods startup Goodee dug into its mission of exploding the traditional Eurocentric approach to design by highlighting designers from around the world; children's fashion label Piccolina nurtured the next generations of heroes with clothes featuring Sojourner Truth and Malala Yousafzai. These companies give us hope that designers are poised to bounce back stronger, with a renewed clarity about what really matters to the world.
1. Farfetch
For digitizing the high-street boutique and putting it on China's Tmall
The pandemic hit the fashion industry hard and was particularly devastating to small high-street fashion retailers that were forced to shutter for months. Farfetch, a website that sells products from more than 750 boutiques, was uniquely poised to help. The platform's marketing algorithms predicted how quickly consumers would shift to e-commerce and helped equip boutiques to make their product available to be shipped to online buyers. Farfetch offered these small retailers lower fees and free tools to help with inventory management, warehousing, and shipping logistics. This also created a seamless experience for customers, who flocked to the platform like never before. In the first half of 2020, it added more than half a million new customers; app installs more than doubled compared to last year. In the fourth quarter, the company's revenues spiked 41% year over year to $540 million. Farfetch also closed a deal with Alibaba, which allowed Farfetch to launch a luxury shopping channel on Alibaba's "Luxury Pavilion" on Tmall, bringing luxury to millions of Chinese consumers.
2. Lululemon
For reflecting what customers want by buying Mirror, a sleek, interactive, at-home fitness system
In the summer of 2020, Lululemon acquired Mirror—a wall-mounted screen that streams fitness classes—for $500 million. The brand didn't think of it as a new channel for selling clothes, but rather a new way to engage with customers. For two decades, Lululemon has established a close relationship with customers through events and free classes, and Mirror is an effort to build this community digitally. Mirror users can interact with each other and their instructors as they take classes; the device will also invite the user to events in their local Lululemon store, bridging the gap between the online and in-store experience. During the pandemic, gyms closed for months; 82% of millennials tried working out at home and 81% of them said they preferred it. Experts believe that digital at-home workouts are likely to be part of the future of fitness, and Lululemon is ensuring it will be part of the consumer experience, even at home.
3. Hermès
For creating aspirational products designed to last forever, made by an army of skilled craftspeople
Hermès has been quietly growing over the past decade, tripling its revenue to $7.7 billion. During the pandemic, as the luxury industry shrank dramatically, Hermès continued expanding. The secret to the brand's success is that it has stayed true to its values, rather than responding to each new trend. It has focused on craftsmanship, creating high-quality, classic pieces that are designed to be kept for generations and repaired. While fashion houses have come in and out of vogue, Hermès has managed to consistently grow its customer base, including millennials who are now driving the brand's growth. And thanks to the fact that it owns its factories and trains its craftspeople, it can control its supply to meet changes in demand, resulting in very little wasted material or inventory, and achieving 34% operating margins, the best in the industry. Millennial consumers are now concerned about the environmental impact of their purchases, and Hermès' focus on timeless, long-lasting pieces aligns well with consumers' desire to push back against overconsumption. For more on why Hermès is a World's Most Innovative Company in 2021, click here.
4. Telfar
For making accessibility chic by creating an open, online reservation system for the affordable (but always sold-out) "Bushwick Birkin"
While designers took a hit during the pandemic as department stores and boutiques cancelled orders, Brooklyn-based designer Telfar Clemens avoided this fate: He had ended his wholesale business in January 2020 in order to have more control over sales. It was a prescient move. The designer had a breakout year—his best to date—thanks to the success of his "Bushwick Birkin," an affordable vegan leather handbag that he originally introduced in 2014. Clemens previously dropped the bag in batches of 4,000 to 7,000 on his site, and they would sell out quickly. This summer, as demand grew (thanks to celebrities like Oprah and Issa Rae embracing them), he hit on an innovative way to scale up production of the bags and make them more accessible. In August, he created a "bag security program," which allows customers to pre-order the bags on a single day before the window shuts. The bag program has become so successful that he now plans to use a similar model for other products, sweaters, jewelry, and more.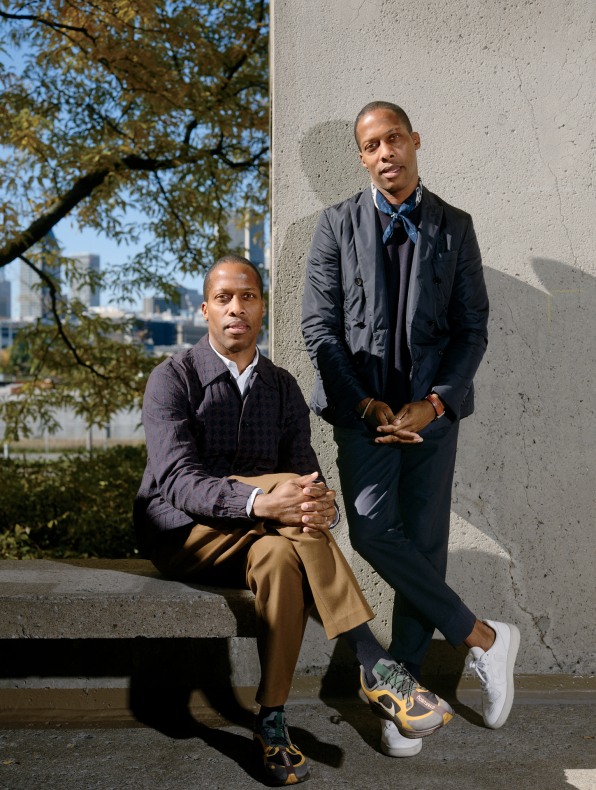 5. Goodee
For killing Eurocentric design
What makes an American metal chair an example of great design, but a Ghanaian woven basket merely an artisanal product? Questions like these underlie Goodee, a home decor marketplace founded by Dexter and Byron Peart, twin brothers from Montreal who previously founded the fashion brand Want Les Essentiels. With this new venture, they are focused on curating products that achieve an important social good. Each product features a logo that highlights a particular mission, such as poverty reduction, gender advocacy, nature conservancy, and carbon reduction. But what makes the brand stand apart is how it curates great design from all parts of the world, elevating designers and craftspeople that tend to be marginalized by the design community.
6. Gucci
For challenging the fashion industry to go carbon neutral, and embracing resale and gaming
Led by CEO Marco Bizzarri and creative director Alessandro Michele, Gucci is innovating across all areas of its business, from its sustainability initiatives to its marketing strategies. Gucci has invested in gaming, creating arcade games in its app and a virtual shoe design platform called the Sneaker Garage. It partnered with fashion video game Drest to digitally render its most recent collections; it collaborated with eSports platform Fnatic to create limited edition watches. On the sustainability front, Gucci created a comprehensive plan to track all of its carbon, including indirect emissions from suppliers, then cut down or offset it. The company then went further, asking other CEOs to take the same Carbon Neutral Challenge; the RealReal and SAP both signed on. Gucci's parent company, Kering, has invested seven figures in Bolt Threads in commercializing a mushroom based leather called Mylo, which may soon appear in products. And while luxury brands have historically been wary of secondhand resellers, for fear of diluting their brand, Gucci partnered with TheRealReal to encourage customers to buy used products, to keep them circulating in the economy longer, which is ultimately better for the planet.
7. Ministry of Supply
For creating a high-tech face mask that rose to the occasion
At the start of the pandemic, there was a severe shortage of N95 masks and medical grade PPE. Ministry of Supply, a tech-forward fashion brand, threw all of the tools at its disposal into developing a mask, reassigning its retail associates to the innovation team. The company broke down the traditional mask structure into its essential components—fit and filtration—and used its existing materials and supply chains to make a new kind of mask. While other fashion labels were repurposing regular cut-and-sew fabrics to make masks, Ministry of Supply used its knitting machines to quickly manufacture better-fitting masks. And in two weeks flat, it was able to design and test a mask that takes just nine minutes to knit. The $25 mask, which comes in three sizes and is machine washable, has been a best-seller for the brand throughout the pandemic, and the brand has donated more than 70,000 to frontline workers.
8. Renewcell
For transforming discarded textiles into recyclable Circulose—and signing on H&M
The fashion industry is one of the world's greatest polluters. Every year, an estimated 100 billion garments are made, and since fast fashion has trained consumers to think of clothes as disposable, the majority of these items are worn only a few times before being thrown out. Swedish tech startup Renewcell wants to make clothing recyclable. Its technology can take discarded textiles and transform them into a new material Circulose, which can be used to replace wood-based fibers like viscose and lyocell in garment manufacturing. In 2020, Renewcell had its first major proof of concept: It partnered with H&M to create a dress that was made from 40% Circulose, revealing that chemically recycled fibers can be used in garments at scale.
9. Piccolina
For encouraging girls to become trailblazers and problem solvers
Children's fashion tends to be heavily gendered, with girl's clothes printed with tiaras and butterflies, while boy's clothes are covered in images of trains. Piccolina is a new lifestyle brand devoted to empowering girls to become trailblazers and problem solvers. The brand created chic, well-designed clothes and partners with artists to create patterns based on themes like entomology, robots, locomotives, circuitry, and geology. The brand also has a trailblazer series that highlights women across fields, from Sojourner Truth to Billie Jean King to Katherine Johnson. The brand is rapidly moving beyond clothes to bags, wall art, and bedding, to reimagine the images associated with girlhood.
10. Bolt Threads
For sprouting sustainable materials such as the mushroom leather Mylo
Leather is widely used around the globe, but creating the material is carbon-intensive and spews toxic chemicals into the world. Bolt Threads has created Mylo, a material that looks and feels like animal leather, but is made from mycelium in mushrooms. In 2020, Adidas, Stella McCartney, Lululemon, and Kering (Gucci's parent company) each agreed to spend seven-figure sums to invest in Mylo. Collectively, they want to create a supply chain for vegan leather that would be manufactured at a commercially viable scale. It is one of the largest business developments in biomaterials to date.