Joe Biden wanted a Moon rock for his Oval Office.
That's how two staff members from NASA's Johnson Space Center ended up on a plane from Houston to Washington, D.C., on Monday, January 18, two days before Biden's inauguration, toting "lunar sample 76015,143."
The dark gray, diamond-shaped rock weighs about three-quarters of a pound (332 grams), and it is sealed in a glass and aluminum display case, filled with nitrogen, to prevent the rock from being affected by air or humidity.
Biden's Moon rock was first spotted by a Washington Post reporter touring the redecorated Oval Office on Inauguration Day, before Biden himself had set foot inside. The Moon rock sits on the lowest shelf of the set of built-in bookshelves immediately to the left of the president's Resolute Desk.
During planning for the incoming president's office decor, "The White House curator's office contacted NASA to see if it was possible to loan a lunar sample for display in the Oval Office," reports a NASA spokesperson by email, "and NASA was happy to accommodate the request."
Biden wanted the rock as a reminder of the ambition and accomplishments of previous Oval Office occupants—of the power of asking Americans to reach beyond themselves.
On Thursday, May 25, 1961, at 12:30 p.m., when President John F. Kennedy took the podium in the U.S. House of Representatives and issued his famous call that "this nation should commit itself to achieving the goal, before this decade is out, of landing a man on the Moon and returning him safely to the Earth," Kennedy was asking Americans to do something that was then, quite literally, impossible. The country didn't have the technology, or the understanding, to fly to the Moon. But, as Kennedy foretold, it would not just be American astronauts landing on the Moon, but "it will be an entire nation. For all of us must work to put [them] there." Going to the Moon, Kennedy would later say, was the kind of goal that serves "to organize and measure the best of our energies and skills."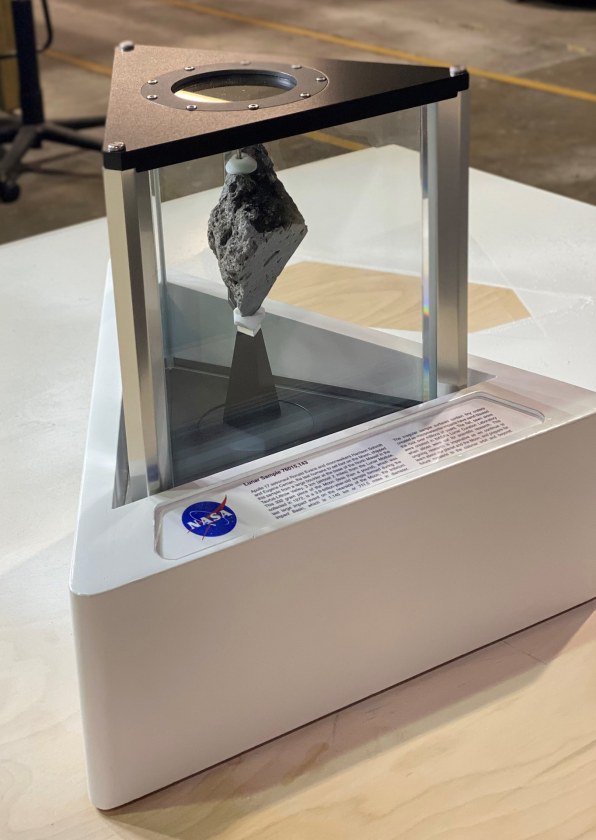 The particular Moon rock NASA sent to President Biden was collected on the third Moon walk of Apollo 17—that is, the last Moon walk of the last U.S. Moon landing, on December 13, 1972.
The sample was already mounted in its sleek display case—which has all glass sides and a glass window on top, so the rock can be seen from all angles—before Biden's request. The case has a label that explains how the rock came back to Earth: Apollo 17 commander Gene Cernan and geologist and lunar module pilot Harrison Schmitt "chipped this sample from a large boulder at the base of the North Massif in the Taurus-Littrow Valley" of the Moon.
On the day it was collected, December 13, 1972, Biden had just been elected to the U.S. Senate for the first time from Delaware, and was preparing to take office in January. He was 30 years old.
Biden's Oval Office Moon rock is actually a slice of the larger, 6.2-pound rock Cernan and Schmitt originally collected, which has been cut into smaller pieces for scientific study. As a result, it has one irregular side, peppered with tiny micrometeorite impact craters from its life on the Moon, and a couple of totally flat sides, where it has been cut using a rock saw in a NASA laboratory.
Biden is not the first U.S. president to keep a Moon rock in the Oval Office. Bill Clinton was president in July 1999 during the 30th anniversary celebration of the first Moon landings. The Apollo 11 astronauts—Neil Armstrong, Buzz Aldrin, and Michael Collins—presented Clinton with a Moon rock they had collected, also in a sealed display case, during an Oval Office visit on the day of the anniversary. In a 2015 interview with astrophysicist Neil deGrasse Tyson, Clinton said the Moon rock was "the most valuable thing I had for perspective in politics in the White House."
For the last two years of his presidency, Clinton told deGrasse Tyson, he kept the Apollo 11 Moon rock right at hand. "When we'd have Republicans and Democrats in [the Oval Office], or people on two sides of any issue, and they'd start really, really getting out of control, I'd say, 'Wait, wait, wait—you see that Moon rock? It's 3.6 billon years old. Now, we're all just passing through here. And we don't have very much time. So let's just calm down and figure out what the right thing to do is.'
"And it worked every single time," Clinton said. "They were looking at an object that existed at a time they could hardly imagine. And it just gave them that little bit of space in their mind and spirit to try to figure out, okay, let's go at this one more time."
NASA says the Moon rock Biden has on display is even older than Clinton's: 3.9 billion years. Perhaps anticipating that his Oval Office conversations may be even more challenging than Clinton's.
---
Charles Fishman is the author of One Giant Leap: The Impossible Mission That Flew Us to the Moon. On the occasion of the 50th anniversary of the Apollo 11 Moon landing, Fishman wrote and produced our 50 Days to the Moon series.