So you can't afford an iconic Herman Miller Eames lounge chair. The good news is you can treat yourself to the esteemed mid-century modern furniture company's new face masks for a good cause.
Herman Miller has launched a limited-edition face mask called "Design for Freedom" in partnership with Grace Farms Foundation, a humanitarian non-profit organization. The face mask is $30. Proceeds from the sales of the masks will go to Design for Freedom, a Grace Farms initiative that seeks to eliminate modern slavery from the built environment.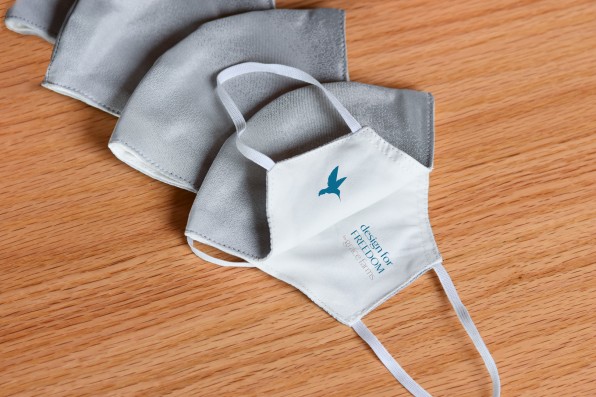 As revealed in a November report by Design for Freedom, slavery is pervasive throughout the world. Forced labor abounds in global architecture, design, and construction supply chains. Design for Freedom is hoping to shed light on these practices and urge companies to use only slavery-free materials.
Architects Shohei Yoshida, principal of Shohei Yoshida + Associates (sy+a), and Peter Miller, founding partner of Palette Architecture, designed the face mask in collaboration with Grace Farms. Herman Miller and Design Within Reach (which was acquired by Herman Miller in 2014) are the exclusive retailers of the product.
Yoshida and Miller drew inspiration from their previous work with the foundation: the River building at the Grace Farms Foundation in Connecticut. Yoshida and Miller were the day-to-day project architects on the building through their previous firms, SANAA and Handel Architects. The building's hillside walkways have a sweeping metal roof which Miller says "creates a liminal space between an artifact or an object and nature. At some points it looks like an object and at other points it looks like nature because it's reflecting the surroundings. We wanted to do a mask that had that same quality."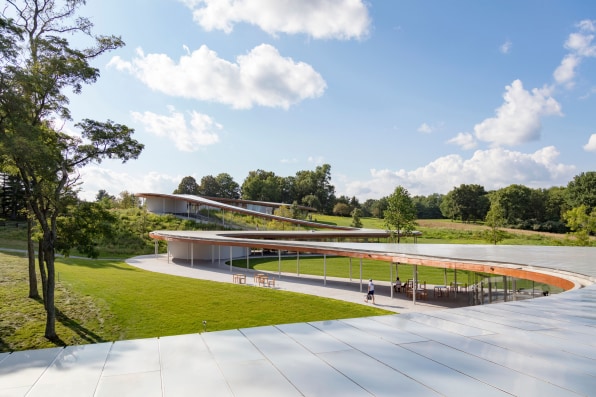 To mimic the shine of the sun's reflection off the building's metal roof, the upper half of the mask uses a glinting silver ion thread that reflects the sun, giving off a soft luminescence (it also has antibacterial qualities). The mask has a gradient weave so it transitions into a non-reflective polyester thread toward the lower half of the mask. The mask gives off a different light quality and reflectivity depending on the environment it's in, according to Miller. When the wearer is outside in natural light, the upper part of the mask reflects the environment; in an interior environment with artificial light, the mask takes on a darker quality.
Miller also emphasized the sourcing of the mask. As Miller put it, the key to a transparent, ethical supply chain is actually fairly simple: have discussions with your suppliers so you know where materials are sourced. "You start to talk to them more about it, they know a lot about it and take you back a few levels of their sourcing," says Miller. "When you start to run into anonymity in the process, that's when you know that it's probably coming from a source that's not as ethical." Miller, who led the design of the mask interior, worked with Carr Textiles, which put him in touch with its organic cotton twill and ink suppliers to discuss where the product's made, who's making it, and what the wage is.
In this case, the mask is made by Puerto Rican circular fashion company Retazo L3C; the elastic ear loops are made in Italy; and the aluminum, bendable nose clip is made in Connecticut. It has a Global Organic Textile Standard (GOTS) certified cotton interior lining and is printed with vegan, water-based inks. The mask has biodegradable packaging.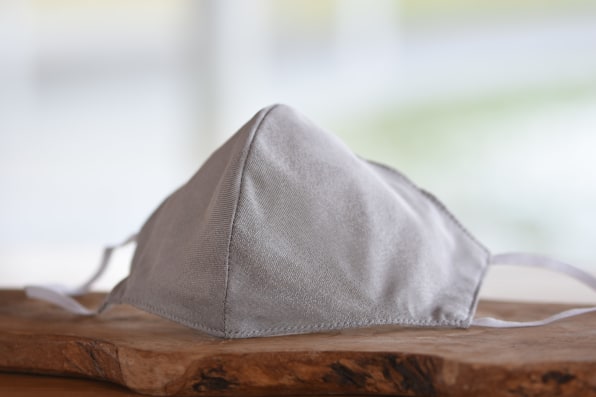 Miller notes just how much of an ethical labyrinth material sourcing can be when you pay attention (which, of course, every designer should). "There are so many building products that go into a building, and it's hard to follow all of them. Even if you specify the location, substitutions happen," Miller says.
The project opened his eyes. "We have definitely learned a lot in the past year about this process as this group has begun to get more mobilized and we intend to do more in the future," says Miller. "There was a long period of time where people weren't really thinking about this and that includes us. I think now we know so much more about it, it's hard not to think about it or try to source things ethically now."
Herman Miller did not respond to a request for comment on its supply chains by the time of a publication, but a spokesperson for the company directed me to its Supplier Code of Conduct, which stipulates that the company expects its suppliers to treat their workers "fairly in accordance with local laws and regulations," including that they do not use forced labor, child labor, or harsh, inhumane treatment and abuse, and they must provide wages and working hours that meet  laws.
Face masks are a part of our everyday lives. In a small way, this accessory can also make the supply chain's worst practices a thing of the past.