Ann Mukherjee didn't set out to be a CEO. But when she got a call from French liquor company Pernod Ricard, it felt like more than just a plum professional opportunity.
"Alcohol has played a very difficult role in my life," she says. "It felt like destiny. Something was telling me from the universe: Don't complain about it. Do something about it. "
Mukherjee, who just completed her first year as chief executive of Pernod Ricard North America, is open about why she's an unlikely choice for the top job at a company whose entire business is selling alcohol. At the age of four, Mukherjee was assaulted by a man who was inebriated. Years later, when she was a teenager, her mother was killed by a drunk driver. And as an adult, Mukherjee was in an abusive relationship in which, she says, alcohol played a role.
Many leaders would shy away from divulging the details of their personal trauma to their employer. As an Indian-American woman in an industry where CEOs typically skew white and male, you'd imagine Mukherjee might be even more guarded. But she sees her life experiences as core to her identity as a leader. "I was very upfront when I interviewed that I've had this history," she says. "I didn't know what that would mean in terms of what I would do. But I told the company, 'I have this background, and it's important for me to do something about it.'"
In fact, her own experiences informed one of her first initiatives as CEO: an ad campaign about consent for Absolut Vodka, one of Pernod Ricard's flagship brands. It also felt like a natural extension of Absolut's reputation as a "brand of provocation," Mukherjee says, referencing its support of gay rights dating back to the 1980s.
"If you really want to drink responsibly, it's more than just drinking and driving," she adds. "It's about every touchpoint that you have with alcohol. You can use it for fun and enjoyment and conviviality. You can also use it as a weapon." The campaign, a partnership with the Rape, Abuse and Incest National Network (RAINN), emphasized that the onus of obtaining consent was not on victims of sexual assault, but on the perpetrators. It launched last February, on Valentine's Day.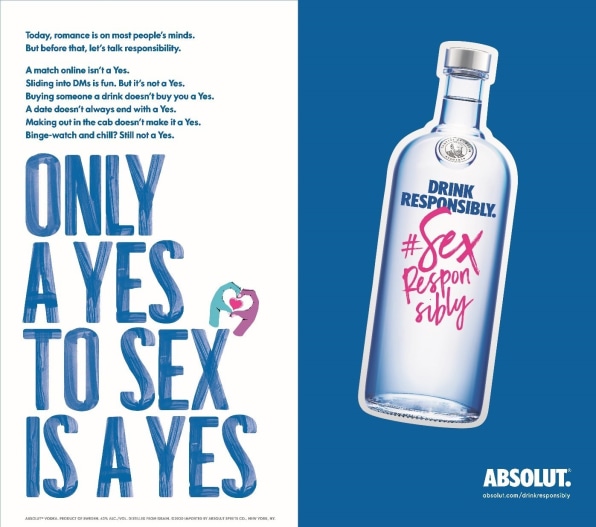 "I was like, 'Not only are we going to do this campaign on Valentine's Day, I'm going to personally speak up why it's important to do it because I've lived through it,'" Mukherjee says. "There's a lot of CEOs who don't want to mix personal and business. I believe you can't separate the two, and who you are as a leader is how you run a business." If this seems like a bold statement so soon after taking the helm of an alcohol company—well, that was exactly her intent. "Your first 90 days matters," Mukherjee says. "This was my way of setting the tone."
It was perhaps all the more important because of what came next: In March, just a few months into Mukherjee's tenure as CEO, the pandemic swept across the country. Pernod Ricard was one of the first businesses to start producing hand sanitizer, which the company donated to FEMA. But even as the economy cratered and millions of Americans lost jobs, the circumstances of the pandemic have helped Pernod Ricard's bottom line and that of other businesses in the beverage industry.
With bars closed and people staying home, retail sales of alcohol spiked: Americans were drinking 14% more than in pre-pandemic times, according to a JAMA study. At the same time, there have been increased concerns about whether people are drinking responsibly, given alcohol abuse can be linked to mental health struggles and the incidence of domestic violence—both of which have been exacerbated amid the pandemic. (Many victims of abuse and domestic violence were isolated from their usual support system and particularly vulnerable under lockdown; just weeks into the pandemic, the National Domestic Violence Hotline saw an increase in callers.)
When I ask how a business like Pernod Ricard has navigated this paradoxical period, Mukherjee insists the company is "maniacally focused on responsible drinking." She argues that much of the drinking that was previously happening at bars has shifted to the home, and that drinking—in moderation—can also be a source of comfort, particularly during a time of social isolation. "Mental health is just as important as physical health," she says. "People need comfort. Comfort comes from not being alone and feeling like you're not alone in the universe." Pernod Ricard has tried to advocate for "using a cocktail to connect," she says, not overconsumption.
Even during the upheaval of a pandemic, Mukherjee has tried to forged ahead with the sort of initiatives that she might have pursued under normal circumstances. Over the summer, Pernod Ricard joined more than 1,000 advertisers in boycotting Facebook for a month, a response to the company's inaction on hate speech and misinformation. But Mukherjee wanted to do more. So Pernod Ricard introduced a new initiative to help fight hate speech—supported by Salesforce—called #EngageResponsibly, which is slated to launch early this year and will provide advertisers, including small and mid-sized businesses, with a tool that allows them to easily track and report content.

"The revenues that [these social media platforms] get from us big manufacturers—it's a tiny portion of their revenue," Mukherjee says. "Their revenue comes from this long tail of 10 million little tiny companies. If you talk to those long tail advertisers, they're like yes, I want to do this, but I'm small. Can you give me a tool to go do it?"
And yet the pandemic has completely changed Mukherjee's approach to many aspects of her job, particularly when it comes to hiring and retraining employees. "I'm recruiting people that maybe couldn't work full-time because they were a mother," she says. "But now I can leverage them in ways I never thought." With restaurants and bars shut down, Mukherjee's team also wanted to figure out how to give back to their community. "There are a ton of bartenders that are out of jobs," she says. "My team said, 'How about if we start educating them on cocktails and hospitality?'"
More than anything, Mukherjee is thinking about how she can carry the lessons of 2020 into a post-pandemic future—and she hopes other leaders do the same. "To every other CEO out there: How are you going to be different now?" she says. "I think you can't be the same leader pre pandemic versus post pandemic. And I think it's time to bring humanity back into the workforce and into the business world."
Correction: A previous version of this article incorrectly stated that Pernod Ricard followed the lead of other spirits companies in producing hand sanitizer.