There's a distinct lack of common sense in our world. What once was "common" has mysteriously vanished, with an impact on every minute of our lives. But there's encouraging news, too: a solution to the problem.
As a global consultant, I am ostensibly hired by organizations to create or fix brands, but nine times out of ten I find myself wrestling with broader organizational dysfunction: corporate blindness and miscommunication, terrible customer service, products that make no sense or don't even work, or packaging that sends us into a rage. I can confirm that the lack of common sense is at epidemic levels in the corporate world.
The solutions are often simple, but hardly common. They require companies to look deeply at the root of the problem and consider the core customer experience.
Two years ago, before COVID-19 hit, Swiss International Air Lines hired me to reinvent the concept of economy-class travel. At least, that was the presenting problem. When I met with members of senior management, it was clear they had certain aesthetic fixes in mind—changing the welcome messages on the video screens, softening the glare of the reading lights, improving the snack selection, etc. I told them that before I could even think about welcome messages, lighting, or snacks, I needed to figure out the real reasons why repeat passenger levels had dropped and why the airline ranked #18 for on-time arrivals.
Over the next months, I convened ground staffers, pilots, and crew members together so they could understand what their colleagues actually did for work. I brought cabin crews into passengers' homes so they could hear first-hand what it's like to be an airline passenger in the early 21st century. One unexpected word kept coming up to describe the experience of almost every flyer: anxiety.
We would expect to see anxiety levels rising during COVID-19, but in fact we first made this observation before the pandemic. Passengers reported that they experience anxiety about getting to the airport on time. They're anxious about spending time in close proximity with strangers, TSA staff, and the airline crew. There's anxiety about suitcases being over the weight limit, and about properly emptying their pockets before going through the TSA line. Even after clearing Security, there's anxiety about boarding the flight and whether there will be room for a carry-on. COVID-19 compounds all these worries, as passengers shuffle through a seemingly motionless queue, struggling to keep a proper social distance.
On the plane itself, passengers worry about their seatmates, the WiFi, whether the flight attendants will run out of vodka. Will it be snowing at your destination? How long will it take to get a taxi? Has the airline lost your luggage? If they didn't, will your bag be the last one to thump onto the carousel?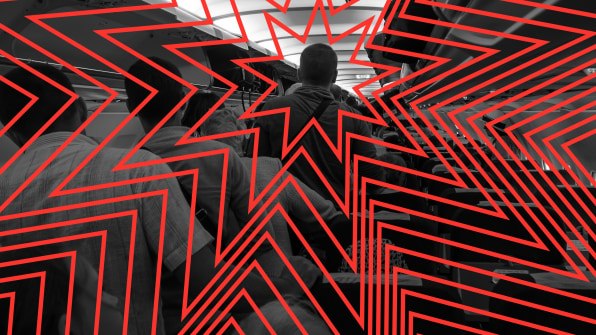 On and on it goes.
Welcome messages, reading lights, and snacks aren't the biggest issue for most airline passengers. Whether they're aware of it or not, their biggest issue is the mix of apprehension, claustrophobia, and fear that make up what we call "anxiety."
Seriously, is this news to anyone who's ever boarded an airliner? I asked the folks at Swiss International: Isn't this simple common sense?
Within a few months, the company had a new department up and running. Focusing on ways to minimize anxiety for the average passenger, it also trained its eye on other places in the organization where common sense was conspicuously missing. Soon the company began doing things differently.
Most passengers don't realize that the airplane is actually the safest part of their journey, in terms of exposure to coronavirus. Swiss made small changes designed to reassure passengers, anyway. Today, Swiss International crews hand every boarding passenger a free hand sanitizer. The least suspected, yet actually most COVID-infected, object on the plane is the seatbelt. Today's passengers arrive at their seats to find their seatbelt adorned with a small seal that says, I've been sanitized.
Typically when you disembark from a plane, an orange-jacketed cleaning crew is waiting to storm on-board, flip up armrests, vacuum, scrub, wipe down, and bag cans, wrappers, magazines, newspapers, and anything else passengers left behind. Just before they finish, they push the armrests into their default, down position. Why, though? A colleague of mine timed how long it takes the average passenger to maneuver past a stationary armrest to get to the middle or window seat, versus when the armrest is in the upright position. Two or three seconds. He did the math. There are 220 to 240 seats on an Airbus. That's about 10 minutes of unnecessary fumbling.
So Swiss International decided to skip that step and leave the armrests upright, saving time and making it easier for boarding passengers to reach their seats. In the passenger's overall experience, it's barely noticeable; but not having to struggle with the armrest is one more small step toward easing the passenger's overall discomfort and anxiety. And it's just common sense, isn't it?
Passengers experience anxiety about what they're going to encounter when they depart the plane in an unfamiliar city, too. These days, if you're on a Swiss International flight from, say, Zurich to JFK, 40 minutes before the plane lands the captain comes on the loudspeaker. In addition to supplying gate numbers, he tells you how long the wait times are at Customs and Immigration, he gives you a weather report, and he provides an estimate for how long it will take a taxi or car service to reach the city. The airline isn't responsible for any of these things and has no control over them, but this information helps to reduce your anxiety level. It also suggests that the airline takes your time, your feelings, and your concerns seriously.
In less than a year, an internal survey showed Swiss International Air Lines had become synonymous in customers' minds with timeliness, safety, consideration, and empathy. Revenues were up before COVID-19 hit, along with the number of returning customers.
Ralph Waldo Emerson once said that "common sense is genius dressed in its working clothes." But the fact is, Swiss International's initiatives weren't groundbreaking, didn't require an army of McKinsey consultants, didn't need a multi-billion-dollar budget, and most of them didn't cost one single dollar to implement. But they were all born with one thing in common. They derive from a point of view that experiences the world not from a corporate office, but through the eyes of the customer. As we continue to reimagine airlines for the post-pandemic era, actually thinking about the customer would be a good place to start.
Adapted from The Ministry of Common Sense: How to Eliminate Bureaucratic Red Tape, Bad Excuses, and Corporate BS by Martin Lindstrom (Houghton Mifflin Harcourt, 2021)