The tech industry had just enough time to get a good night's sleep after CES closed its digital curtain before Samsung presented its first Unpacked event of 2021. The Korean smartphone giant launched three new models in the Galaxy S21 family: the Galaxy S21, S21+, and S21 Ultra.
If you follow Samsung closely, you know that the naming convention indicates that after last year's jump from S10 to S20, this year's products are an incremental improvement rather than a level jump. Indeed the S21 line has an upgraded design, a more powerful and versatile camera system, and upgraded 5G chips.
Over the past few years, we have been accustomed to seeing smartphone pricing increase as the devices incorporate more and more technology and features. But the S21 models are $200 less than their S20 equivalents. Last year's S20, S20+, and S20 Ultra started at $999, $1,199, and $1,399, respectively. This year's S21, S21+, and S21 Ultra start at $799, $999, and $1,199.
The price decline over the S20 family reflects Samsung's ability to capitalize on an early move on technology such as multi-camera systems, larger screens, and 5G. In particular, 5G adoption throughout most of Samsung's new models across the Galaxy S, Galaxy Note, and Galaxy A series gives the company a volume advantage other phone makers just don't have. It will be interesting to see how brands such as LG and OnePlus respond, as they've historically offered comparable specs for lower prices, or better specs for the same price.
I am sure industry watchers will also be interested to see what Apple's next move will be, as we have witnessed more price elasticity coming from Cupertino as well. Of course, Apple's advantage in the U.S. market is the ability to bundle its services, which it offers free or at a discounted price to increase the perceived value of the iPhone.
Samsung has another advantage over other brands when it comes to pricing and its overarching portfolio. The Galaxy S line, together with the Galaxy Note family, has traditionally contained Samsung's most expensive devices, but this is no longer the case. Since 2019, Samsung's new foldable models have held that title, and I expect this to remain true for quite some time.
However, even the foldable models might begin trending toward lower prices. In December, TM Roh, president and head of Samsung's Mobile Communications Business, outlined the Samsung promise for 2021 this way: "True to our heritage of staying ahead of the curve with trailblazing mobile tech, we'll be expanding our portfolio of foldables so this groundbreaking category is more accessible to everyone." Making foldable smartphones less expensive might imply the need to adjust down the prices of other phone models across the whole portfolio. And we know that price guides consumer choice more than hardware features.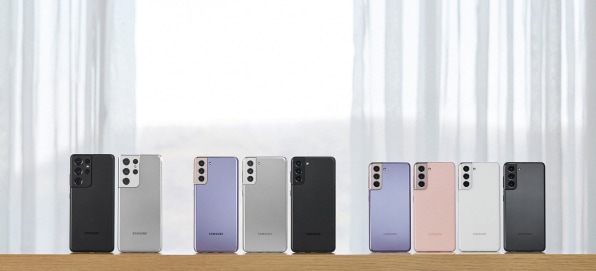 Only a small number of U.S. consumers pay for their phones outright. Most set up installment payments with their carrier and see the overall price increase mostly reflected in the initial down payment covering tax. Moreover, in these past 10 months, the pandemic has led consumers to rethink their purchases as they've adjusted to working, studying, and doing pretty much everything else at home. Samsung's pricing might make consumers' choice even easier as they weigh their investment return on a new phone.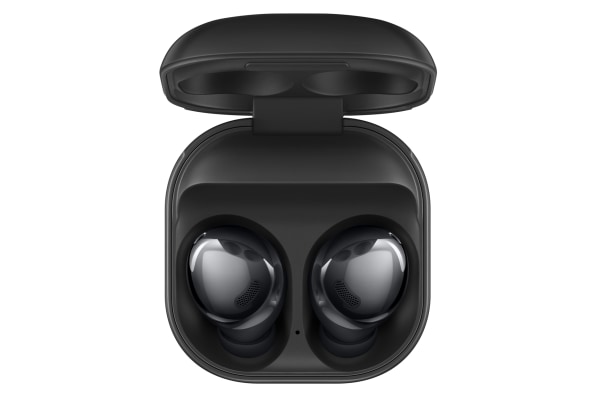 Overlapping Galaxies
The price drop might also help consumers evaluate other devices that have played a more significant role in everyday life during the pandemic, such as noise-canceling headphones and, of course, PCs. Samsung offers devices in both of these categories, and it has been interesting to see the company highlight specific features that come alive when two devices are used together. For example the new Galaxy Buds Pro can detect when you begin talking to someone and automatically turn on their microphones to pick up ambient sound. They might also turn down the music you're playing from the phone.
Making these products available earlier in the year gives Samsung a better lineup to compete with Apple.
Samsung is also trying to deliver a more effortless multi-device experience by adding S Pen support to the Galaxy S21 Ultra. The larger screen size of the Galaxy S21 Ultra is ideal for jotting down a quick note or a sketch. Furthermore, given the price point, potential buyers of a Galaxy S21 Ultra are likely to be well-entrenched in the Samsung ecosystem already. That increases the chances that they own either a Samsung tablet or a Samsung two-in-one PC and can use the S Pen they already own with their new phone.
Samsung's big yearly event—and the availability of the phones announced there—comes roughly a month earlier on the calendar than it did last year. Making these products available earlier in the year gives Samsung a better lineup to compete with Apple, with newer products that are more mainstream than the Galaxy Note and Fold families. It also provides a little more room to showcase the rest of the products during the year, especially as the lower-priced Galaxy A line continues to grow in importance for Samsung.
The S21 event concluded with a dual statement from Samsung and Google on their renewed partnership, which, the companies say, will extend beyond the phones to other devices such as PCs. This means a more seamless integration of Google Services like the Duo messaging app as well as better interoperability with products like Google Nest. This collaboration helps Samsung better compete with Apple for the consumer market, especially in the U.S.
Samsung also has a strong partnership with Microsoft, in which Samsung's phones integrate with Microsoft apps and services across Microsoft 365, Windows 10, and Xbox. Working closely with both Microsoft and Google—not exclusively with one or the other—lets Samsung deliver what users need in a work and home environment, making Galaxy products stand out from other Android-based smartphones and tablets. At a time when the line between work and play is getting more and more blurred, these partnerships offer Samsung the best way to deliver added value on top of its hardware.
---
Carolina Milanesi is principal analyst at Creative Strategies and founder of the Heart of Tech, a tech consultancy focused on education and diversity. She has been covering consumer tech for more than 15 years.