I hold the dirty bowl in my hand and a quick rinse does nothing to clean the surface. It's covered in the water-impervious, day-old orange crust of soup.
Instead of filling up the sink to start a soak, I pick up a bottle of detergent and do something unthinkable . . . something that feels downright wrong. I aim it at the bowl and fire, using a squeeze trigger to suds it up like I'm spraying down a bathroom mirror or shower.
The bubbles bloom on the bowl's surface, and I catch a particularly strong scent of soap. After a few seconds, I run a sponge around the bowl a couple of times, give it a quick rinse, and set it down to dry. I'm surprised by how slick the porcelain feels. That bowl is not just clean; it has sheen.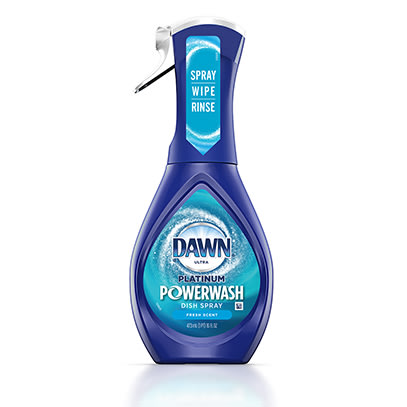 I'm testing out Dawn Powerwash Dish Spray, the latest new product from Procter & Gamble, the $120 billion packaged-goods giant. After five years in development, Dawn Powerwash's core premise isn't like any soap that P&G has made before. It's not to cut grease faster than the competition, or to keep your hands softer. Dawn Powerwash is designed to let you wash just a dish or two at a time—and do so while using as little water as possible.
The product is part of a larger trend. P&G is designing for a place where droughts are common and water scarcity is a reality—in other words, for the suburban equivalent of Dune. And yes, that means our personal and home cleaning products of the future won't just look different and contain less water; these products will require that we learn new domestic habits. The user experience of cleaning our homes is about to change. And the pandemic is the perfect moment for P&G to rewire our expectations.
"Habit formation is huge. Particularly when the world is in a state of disruption and people are questioning their former habits, asking, Have I been doing enough in sanitation or hygiene?" explains Phil Duncan, global design officer at P&G. "We do focus a lot on actual consumer behavior and habits."
Dawn Powerwash offers a good snapshot of P&G's current development strategy. Dish soap has gone largely unchanged for decades. But a few years ago, the company noticed a shift in consumer behavior. People who were washing dishes in the sink weren't filling the sink with dishes and letting them soak overnight. Instead, 61% were washing a plate here or cup there as they went about their lives—a trend, I gathered, that has only intensified over the past year in quarantine (and is certainly true in my house). At the same time, when people do hand wash their dishes, P&G finds that 90% leave the faucet on during the entire process, which consumes a gallon of water every 30 seconds.
As I wash plate after plate with Dawn Powerwash, my kitchen fills with a Febreze-like scent. That, too, is by design. The formulation of the soap is meant to "bloom" into your home like air freshener. The process is even a little addictive, as the nozzle fires a satisfying foam with every squeeze. But am I actually using less water than normal? Honestly, I can't tell. Maybe? (The big pot of soup still needs a lot of water to rinse out.) Besides, in knowing that this product is supposed to make me use less water, I'm clearly more conservative in how often I turn on the faucet. (Though, you might argue, making the consumer complicit in less water use is a worthwhile part of the product's core design and marketing.)
The other new product line that P&G plans to scale up soon is dubbed EC30. Most cleaning products are at least 80% water, but this lineup goes so far as to eliminate water within the products entirely. Soft-launched in 2019 following a full decade of development, EC30 is less one product than a new platform for P&G, built upon technology that spins cleaners into dry fibers. Duncan likens the process to making cotton candy.
Today, I'm testing an EC30 face wash. Instead of a pump or cream, I open a coin-size packet and pull out a small piece of what feels and looks just like medical gauze. But hold it under the tap, and the gauze quickly dissolves into a thick gel. It's sticky, strange, and not particularly pleasant! For a moment, I wonder if I'm going to need to grab my regular soap just to get this gunk off my hands. But as I rub my hands together with a bit more water, that gel transforms into a fresh-smelling lather. I scrub my face, rinse, and then look again at my hands trying to find the gauze I started with.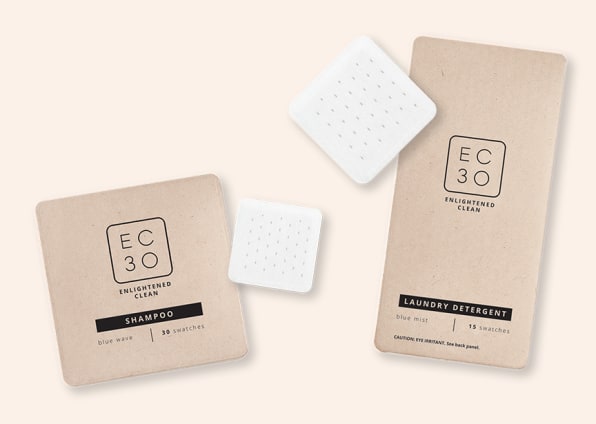 My frontal cortex understands that the gauze just foamed itself into oblivion, but my limbic system is still confused. I feel like I'm part of some psychological experiment about object permanence, and I've just failed.
In any case, EC30 allows P&G to ship a cleaning product without all the heavy, bulky water along, which reduces carbon emissions. Removing water from the product also allows P&G to leave out some chemical stabilizers. Meanwhile, P&G says the scant EC30 packaging itself is free from plastics and will be recyclable and/or compostable. Its main purpose is to keep humidity and moisture out of the product, lest it turn into foam during transport.
But based on my first goopy hands-on test, it's easy to understand why P&G is so excited about its minimal EC30 platform. Duncan teases that EC30 will be expanding into personal care, fabric care, home cleaning, and launching on "one of the biggest laundry care brands" in the near future. For now, EC30 face wash, toilet cleaner, and laundry detergent are available only through the company's direct-to-consumer channel, but my impression is that the future of EC30 will ultimately be inside P&G's consumer-friendly brands like Tide.
"There's a lot," Duncan says. "We came off a period of time when sustainability was incredibly important, and it remains so. But [COVID-19 put the] focus on hygiene and overall health. And now what we're seeing is the two aren't going to be a trade-off for one another. The two need to be part of a holistic solution."