Last week, users of WhatsApp received an unusual notification requiring that they accept increased data sharing with Facebook, or WhatsApp would be deleted from their phone. Now, after sustained outcry over what many perceive to be a violation of privacy, Facebook has taken out full-page advertisements on the front pages of many of the top newspapers in India, WhatsApp's largest market and where much of the outrage has originated.
The advertisements attempt to clarify what exactly WhatsApp and Facebook will be doing with users' data, proclaiming that "WhatsApp respects and protects your privacy." It also provides a link to an FAQ page with more information.
After all the "leaked Whatsapp conversations". Cute. #dataprivacy pic.twitter.com/VfbkHNyas3

— Mitali Mukherjee (@MitaliLive) January 13, 2021
"WhatsApp cannot see your private messages or hear your calls, and neither can Facebook: Every private message, photo, video, voice message, and document you send to your friends, family, and co-workers in one-on-one or group chats is protected by end-to-end encryption," the message reads. "It stays between you."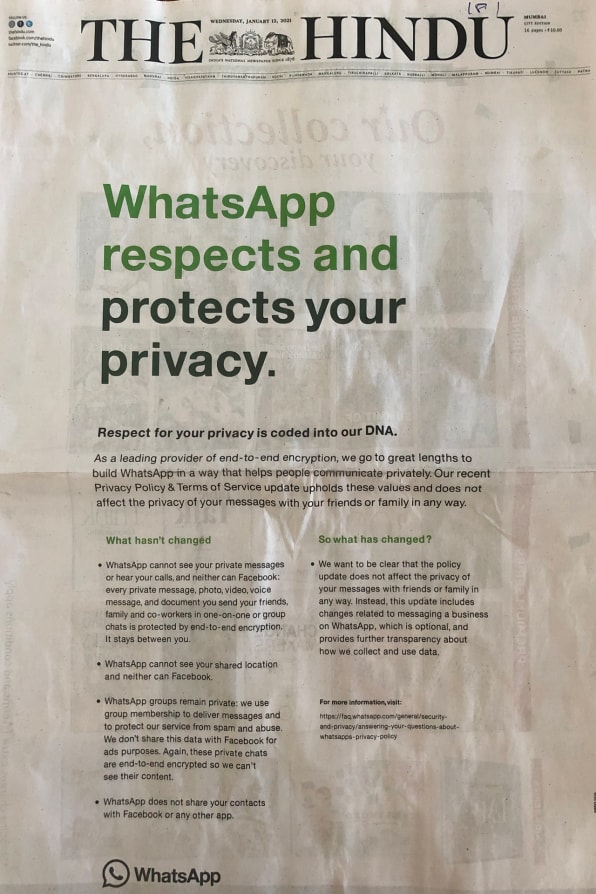 WhatsApp users' frustrations stem in part from the confusing nature of the original message that appeared on people's phones last week, leading many to assume the worst. Given Facebook's long history of privacy violations, it's an easy presumption to make, even if the privacy update isn't a significant change from the status quo. Facebook did not immediately respond to a request for comment.
This new update increases the ability of businesses that use WhatsApp to communicate with consumers to gather data about them. Unlike private and group chats, which are end-to-end encrypted and to which neither Facebook nor WhatsApp have access, users' conversations with businesses are not encrypted. With the change, businesses may now be able to use data collected from those chats to retarget users across Facebook and Instagram.
WhatsApp has been sharing data in this way with Facebook since 2016, and the new update expands those capacities. But when that data-sharing began, users had a choice to opt out. Now, starting February 8, users have no way to opt-out of data sharing with Facebook if they want to keep using the app.
In India, where WhatsApp is deeply integrated into social life, many remain confused and frustrated over the change, which has caused perhaps Facebook's biggest privacy controversy in the country to date. In response, some are moving to encrypted messaging app Signal, which has seen a 4,200% increase in downloads in the last week, per Sensor Tower data. That surge was surely helped along by endorsements from Elon Musk, Edward Snowden, and other public figures.
Facebook's front-page advertisements may help to stem the outcry, since the ads more clearly lay out that the change doesn't affect personal conversations on WhatsApp, which remain private. But some of the confusion could have been avoided if Facebook had simply explained that to begin with instead of pairing an opaque update with an ultimatum for WhatsApp's billions of users.
The current scenario : Whatsapp Vs Signal pic.twitter.com/ZxnEMuKfVp

— ???????????????????????????????????????????? (@BrainandMoney) January 13, 2021
WhatsApp is so prevalent and has such a strong network effect in India that it's unlikely that the controversy will significantly impact the app's user numbers. But it may impact WhatsApp's brand in the country, and by extension, Facebook's. Twitter has been flooded with memes of Mark Zuckerberg and WhatsApp employees checking in on private conversations, though that's not factually accurate.
Though the small change is just business as usual for Facebook and WhatsApp, it's more worrying that users had no idea that this type of data-sharing was going on already. In a time when more people are beginning to care about privacy, the way companies communicate their policies is often buried in legal terms of service documents, and difficult for regular users to understand—even when it is pushed out to billions through a notification.
The outcry over this update may serve as a lesson to Facebook that vague hand-waving about privacy changes will no longer cut it with users who are increasingly savvy about how companies and businesses are tracking them as they go about their lives. But it also may incentivize the company to be even less transparent about its privacy updates in the future—unless it is forced to through data privacy regulation.