When all 10 living former defense secretaries write an op-ed warning the military establishment to stay out of the presidential election, we're reminded yet again of the extraordinary times in which we live.
And yet that's what has happened. "Efforts to involve the U.S. armed forces in resolving election disputes would take us into dangerous, unlawful and unconstitutional territory," the 10 former defense secretaries wrote in the op-ed, published January 3 in The Washington Post. "Civilian and military officials who direct or carry out such measures would be accountable, including potentially facing criminal penalties, for the grave consequences of their actions on our republic."
The subtext of the op-ed may be as important as the text. As some observers noted on Sunday, the defense secretaries must have legitimate worries that President Donald Trump will indeed attempt to enlist the military in a last-ditch—and dangerous—plan to change the results of the November 3rd election.
The 10 former defense secretaries include Ashton Carter, Dick Cheney, William Cohen, Mark Esper, Robert Gates, Chuck Hagel, James Mattis, William Perry, Donald Rumsfeld—and Leon Panetta, who served as defense secretary from 2011 to 2013 during the Obama administration.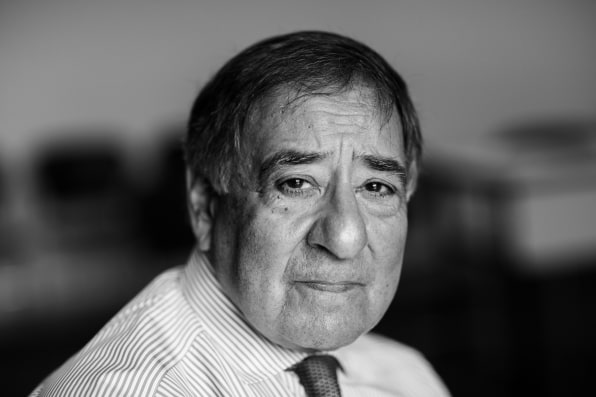 "From the efforts that are going on to try and change those results," Panetta told Fast Company, "I think there was concern that the military—having seen how it was abused during the demonstrations in Washington—that there would be a temptation to do that again, and so we just wanted to make clear what the role of the military is all about." Reuters reported that Trump told his advisers during the June protests in Washington, D.C., that he wanted 10,000 federal troops deployed to the city.
More recently, Panetta points out, the president held a meeting in the Oval Office to discuss possible military options for overturning the election. Former national security adviser Michael Flynn was present at the meeting. Flynn said during a December 17 interview with Newsmax that Trump "could take military capabilities and he could place them in those states and basically rerun an election."
It's unlikely that the military would respond to such a presidential order. Nor would it be likely to enforce a declaration of martial law, another idea that was discussed in Trump's circle. But there's still a danger that the military could be activated in another, more roundabout, way.
On Wednesday, Congress will count the Electoral College votes that have already been certified by the states. Numerous GOP members of Congress plan to object to some states' electoral college votes in a futile last-ditch effort to nullify Joe Biden's victory. But it's what will be happening on the streets of D.C. that might matter more.
Trump is now urging his supporters to show up and rally in the capital on Wednesday, when the electoral votes are counted. Mike Allen of Axios says a defense source told him that the Defense Department is expecting tens of thousands of people, mainly Trump supporters, to converge on the city. Some will be armed. D.C. police arrested Proud Boys leader Enrique Tarrio on Monday, and he was carrying two high-capacity firearm magazines. Anticipating violence, D.C. mayor Muriel Bowser has already called out the National Guard. It's possible that such rallies could be held in other major cities around the country, either in tandem with the D.C. rally or in response to them.
I hope the Democrats, and even more importantly, the weak and ineffective RINO section of the Republican Party, are looking at the thousands of people pouring into D.C. They won't stand for a landslide election victory to be stolen. @senatemajldr @JohnCornyn @SenJohnThune

— Donald J. Trump (@realDonaldTrump) January 5, 2021
As Washington Post columnist David Ignatius pointed out in December, Trump may hope that if these rallies become sufficiently violent and destructive they may provide him with a pretext to call out the military "to restore order" under the Insurrection Act of 1807, which gives U.S. presidents the authority to deploy active-duty military to maintain or restore peace in times of crisis.
"The use of the Insurrection Act is an abuse of power if it's done not for the purpose of restoring order but for the purpose of retaining your position as president of the United States," Panetta says. But with Trump, he adds, virtually everything is on the table: "Since there are no rules here that he'll abide by, including the Constitution, and since there are no norms that he's going to follow as president, the concern that he might consider some kind of military option is a reality that I think we all have to be concerned about."
Trump loyalists in place
The decision whether to heed a call to action would be made at the top levels of the Defense Department, where Trump has already installed loyalists. One of them is Christopher Miller, whom Trump appointed acting secretary of defense to replace Mark Esper in the aftermath of the November election. In June Esper voiced his opposition to invoking the Insurrection Act to deploy active-duty forces, a statement that didn't go unnoticed by Trump and his advisers.
Miller hasn't been vocal about the military's potential role in the election endgame. Former Defense Secretary Chuck Hagel, a Nebraska Republican, said this about him in an NPR interview on Tuesday:
Well, Chris Miller is not a confirmed secretary of defense. I don't know him. I do know that the entire top management—civilian top management structure of the Pentagon—has been wiped out by the Trump appointees, putting in people who had no experience, no background in these areas. And they're unconfirmed. We don't know a lot about them other than the fact they're Trump people. So, yes, I have some concern about them.
Much of the country will be watching the events in the capital on Wednesday, including those in the halls of Congress and on the streets outside. Even if Trump isn't emboldened to call on the military in the next few days, Panetta says that the level of uncertainty will remain high.
"I think this country will get through this [on Wednesday], the vote in the Congress, and that ultimately a new president will be inaugurated," Panetta says. "But I don't think we can take anything for granted with the kind of a president that we now have and what he might do."