Behold the power of colorful language.
The Walking Dead can graphically depict a pack of zombies gang-disemboweling a man while he still draws breath, but the series cannot drop an f-bomb.
Many people were more offended by Rashida Tlaib saying of President Trump, "Impeach the motherf***er," than by the shady alleged extortion scheme that precipitated her statement.
And an ill-timed spot of on-air profanity can turn a newscaster, briefly, into news.
However, one unspoken aspect of these unspeakable words is their versatility—something that is celebrated joyously in the new Netflix series, The History of Swear Words.
"With swear words, we can cut, soothe, delight, frighten, insult, and seduce," says unlikely host Nicolas Cage in the opening episode. The delightful miniseries then proceeds with a similarly versatile approach to plumbing the background, usage, and hidden layers of six forbidden words.
At this late point in his career, the weirdest thing Nicolas Cage could appear in is not, say, last year's Lovecraftian mutant alien epic, Color Out of Space, but rather a fun little nonfiction romp on Netflix. Despite the fact that Cage is screaming at the top of his lungs literally within the first two minutes of the show, it is jarring to see him cosplay as a normal person. He dons a dark suit, manicured beard, and a semi-believable hairpiece instead of the Willy Wonka-meets-Tiger King streetwear he often appears in when not starring in 17 bonkers movies per year.
But while Netflix is selling Swear Words as a Nicolas Cage vehicle, the host is merely one ingredient in an agreeable gumbo.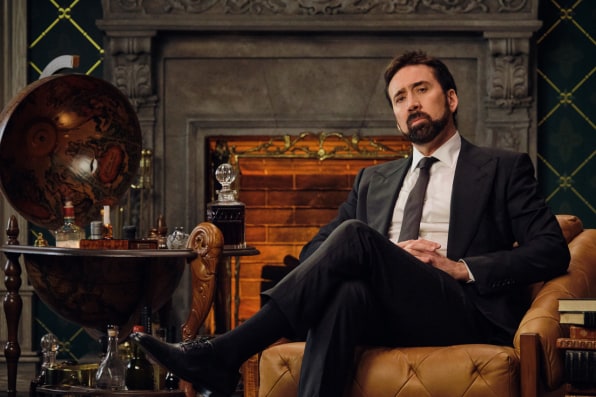 The History of Swear Words updates the formula of those aughts-era VH1 talking head shows to include more star power, more variety, and, crucially, a more worthwhile focus. The titular topic makes for more nourishing joke fodder than that time Jessica Simpson thought tuna was chicken or whatever those cable shows were on about. Produced by Funny or Die, the series features comedians like Nikki Glaser, Joel Kim Booster, and Sarah Silverman, journalist Elvis Mitchell, musician Open Mike Eagle, and "s***"-innovating actor Isiah Whitlock, alongside lexicographers, cognitive scientists, and linguists—each weighing in on various facets of the history, evolution, and impact of cursing.
Thanks to the show's zippy pacing, the history part never gets too bogged down in biography. Each episode is devoted to a different curse word—f***, p****, damn, etc—and spends a little time in the century from whence it came, either providing an origin or debunking apocryphal rumors when one is not entirely clear. Most of the "history" of this History lesson, though, is more recent cultural context, like how the congressional hearings that brought us parental advisory stickers in the 1990s carried a heavy undercurrent of racism, and how usage of the word "bitch" spiked in the 20th century with each feminist movement.
Although it offers viewers a genuinely surprising factoid or two in each episode, this show is out to entertain more than teach.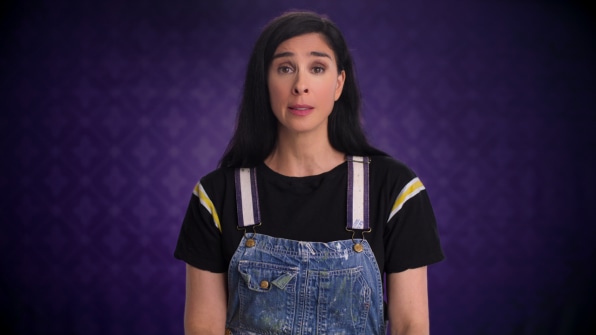 Does it get the job done? F*** yeah. Within the scope of its humble ambitions, it's a success. The History of Swear Words is designed to be on in the background while doomscrolling under quarantine—a time when cursing feels more natural and urgent, the show likely taking the words right out of your mouth. It's a perfectly serviceable diversion that replicates the feel of channel-surfing on a late Sunday afternoon in search of a hidden gem.
Only in the era of streaming wars do shows of that caliber feature decent production values and Nicolas Cage.