August de los Reyes, a prominent designer who helped develop the modern Xbox interface and became a fierce advocate for inclusivity in design, has died. He had only left the house three times since March of last year—for a doctor's appointment, for a license renewal, and to vote, according to his husband. He died on December 21. He was 50 years old.
The news, first shared by his sister on LinkedIn, reverberated through the design community, as de los Reyes was among the most influential designers of his generation. Through his work at tech companies and startups such as Microsoft, Google, Pinterest, and Varo, he was responsible for spearheading a new way of designing through the philosophy of inclusive design. Its central tenet is that by designing solutions alongside people in the margins—including those with physical limitations and those who are part of underserved communities—companies can make products that are better for everyone. This was borne of personal experience. After an accident in 2013, de los Reyes was paralyzed from the chest down and experienced firsthand the limitations of existing design approaches.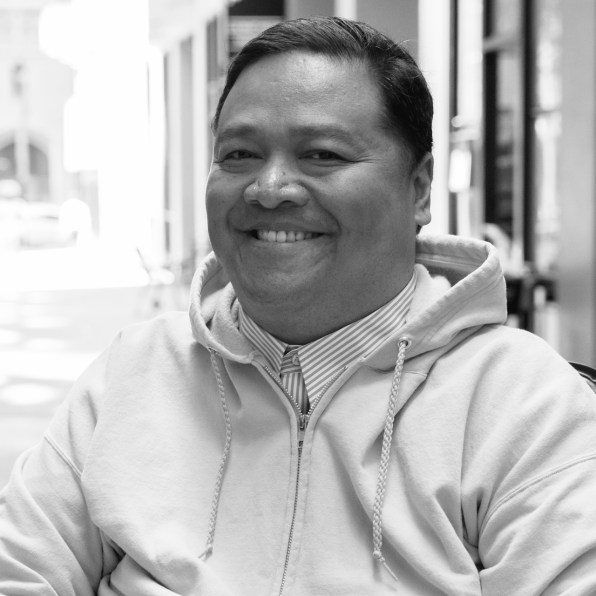 Reyes was born in Manila and immigrated to the United States as a child. At Bennington College, he studied new media design, before attending MIT and Harvard. He discovered design through a passion for the world of publishing. "He wanted to work for Condé Nast," says his sister Isadora de los Reyes in a phone interview. But as print media went online in the '90s, August de los Reyes embraced publishing's digital transformation. He spent his early career at Microsoft, working on its MSN news network, and later, on a precursor to Bing. After that, de los Reyes did stints with Phillips, Kodak, and Samsung.
In 2013, de los Reyes landed a new dream job back with Microsoft, leading design on the Xbox. He believed that video games would be the transformative narratives of the future, as film and TV had been in the 20th century.
That year, he fell out of bed, fracturing his back. Due to an initial misdiagnosis at the hospital, the accident confined de los Reyes to a wheelchair for the rest of his life. It also radicalized his perspective as a designer. One of his first projects after the accident was to loop in other designers to audit what had gone wrong procedurally during his hospital diagnosis so that it wouldn't happen again. Along the way he began seeing disabilities, not as shortcomings of someone's body or mind, but as a failure of the built environment to accommodate people's ever-changing needs. As de los Reyes put it on more than one occasion, "Disability is designed."
"Obviously his condition changed his life, so he wanted to do more from a sense," recalls his husband, Rein Ewerth. "That was what was so inspiring to me. Even on days I felt low, I'd wake up and see August be so positive, and have such a great outlook and energy to do so much. It was really inspiring."
De los Reyes worked alongside his former Microsoft (and later, Google) colleague Kat Holmes to develop a theory of inclusive design. The core idea, that designing for people typically cast as outliers creates better outcomes for everyone, is now a mainstay across the corporate world, from Apple to Airbnb to Nestlé to Crayola.
But as de los Reyes told me in 2016, after he left Microsoft to take a position at Pinterest, inclusive design was just one piece of his three-part vision of what 21st-century design should look like. "The [next part is] equitable design, not just for gender equity, but all marginalized communities within the design of software," he said. "And the third is reframing ecological sustainability."
Inclusivity. Equity. Sustainability. "He saw them as intertwined and interdependent," says Holmes, now senior vice president of product experience at Salesforce. "Sustainable, to August, is about the durability of an idea. A design that would endure and serve multiple generations of people, while also minimizing any harm on the ecosystems that sustain life. Inclusivity is about ensuring that those designs worked well for as many people as possible, especially commonly excluded communities. And equity is understanding historical inequities as a way to rebuild systems that ensure social justice. August understood that design is simultaneously derived from and creating our cultural context—and that anyone could impact that culture through design."
Five years later, it's hard to think of three topics that sum up the current and future state of design better than that.
After Pinterest, de los Reyes went to Google and then, in 2019, he become chief design officer at Varo, a bank designed to help low-income people with their finances.
"I've never seen a designer so passionate about design," says Allen Sayegh, associate professor in practice at Harvard Graduate School of Design, who knew de los Reyes for over 25 years. "I'm not saying that lightly. I'm in the design world, surrounded by students. Everything he saw was looking from a design perspective. That's what makes a great designer . . . you need to be completely obsessed about the topic."
That obsession was contagious, whether it was his thoughts about a new company or just a new restaurant, and he gave several talks you can watch today. "His greatest strength was his storytelling ability," says Sayegh. "You can be a designer of different kinds. Create things, systems, beautiful things, but you can also be a very good storyteller who could bring everything together. That was his ultimate strength."
Holmes echoes the sentiment. "While his storytelling presence was exceptional, I believe it was a means to an end," she says. "August's inimitable strength was moxie. He was fiercely determined to transform the people, spaces, and ideas around him—with a high degree of kindness and integrity."