As saturated as the market for social media platforms may seem, Courtne Smith, co-founder and CEO of the app NewNew, thinks she's found a way in—and Snap, as well as investors including Andreessen Horowitz, Founders Fund, and Will Smith, would agree.
NewNew, which launched in September, allows users to create personalized polls and communities around certain topics. There are similar social polling apps like Wishbone, but NewNew has more dynamic uploads with video clips and GIFs as opposed to just static images. And while there's the capacity to conduct polls on all the major social platforms, to Smith they've been "throwaway features"—and by NewNew digging deeper in the space, the app can find its own lane to contend in the crowded landscape.
"You can't be building the next Instagram or the next TikTok or the next Snapchat—that's not going to happen for you anymore," Smith says. "It's about building your own vertical and owning the vertical that you're building in."
Prior to NewNew, Smith spent more than a decade on rapper Drake's management team handling business endeavors and special projects. Smith also cofounded the hair extension brand Tharen, as well as Suprize, a prize giveaway app that eventually pivoted to become NewNew, which has now made Smith one of fewer than 20 Black female founders in tech to build a VC-backed startup with an eight-figure valuation.
That said, Smith says throughout her career she really never viewed herself as a "Black, female entrepreneur"—she was just an entrepreneur.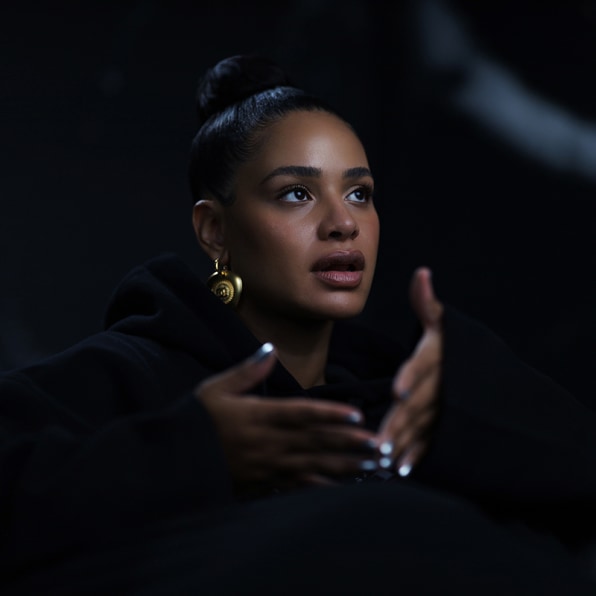 "But it became a thing when I got into tech," she says. "I didn't even know about the struggles of other Black women had because I was so heads down, focused on myself. And then when I came up for air, I was like, 'Oh shit—this is a real problem.'"
According to a survey by Women Who Tech, nearly 50% of women founders were told they would raise more money if they were a man; 59% said they were explicitly propositioned for sex in exchange for investment funding and introductions; and women of color founders were harassed more frequently than white women founders.
While Smith didn't go into specific details, she said that in building up NewNew, she had a lot "uncomfortable encounters," both "blatant and passive," involving racism and sexism.
"It's very easy to get defeated about going through some of those experiences. But for me, it's just about focusing on yourself and knowing that you deserve a seat at the table," Smith says. "That's how I always thought about it in my head: I still believe that I should be here. So I'm going to keep pushing through until someone takes me seriously."
Smith has indeed been taken seriously, not just by top-tier investors, but also by Snap as one of nine companies selected for Yellow Collabs, a 13-week intensive program designed for companies to work closely with Snap's team to learn how to better use its tools and features.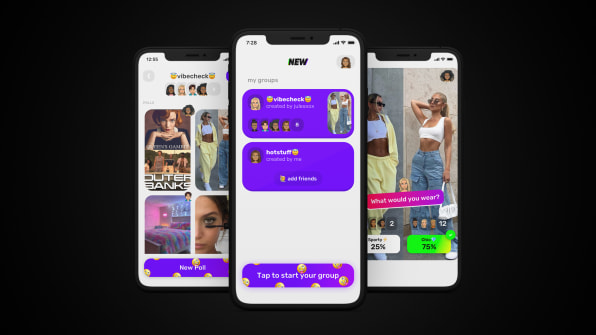 Since Snap and NewNew's target demos overlap, Smith says her team initially reached out to integrate Snap's log-in function for their users. But someone at Snap took an interest in NewNew and asked Smith if they could share what she was doing with their team. News of NewNew made it up to Snap's head of product who suggested Smith apply for Yellow Collabs. She did and recently completed the program which started in September. In going through Yellow Collabs, NewNew was selected as a partner for Snap's Story Kit, a function allowing developers to integrate Snap Stories in their apps.
For Smith, that means stacking NewNew's vertical as one of the premier social polling apps even higher.
"It was really cool for us to openly be able to talk to them, openly be able to share ideas that we had," Smith says. "To me, that was almost shocking in a way, because you don't expect a company as big as Snap to give a damn about small companies."
To a certain degree, Smith knows her success in tech is somewhat of anomaly.
"I don't look like the typical tech founder, and I don't come from the typical tech background," she says. "But I make a strong enough case for myself."
"Granted I do have scars and there was stuff I had to go through that was not great," she continues. "But just being laser focused on the product and not getting kind of caught up in the bad experiences or the bad meetings, just full speed ahead and keeping my head down, worked in my favor."