The Raspberry Pi wasn't always supposed to be a cheap PC replacement.
When the first version of this miniature computer arrived in 2012, it didn't yet have its own version of the Linux operating system, and the hardware was so slow that reviewers discouraged using it for general-purpose computing. It was foremost a device for education and experimentation—everything else was secondary.
The new Raspberry Pi 400 feels like a statement to the contrary. Whereas previous Pis exposed their bare circuit boards to the world, this one comes encased in a slim keyboard. It costs $70 by itself, but for $100 you can bundle it with a wired mouse, a power supply, a cable for connecting to a monitor or TV, and a MicroSD card for running Raspberry Pi's Linux-based operating system.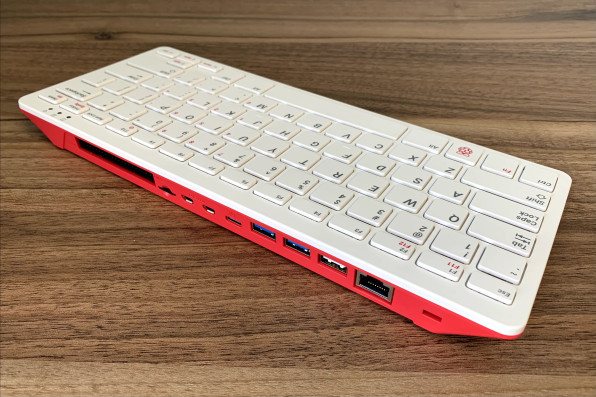 The message is clear: Yes, you can treat this like a real computer now. Using Raspberry Pi OS's built-in Chromium browser is a bit like using a low-budget Chromebook with an external monitor. If you're feeling adventurous, you can install other Linux apps like LibreOffice for document creation or GIMP for Photoshop-like editing. I plugged in a Logitech webcam and had no issues using Google Duo for video chat. With some extra legwork, I was even able to connect my printer. While the hardware is still on the pokey side, it works for basic computing.
But now that the Raspberry Pi is becoming more PC-like, I'm hoping it'll take the next logical step and become a full-blown laptop. There's so much you can do with this little hackable computer, it'd be shame not to carry it around everywhere.
One device, many possibilities
The real magic of the Raspberry Pi is not merely that it's a cheap computer, but that it's multiple cheap computers rolled into one. Whatever you want the Raspberry Pi to be, there's a good chance you can bring it into existence just by installing another operating system.
After playing around a bit with Raspberry Pi OS, for instance, I popped out the preloaded MicroSD card and threw in a different one with a Pi-optimized version of Android. It was not a flawless experience—animations sometimes stuttered, and I ran into problems with certain apps—but the full-screen Android experience was great for focusing on reading and writing.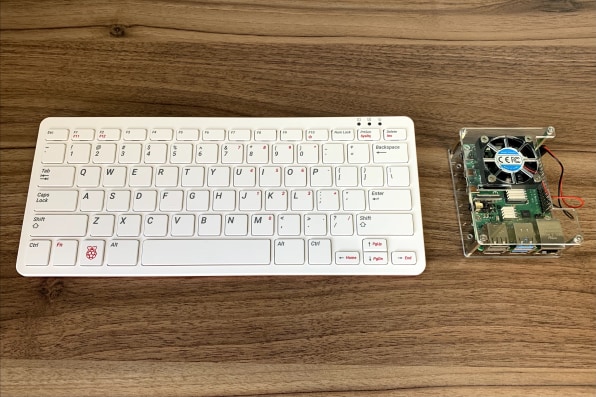 I scrounged up another SD card and loaded it with Recalbox, an operating system dedicated to emulating classic video game consoles. Although I've used console emulators before (including on the aforementioned Android installation) this was a totally different experience, with a slick menu for navigating between consoles, beautiful cover art for all the games, and even achievement support like you find on modern gaming systems.
That's not the extent of what you can do. Raspberry Pi's own imaging tool provides lots of other operating systems to install, from Ubuntu and Arch Linux to a retro-style operating system called RISC OS. I even tried (but failed, for now) to get an experimental, unauthorized Raspberry Pi version of Windows up and running.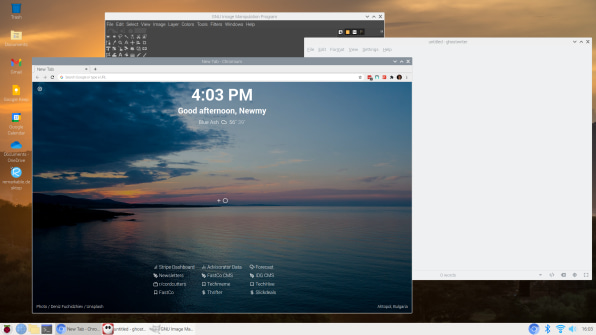 In all cases, my experience with the Raspberry Pi 400 completely changed just by swapping out the MicroSD card. That's something you can't get with most other computers.
The case for a portable Pi
The more I used the Raspberry Pi 400, the more I wished its transformative properties were available in something more portable. Before long, I was dreaming of using my little Android computer on the couch, or playing classic console games on the road once traveling becomes a thing again. Essentially, I wished that this keyboard computer also had a trackpad, display, and internal battery hooked up to it.
There are ways to turn an existing Raspberry Pi into a laptop—or something close to it—already. Some companies offer self-assembled laptop kits, and a recent Kickstarter campaign is promising a full laptop where you just slide a Raspberry Pi into a slot on the back. If you're feeling extra adventurous, you can print a 3D case and cobble together the requisite parts on your own.
Those solutions all look pretty clunky, though, and they all involve at least some degree of additional hardware setup. The whole point of the Raspberry Pi 400 is to streamline the design; the folks at the Raspberry Pi Foundation even redesigned the device's circuit board to better fit inside a slim keyboard case.
That's not to say building a Raspberry Pi laptop would be trivial. It would involve some tough calls over screen size and display quality, and it would introduce battery-life considerations that don't apply to desktop computing. The resulting product would have to be a lot more expensive.
Still, with its all-in-one design, the Raspberry Pi 400 seems like a step toward turning its programmable computer into a portable one. All it needs are a few more missing pieces.