It has not been a good year for sleep. Between a pandemic, social unrest, an election, and the stresses of working (or learning, or teaching) from home, millions of us are experiencing "coronasomnia." That's why two months ago, I started to take a CBN tincture, in hopes that it would combat the hours of blue light exposure and heightened holiday-related anxiety that were plaguing my sleep habits.
With one 50-milliliter drop of Ned Sleep Blend—half the recommended dose—I drifted into a peaceful, uninterrupted sleep for eight full hours (two more hours than usual, for me). I've since incorporated a half-dropper of Ned into my bedtime routine—and while it lacks the instant catalyst that melatonin or over-the-counter medications provide, it settles my mind into a restful, deep sleep as soon as I shut my eyes.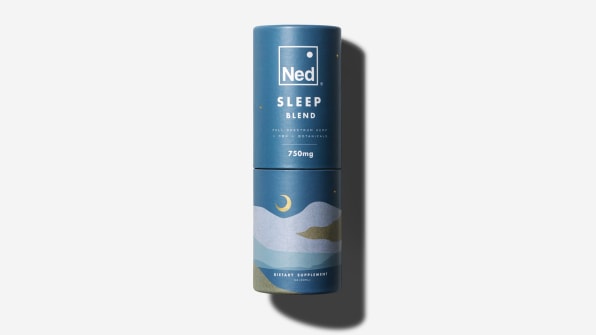 "We all have hectic days and tend to stay up really late, and our brains get confused about when to be alert, when to be sleepy, and when to be sleeping deeply," explains Dr. Nitun Verma, a San Francisco sleep physician and spokesperson for the American Academy of Sleep Medicine. "Once upon a time when we all used to work outdoors, the sun would go down over a period of hours. It would get cooler, darker, quieter, and your brain would get the sense that it was time to go to sleep."
If you're in search of a good night's sleep, don't worry—you can still help your brain recognize it's time to wind down just by building out a routine, Verma says. For example, he recommends cleaning up your workstation when you're done with work for the day. "That concept helps your brain understand, 'Hey this activity is over. And now I get to have personal time and to relax.' It shows your brain that you're getting ready to sleep."
For the rest of your evening, here are some of our best suggestions for calming down, cozying up, and getting some shut-eye.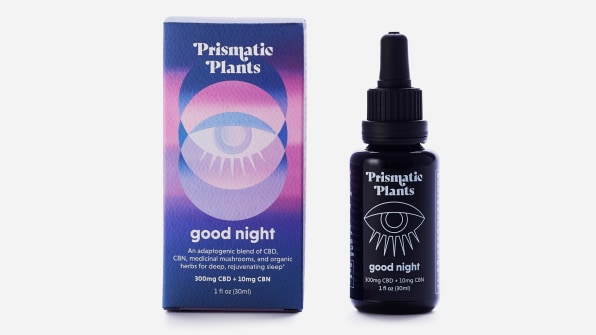 Prismatic Plants Goodnight Tincture
Prismatic Plants' Goodnight Tincture combines all the relaxing elements of cannabis without the unwanted side effects: "CBD by itself is not sedative—what it does do is help calm a busy, racing mind," says founder Sarah Polansky. "If you need assistance in making your mind and body tired, then CBN is what you will want to take." Good Night features a blend of adaptogens, MCT oil, and terpenes with 300 milligrams of full-spectrum CBD and 10 milligrams of CBN—enough to help you doze off, but not so much that you get a "cannabis hangover" the next morning, Polansky says.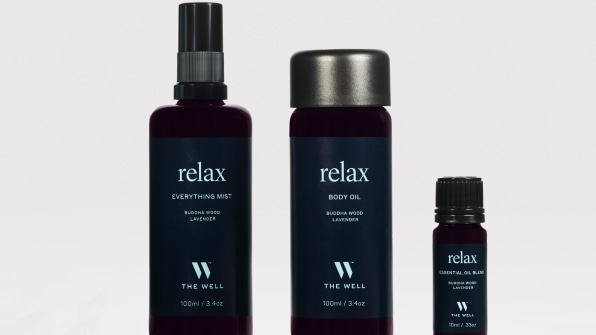 The Well Relax Bundle
Whether you believe in the power of aromatherapy or just like the scent of lavender, the Well's Relax self-care bundle is an excellent way to wind down at the end of a long day. Staff editor Lara Sorokanich says: "Before I get into bed, I spray this all over my pillows and sheets. It feels so luxurious and relaxing to get into a lavender-scented bed. Clinically backed or not, the smell definitely makes me feel happy as I'm dozing off."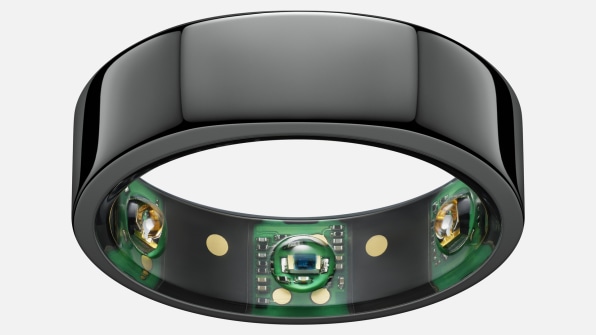 Oura Ring
While the Oura Ring might not put you into a deep sleep, it can certainly tell you what happens once you get there. Slip this unintrusive smart band onto your finger to track health progress throughout the day and night; it monitors everything from step count to sleep quality. By automatically measuring your sleep balance against your daily activities via the accompanying Oura app, you can be one step closer to determining daytime habits (looking at you, afternoon coffee) that keep you up at night.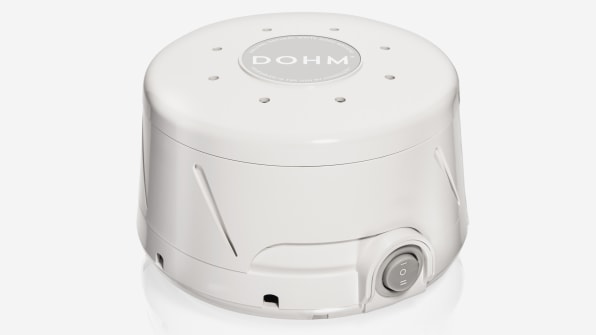 Dohm Natural Sound Machines
White noise is a city dweller's best friend. The dull hum of a sound machine can help drown out disruptions like construction during the day or noisy neighbors at night without adding to the chaos. The mechanical whirling of white noise works by creating a higher-volume baseline, meaning loud, jarring noises don't make you jump. We like these simple, space-conscious Dohm sound machines that enhance an atmosphere with gentle sleep-inducing noise and sleek, inoffensive design.
The Nue Co. Sleep Drops
Plant-driven supplement brand the Nue Co.'s Sleep Suite includes a tincture, capsules, and a magnesium spray that's absorbed through the skin and can be taken individually or in tandem to best tackle your level of restlessness. "My approach to a good night's sleep is to relax and unwind, limiting any screen usage an hour before bed and following the same nightly routine," says Jules Miller, founder and CEO of the Nue Co. "I use our Magnesium Ease spray on my joints and stomach. Half an hour before bed, I place 12 Sleep Drops under my tongue to help me to fall asleep. I also like to ensure that the room is in complete darkness to minimize any disruption caused by light."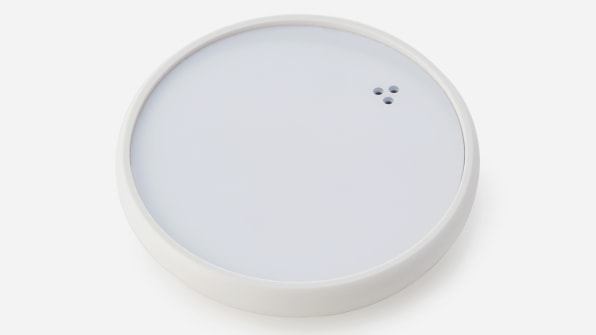 Moon Beam Sleep Aid
This clever, flat disc acts as a sleep-inducing metronome, projecting gentle pulses of blue light onto your ceiling for 8 or 20 minutes. Moon Beam's process has a dual purpose: calming your busy mind through distraction and slowing down your breathing and metabolism, readying your body for sleep. Users inhale and exhale in time with the dimming and brightening of the blue glow, eventually drifting from 11 breaths per minute to 6.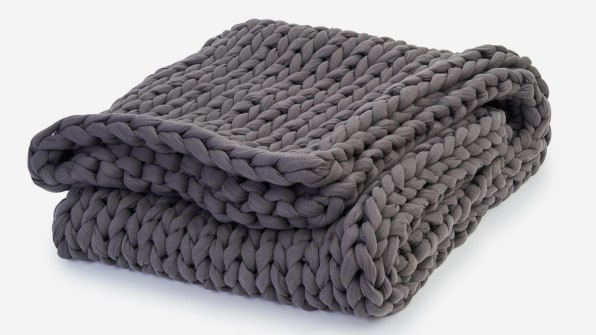 Bearaby Cotton Napper
We love the deliciously heavy comfort of the chunky knit Bearaby Cotton Napper. The hype of weighted blankets comes from studies that found the all-encompassing pressure can help release serotonin in the body while reducing the stress hormone cortisol. But unlike fellow weighted blankets on the market, Bearaby's beautiful, sustainable throws get their heft from thick woven cord that also serves as a mechanism to keep sleepers from getting sweaty.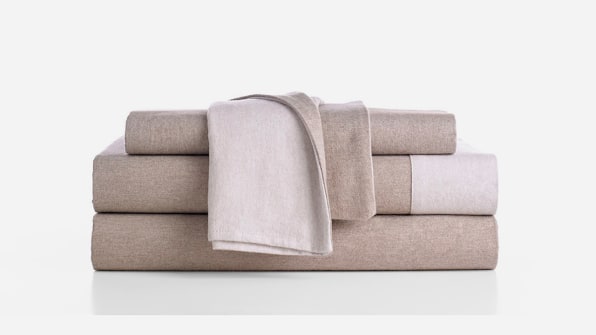 Riley Reversible Flannel Sheet Set
These cotton flannel sheets from Riley are thick and plush, but breathable enough for those who sleep hot. While perfect sleep temperature is subjective, a layer of lightweight warmth can keep you comfortable all night long in chillier months.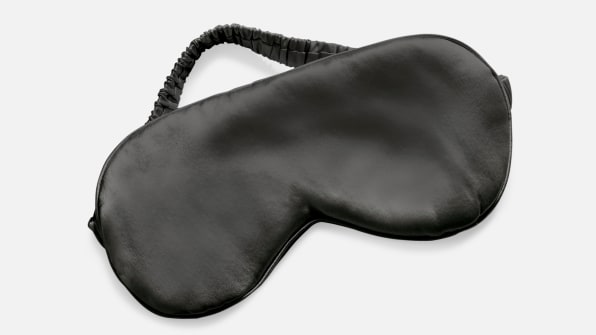 Brooklinen Mulberry Silk Eye Mask
Don't underestimate the power of a pitch-black room. While blackout curtains certainly help, the glow of charging electronics and late-night rumblings of my partner and cat can shake me out of a deep sleep in an instant. As far as simple solutions go, a sleep mask makes a huge difference by minimizing disruptions. Even better if it's made of luxurious silk, like this one from Brooklinen, that doesn't tug my skin and lashes through a night of tossing and turning.
Fast Company may receive revenue for some links to products on our site.