The question of how to responsibly see close friends in a pandemic on a chilly night is a vexing one, especially when you're living in Brooklyn, one of the most densely packed spots in the United States. The answer, I've discovered, is a stainless steel ring of fire. 
On a recent weekend, in a socially distanced Brooklyn backyard, the centers of attention were a birthday girl and the heat coming off the "bonfire," a 20-pound, 14-inch mid-size version of the Solo Stove line of wood-burning fire pits. If you haven't seen one of the three models in action yet, you likely will soon. The four-year-old invention has become something of a must-have pandemic item, thanks to an ingenious way of blazing wood, which puts off an ample amount of heat, eliminates messy cleanup, and doesn't require people who get lost in the flames to go home and wash their hair before bed.   
The Solo Stove fire is built from the bottom up. The 19.5-inch base, where the wood sits, has ample vent holes, which send preheated oxygen skyward through dual stainless steel walls, and out upper vent holes just below the stove's apex. What that all adds up to: The stove creates secondary burn with a more complete combustion and a 700-to-1,000-degree conflagration with a lot less smoke than you're used to.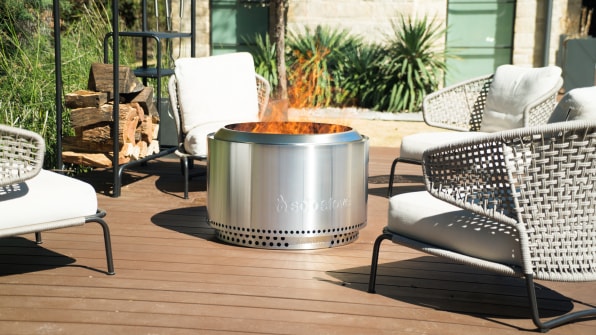 Clay Risen, the owner of the particular Solo Stove I experienced—and planner of his wife's seven-person birthday soiree—says he's so happy with his purchase that he'd "be out there with a glass of bourbon every night, if only cheap firewood was easy to come by in Brooklyn." 
"There's no denying that relaxing around a fire is a primal activity," says Solo Stove CEO John Merris. It is not, however, human nature, which may come as a surprise to so many of us who love sitting around a campfire—passing a bottle, telling ghost stories, roasting marshmallows, and singing along to an acoustic guitar. The positive emotional and intellectual connotations of sitting around a fire are cultural, a tradition coming out of colder European countries with a history of celebratory bonfires, says Daniel M.T. Fessler, a professor of evolutionary anthropology at UCLA. In the United States, that tradition has been further shaped by fantasies of rugged individualism and the idea of camping as a recreational pastime, especially this year. 
Fessler, author of the 2006 anthropological study "A Burning Desire," explains that fire has a deep evolutionary history long predating our species and that controlling it was a key to human development. Unlike beer-bellied gorillas, humans have both big brains that need a lot of energy and small digestive tracts, which evolved through a much higher quality diet, thanks to meat and tubers cooked on an open flame. Animals had already done the hard work of digesting nutrients from plants and such; fire reduced pathogens and parasites. As a result, fire allowed for bigger human brains, the kind that, 790,000 years later, ensures that those warming themselves around the smoke-less blaze won't piss off the condo association.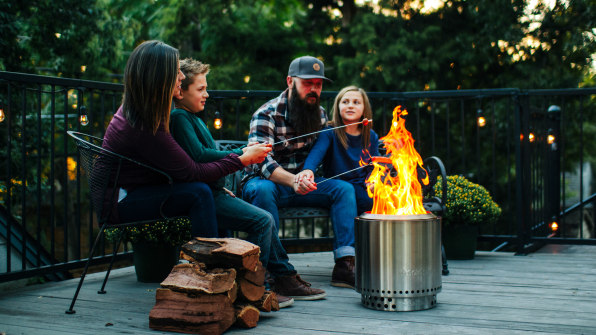 "Fire has been critical in human evolution, and our minds reflect this. Throughout human history, young kids have always wanted to learn about fire. But in societies where fire is still an important everyday tool, once kids understand and harness its power, it is no more fascinating than a Leatherman," says Fessler, who also directs UCLA's new Bedari Kindness Institute. "In such societies, fire is not the focal point of entertainment or social interaction. Americans, who have the luxury of not needing fire, find it nostalgic, reassuring, and comforting." 
But this winter, when entertaining is supposed to be strictly outdoors, fire is both comforting and practical. Solo Stove reports that sales have been up 30%, year over year, since COVID-19 hit in March—and rose even further in November, typically the company's busiest month. Solo Stove says that it has captured 75% of the wood-burning fire pit "space." (Think ceramic bowls and mini-chimneys.) Currently, all three fire pit models are on backorder until early 2021.
"We had a lot of momentum coming into the year and expected a solid growth trajectory, but of course we couldn't have predicted how many suburban homeowners, RV escapists, and even urban dwellers looked to our fire pits as a way to get through the pandemic," says Cristy Hatter, VP of brand. "Fire has a way of matching our moods."
Originally, the founders of the Dallas-based company had a much humbler goal in mind, to boil water for two without fossil fuel in 10 minutes. Brothers Jeff and Spencer Jan and their young families were living far apart—Texas and Shanghai, specifically—and decided to start a business together to be closer. A lot closer, as it turns out: In 2010, they started working on their original lone product, an ultralight camping stove banged out in Jeff's garage.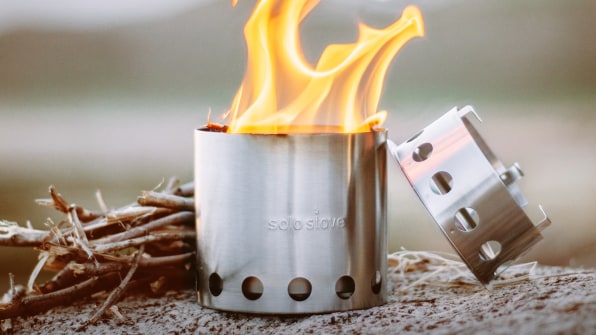 Weighing just nine ounces, the easily portable Solo Stove Lite was a hit with backpackers because it didn't require propane to get the coffee and oatmeal going. All you need is a box of matches and some twigs, thistles, and pine cones. The Lite, however, was designed to be used by just one or two people, so the brothers introduced the Titan for two to four campers. Then, in 2014, they raised $102,000 on Kickstarter for the 2.2-pound Campfire model, which feeds a family of four or more.
The crowd-funding platform also played a major role in the company's expansion into fire pits. In 2016, Solo Stove raised $1.2 million for its Bonfire model, then two years later, a whopping $1.7 million for the Yukon and Ranger versions. In 2018, the brothers stepped away from the day-to-day operations and Merris was brought in to manage Solo Stove's growth from startup to industry standard. The bulk of company sales remain primarily direct-to-consumer, but Solo Stove products are now available at Home Depot and REI.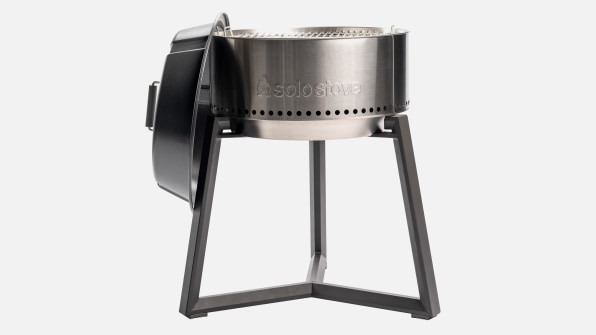 In September—following pandemic supplier issues—Solo Stove finally began fulfilling 1,000 pre-sold orders of its new portable Grill, which only needs a four-pound bag of charcoal to get hot in 15 minutes. The grill is a departure from what the fire pit offers because it emits more smoke. Firing up charcoal will always take longer than turning on gas and cuddling under a blanket around roasting animal flesh, theoretically. 
Solo Stove's preorders of an unreviewed product points to the company having already reached the enviable position of stout brand loyalty—due, in large part, to the personal stories of familial coziness around the fire, evolutionary or otherwise. 
Fast Company may receive revenue for links to products on our site.