Apple released a pair of wireless over-ear headphones yesterday, the latest in its AirPods line. The pricey $549 AirPods Max also come with a very confusing carrying case, which became the butt of jokes across Twitter. (Pun intended.) Is it a purse? Is it a bra with a handle? Is it a Minion butt? Apple enthusiasts weren't mad, just disappointed.
But while Twitter did what it does best—offering the spiciest hot takes—experts say that AirPods Max are actually a strong design showing in a crowded market. (The case is a different matter. More on that later.)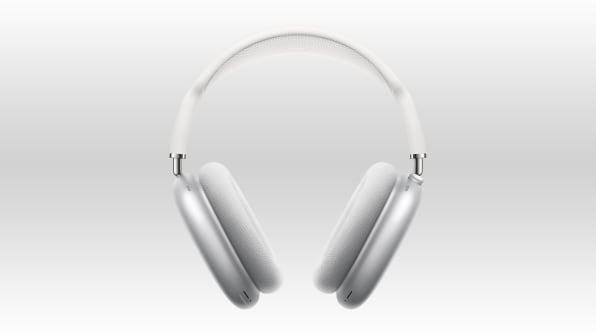 This isn't the first time a new Apple release has been fervently criticized. In fact, it's part of a "bash now, buy later" Apple trend. Take the iPad, which initially drew strong backlash. Or the 2016 launch of the original AirPods, which was criticized for the price ($159) and the fact that they're so darn easy to lose. Now, AirPods are Apple's second most popular product, behind the iPhone, and have 71% of the totally wireless headphone market revenue, according to 9 to 5 Mac.
The noise-canceling AirPods Max headphones feature rounded over-ear cups with memory foam, and they can independently pivot and rotate to fit the contours of your head. Telescoping headband arms extend to help get the right fit, and a breathable mesh headband is designed to distribute the weight of the headphones evenly. The headphones come in five colors with a soft metallic finish.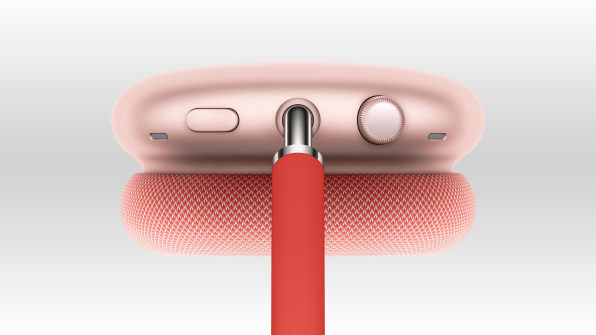 It's clear Apple has found a foothold in the space, and its new over-ear addition gives Bose and Sony more to worry about. Mark Rolston, founder and chief creative director of Argo, says that on a pure design basis, he finds them "beautiful." In fact, he's already ordered a pair.
On a technical level, the headphones have a simple elegance. Though he has a few surface-level critiques, such as the bulbous shape of the ear pieces, which Rolston says aren't efficient, overall he thinks the headphones are an example of sophisticated simplicity. Unlike other headphones, these headphone ear cups don't have any visible part lines that indicate how they were assembled; they appear to be made as one cast piece.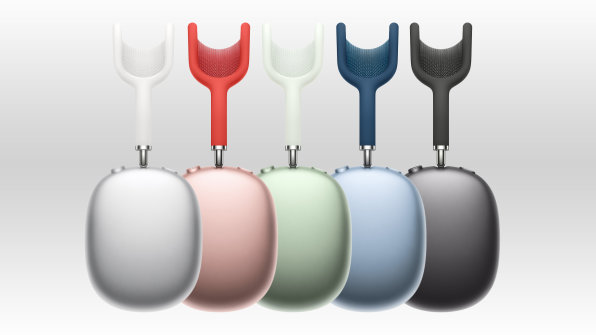 Rolston calls the headband that goes over the crown of the head "gorgeous." Whereas Bose headphones might have a clunky black plastic headband, the AirPods Max have "one of the simpler crowns of any set of headphones," says Rolston. He hypothesized it's likely made of one cast soft-rubber-coated piece of metal with the netting in between. He appreciates how simple the headband is—it seems to be one piece, with just a rod at each end connecting it to the ear cups.
"The headband is really interesting compared to many others," adds Gadi Amit, founder and principal designer of New Deal Design. "The way they solved all the mechanical problems of different sizes and angels was very elegant."
The headphones also stand out from a style perspective. Amit says headphones are often aggressive and masculine, downplaying color while emphasizing treatments like leather in an effort to play into the luxury goods market. The AirPods Max introduce a softer aesthetic, with round shapes and clean ear cups free of any hints of a "hideous logo," which he calls a "courageous design decision." (For his part, Rolston wondered if that risks brand anonymity in a crowded field.)
Amit hypothesizes that this is an evolution of the Apple aesthetic from crisp geometric forms like with the iPhone 12, back to the softer style and curves of the original iPhone. "What you see with these headphones is that the ear cups are more puffed and organic," he says, comparing them to pebbles. Rolston also praised Apple's selection of materials.
The style of the AirPods Max is a strategic move in a crowded market, says Rolston. The line is complementary to Beats, an Apple sibling brand, says Rolston. Whereas Beats offers lots of variations so a user can buy headphones that match their personal style and specific music tastes, "Apple and their aesthetic is going straight down the center," he says. "It's not saying anything about the music you listen to." That friendly genericism makes the headphone set easily adoptable. That is, if you can afford it.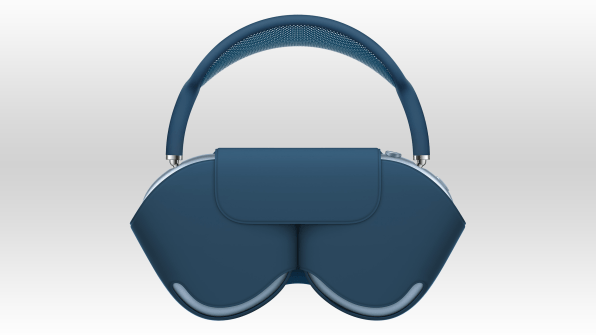 The AirPods Max case, however? It shows that Apple should stick to what it does best. Which is . . . not that. While it's designed to preserve supply charge, it's a miss on both form and function, Rolston says. He points out that it only covers half the product, so if you're traveling, the headband is just left to fend for itself among the elements. "It looks ridiculous," he says.
The flat case and exposed quasi-handle/headband also make the case look like another fashion accessory: a purse. Amit says the decision to make a case in which the headphones lie flat, rather than requiring the user to fold them up, is a nice one but left him pondering what the design team's intention was. "Maybe they see the product more as something that stays at home or in the office, or maybe you're actually carrying it around the neck," Amit guessed.
"The fact that [the headphones are] $550—it's a luxury product," Amit says. "I would understand why people are frustrated or a little bit down by a minimalistic approach," to the case.
Twitter be damned, AirPods Max passes the test when put under the microscope of these designers. And as Rolston says, the real test? How they sound.