A cacophony of colorful wares and foodstuffs—vats of exotic produce and dried fish, artisanal handicrafts, household items—vie for your attention at the Cebu City Carbon Market, a boisterous farmer's market in the Philippines. Yet Rex Lor blows right past the stalls and storefronts and into the arcade's backstage where, in his words, "the magic happens." Lor zeroes in on a man as he upcycles discarded beach umbrellas into tents using an ingeniously modified set of pliers that double as a soldering iron. As Lor watches him connect the spokes of dismantled umbrellas, he notes that the tool's handles have also been adapted into screwdrivers; one flat, one Phillips-head. A DIY masterpiece with multiple uses to achieve maximum symphonic efficiency while creating clever economic activity out of trash.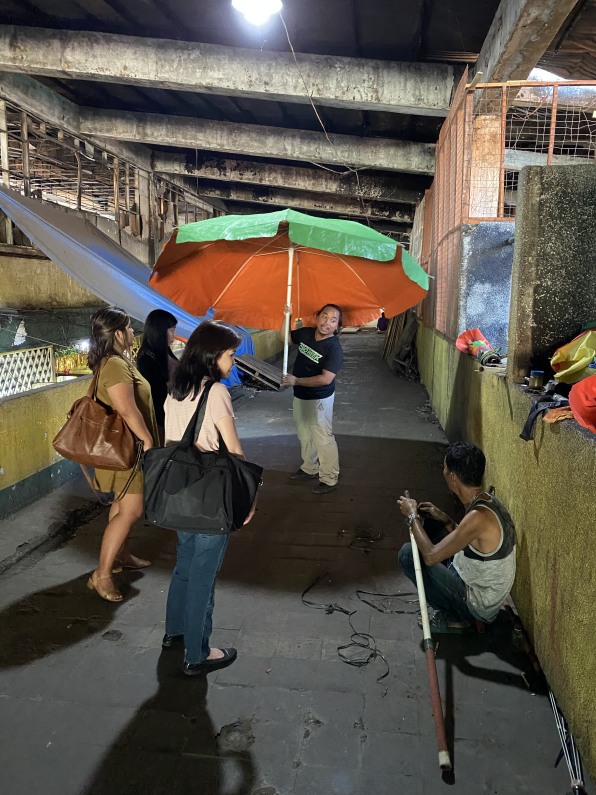 Lor is the head of Solutions Mapping at the United Nations Development Programme Accelerator Lab in the Philippines, one of 90 such UNDP facilities around the globe. The ethnographic research that he's conducting is the core of a burgeoning global learning network. "We immerse ourselves in the community where innovators thrive, looking at the rigor and the discipline behind what they do," Lor explains. "Then we step into their shoes to gain deeper insight. We focus on the solutions, to provide a third-person view on the processes, the science, and the technical capabilities. At times it can involve weird contraptions from real oddballs. And most of the time, we end up amazed by their genius."
The UNDP Accelerator Lab network, which reaches into 116 countries, seeks to identify and nurture the bottom-up solutions of grassroots innovators in order to help solve the challenges of tomorrow—ending poverty, reducing inequality, tackling the climate crisis—as outlined in the 2030 Sustainability Development Goals. And now, thanks to a breakthrough collaboration of public and private entities, the Hyundai Motor Company is helping to aid and amplify the UNDP Accelerator Labs' quest to solve problems related to mobility and urban living through an open-platform innovation-sharing program called "for Tomorrow." It's a partnership that aims to reimagine sustainable development for the 21st century through the peer-to-peer connection and nurturing of problem solvers.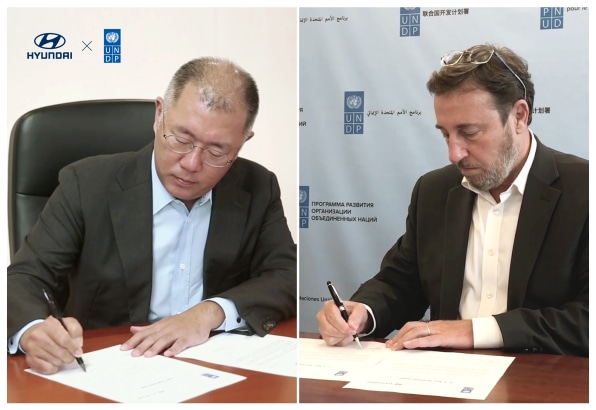 For Hyundai, the partnership is a natural fit, given their deep commitment to the development of clean energy and hydrogen fuel-cell technologies, material science and sustainable manufacturing. "Contributing to sustainable social construction through innovation and technology is in Hyundai Motor Company's DNA and is what we want to do the most," says Global CMO Wonhong Cho. "We probe and address people's true needs and develop our business accordingly, to create a society without carbon emissions and pollution, a society where humans and nature can coexist peacefully. We are here to take up these challenges and call on others to join us."
INNOVATIVE SOLUTIONS FOR COMPLEX ISSUES
The Accelerator Lab network was borne out of a frank assessment by UNDP leadership two years ago that, following decades of success, their development work was no longer generating solutions at the speed and scale required by the complexity of issues confronting society today, from AI to the use of facial recognition in policing (not to mention the impending COVID pandemic). In the past, the organization traditionally created top-down programs. What if, they wondered, they instead looked at small solutions on the ground—at what was already working for those closest to the problem—and sought to expand the innovation's benefit on a larger scale?
That's where the "for Tomorrow" initiative comes in. With the resources that Hyundai provide—for instance, a digital platform designed for users to share their ideas, and development guidance to help steer these ideas toward reality—regional Solution Mappers are able to identify new local innovators and understand how they're tackling issues native to their area. They then share their findings with their counterparts around the globe who, in turn, incorporate or adapt them with their own network of local innovators.
"We're not trying to 'crowdsource' the best idea or, say, the best solar cooker that's out there," Gina Lucarelli, team leader for the UNDP Accelerator Lab network, explains from New York. "We try to see what people are coming up with and what that tells us about the problems we're trying to solve—the needs that neither the market nor the government is helping to meet."
THE GROUND-FLOOR PERSPECTIVE
In the course of her workday as head of Solutions Mapping for the UNDP Accelerator Lab in Sudan—where "there is no such thing as a typical day"—Basma Saeed might make observations in the field, check in with government counterparts, or follow up on the myriad development issues UNDP is trying to solve together with multiple partners. During a recent "solutions fair" in Khartoum, for instance, Saeed liaised between the Sudan Urban Development think tank and the Sudanese Female Cycling Initiative to help nurture environmentally friendly transportation alternatives.
"When policy decisions are so high level, they tend to miss what's happening on the ground," she says. "In this case, the think tank did not have the perspective of women cycling in the city and what infrastructure is missing in order to make it easier for them to interact with it." The insights gained from the cyclists helped to shape urban-planning recommendations while advancing safer public spaces for women.
The COVID-19 pandemic has also caused grassroots innovators to step up across Sudan. Saeed cites three innovations the lab is monitoring: the rise in water-barrel systems stationed outside of mosques that serve as hand-washing stations; the use of contactless delivery and makeshift cashless exchange by local market vendors (goods distributed via chutes while credit is exchanged via smartphone); and the translation of WHO-approved health messages—traditionally recorded in Arabic or English—into tribal and indigenous soundbites and videos.
"For the first time, this gesture spoke to inclusiveness," Saeed says. "Not just the messaging that comes out, particularly in light of a global pandemic, but acknowledgement and inclusion of different tribes and populations that speak other languages."
It's this sharing of fundamental—yet potentially monumental—innovations that makes the "for Tomorrow" platform so promising. It's designed to advance socially-enriching solutions that dovetail with Hyundai's core corporate vision of achieving progress for humanity.
"The brilliance of the "for Tomorrow" platform is that when I see a regular person on the ground putting together a potential solution that can benefit my community, it inspires me to do the same," Saeed says.
Or as Gina Lucarelli puts it: "I've worked in the United Nations for 18 years and I carry around the UN charter in my pocket. Its first three words [are] 'We the people.' This could give totally new meaning to that."