Exploring the great outdoors has been a lifeline throughout quarantine—providing fresh air, wide-open spaces, and minimal human contact. Camping replaced B&Bs. Hiking stood in for hot yoga. And separate socially distanced picnic blankets became our weekend brunch.
Whether you're shopping for a seasoned outdoors person, a new nature explorer, or just someone who's tired of being cooped up in their house, we've compiled a list of the best gifts to help your loved ones navigate the wilderness with ease. Happy trails!
Rumpl Blanket
Send them a soft landing with what is bound to be the cuddliest item on the campsite. Rumpl's puffy, insulated blankets feature a weatherproof ripstop outer that will keep you cozy no matter the elements, and they're filled with a lusciously soft down alternative. They're so light, they can be condensed and transported in a water bottle-size tube, and they come in a range of fun patterns and prints, optional sherpa fleece backing, and enough space for one or two. Whether you're camping out at a national park or cuddling up on your tiny apartment balcony for some fresh air, a Rumpl blanket is sure to keep you cozy and dry, in style.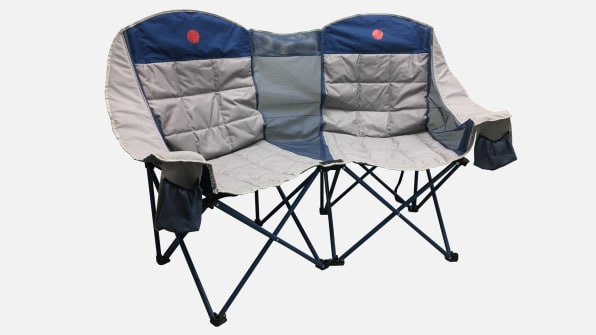 Sherborn Folding Camping Bench
The Sherborn Folding Camping bench is curved and clever—you can reconfigure the folding two-seater to sit side-by-side or curled to huddle around a fire. The double-wide padded loveseat makes a great place for two (or even three) people to snuggle up or can be the perfect lounging spot to put your feet up and read a book. We guarantee it will be the envy of any campsite (or park) it visits.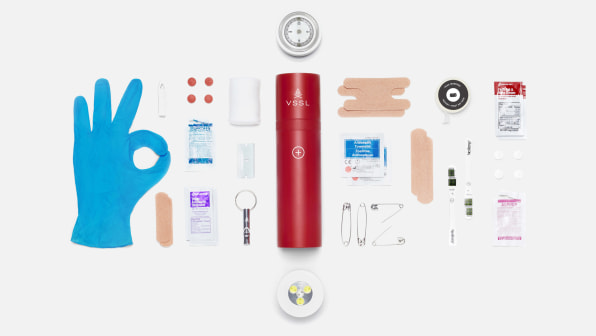 VSSL First Aid Kit
If they love to be prepared (or they never are), the VSSL First Aid Kit is the most practical camping gift of the season. It's sleek, topped with an oil-filled compass, and the size and shape of a flashlight—because it's also a 200-lumen flood flashlight. Inside the tube: multi-use tape, bandages, 3M Steri-Strips, disposable thermometers, antiseptic towelettes, antibiotic and burn creams, aspirin, Advil, tweezers, an emergency whistle, safety pins, gauze, medical gloves, and blister pads. These beautifully designed canisters make great gifts for outdoorsy types, but also for any busy parent who tends to need a first-aid kit.
Travelchair Shorty Camp Couch
The Shorty Camp Couch is a packable loveseat that will make their camping, concerts, and tailgating a breeze. (Whenever the latter happen again.) It's easy to pack, folds up for easy transport, and is lightweight. Bonus: It also features cupholders on each armrest for campfire cocktails.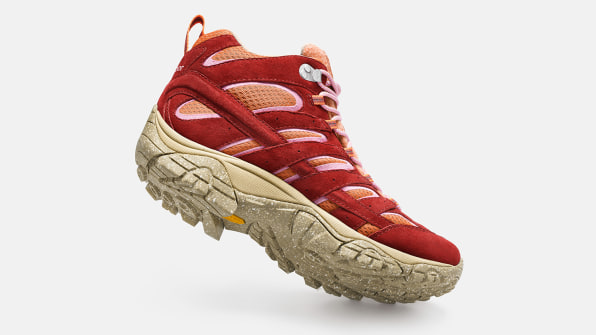 Moab 2 Mid OV Eco Hiking Boots
Upgrade their forest 'fit with these fashionably functional Outdoor Voices x Merrell Hiking Boots. We unpacked the collaboration's launch earlier this year and highlighted their savviest elements, including eco-friendly materials such as recycled mesh, wool,
EVA (ethylene-vinyl acetate), and rubber, and even an algae-based EVA. These brightly-colored booties will keep their feet supported while trekking trails—and their Instagrams from the peak looking extra cute.
MPowerd Luci Solar String Lights + Charger
Beloved by experienced campers and novices alike, MPowerd's 18-foot-long string of solar-powered nodes add a fairy-light vibe to campsites, tents, and even patios and decks back home. They also come with some serious specs: The 100-lumens LED lights have four settings (low, medium, high, and flashlight), are waterproof, and can last up to 20 hours on a single charge. You can charge them via sunlight or a USB port, if you're in a hurry. (You can also use the solar charger to juice up your phone if you're running low on batteries.) And they're lightweight, which makes them a practical, ambience-filled companion for just about any trip.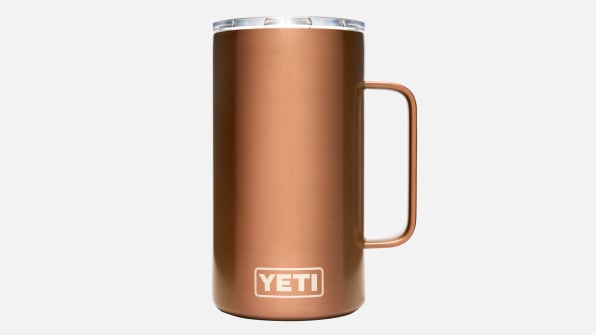 Yeti 24 oz Rambler Mug
This Yeti mug received the seal of approval from Fast Company assistant editor/camping enthusiast Kristin Toussaint: "I've never had a Yeti item before and truly didn't understand the hype, until I got this. Technically I was gifted it, and I'm pretty sure I've used it every day since. I can fill it with ice and put the lid on, take it to the park with my Sodastream bottle full of seltzer, and the ice isn't melted at all by the time I get there, even on a summer day."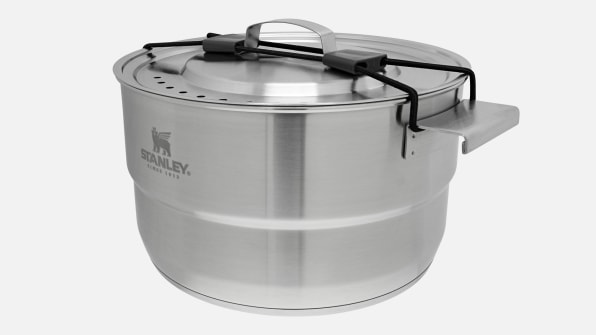 Stanley Adventure Even-Heat Camp Pro Cook Set
This 11-piece cooking set neatly stacks together like a Russian Doll for easy-to-pack cookware for the culinary-minded camper.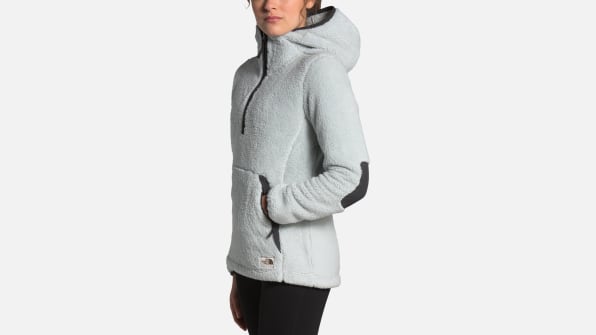 The North Face Campshire Pullover
We take it back—this may be the coziest thing on the campsite. The North Face Campshire Pullover is made from warm, plush 300-weight Sherpa fleece with contrasting woven elbow patches and a hooded ¾-zip collar. It's got North Face's "warmest" designation, meaning it will keep you toasty on its own on cool nights and works great layered under jackets on the coldest nights.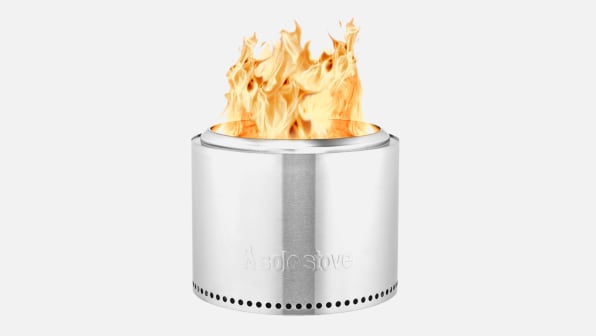 Solo Stove Bonfire
Avoid telltale signal of a newbie camper with a portable stainless steel firepit. The result of a super successful Kickstarter, the Solo Stove's range takes the fuss out of fire-starting and provides a streamlined, minimalist personal flame, perfect for toasting marshmallows, adding campsite ambiance, and warming up their outdoor quarantine lounge.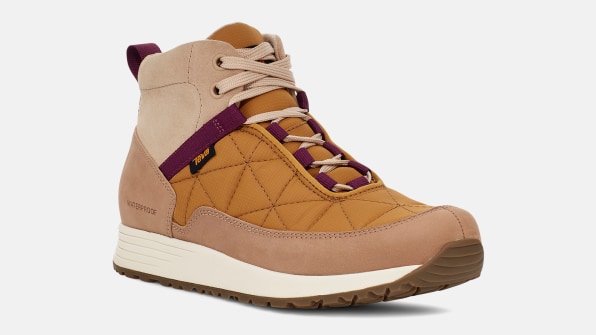 Teva Ember Commute WP
For less rugged but still wet wilderness hikes, Teva's Ember Commute WP boot provides the same comfort and warmth as their beloved Ember Mocs (really we love them) with more structure and support. They're made with waterproof nylon ripstop and leather with grippy Durabrasion Rubber soles and will keep your urban adventurer ready for whatever weather comes their way.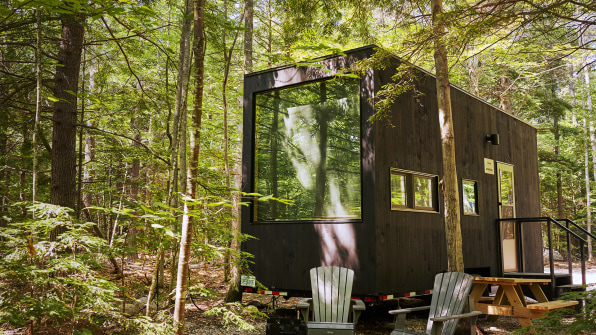 Getaway
Born out of Harvard's Millennial Housing Lab, Getaway offers secluded tiny house-style cabins in the woods—their exact location revealed only after you book. Each outpost is located within a two-hour drive from 14 metro locations, giving city dwellers a very socially distanced escape with zero concierge or fellow guest interaction. The micro cabins are remote but modern, with wall-sized windows that peer into the wilderness and hipster minimalist architecture. They look great on their Instagram, but your loved ones will have to wait to post—Getaway outposts provide a phone lockbox outside each home. It's optional, of course, but gifting a weekend to temporarily unplug sounds pretty priceless to us.
Fast Company may receive revenue for some links to products on our site.