Forget Snapchat or Instagram. The new social network of the moment is a shameless MySpace clone, created by a student developer who was only a few years old during that site's heyday.
The new network in question, SpaceHey, doesn't hold back in its attempt to re-create MySpace's mid-aughts vibe. Sign up for the site, and you can create a profile page with status updates, a personal blog, and a list of hobbies. Visit a friend's page, and you'll see whether they're online along with their current mood. And yes, you can customize your profile.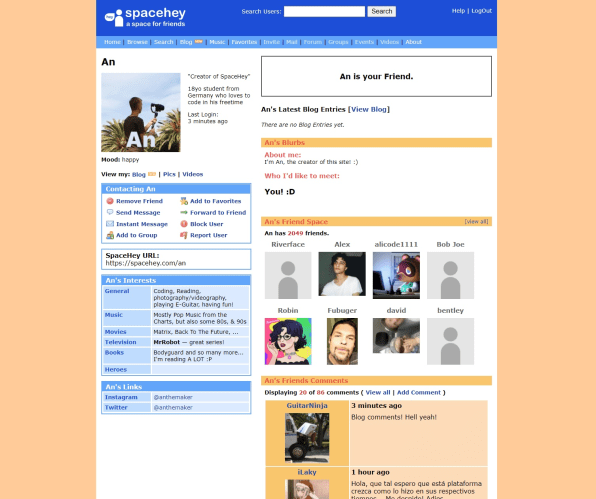 SpaceHey is the project of An—he goes by just his first name online—who says he's an 18-year-old student in Germany. In a nod to MySpace cofounder Tom Anderson, An automatically befriends everyone who creates a profile on the site. On Sunday, he had about 1,000 friends. On Monday, that number had doubled, as sites such as HackerNews and ProductHunt took notice.
Over Twitter, An says that while he never experienced MySpace firsthand, he heard plenty about it on the internet and from older friends.
I came to the conclusion that you can't find something like this kind of social site nowadays anymore."
An, creator of SpaceHey
"I was always really interested in the 'old days' of the internet—I really like the feel of 'old' websites," An says. "I watched a lot of videos about MySpace and looked at a ton of screenshots and Archive.org pages, and I came to the conclusion that you can't find something like this kind of social site nowadays anymore."
In particular, An was drawn to the idea of customization. Like MySpace itself, SpaceHey encourages users to tweak their profiles, either with basic HTML tags (for things like bold, italics, or blinking text) or inline CSS, which lets users deck out their pages with custom fonts and background images. That's not possible on platforms like Twitter and Facebook, he notes, "where the design of every profile looks exactly the same."
Innocence regained
What stands out even more than those stylistic elements, however, is the sense of innocence that SpaceHey managed to capture from the early days of the social web. All profile pages are public; they appear in a menu that anyone can browse through, and anyone can see everyone else's friend lists. There are no news feeds or algorithms vying for your attention, and no pressure to perform for likes or retweets. Chronological comments and the occasional blog post are as dynamic as the site gets.
The result is an experience that feels less addictive than Facebook or Twitter. But of course that's part of the allure. Time and again we've seen those companies fail to tamp down misinformation and toxic content, thanks to deliberate policies or algorithms that reward extremism. Seeing a site like SpaceHey reminds us that the internet wasn't always wired that way.
Whether that old-school approach can sustain itself today is uncertain, but An says he plans to keep working at it. Although he'd hoped to travel the world this year before heading to university, the coronavirus pandemic has kept him at home, and he'll use the time to add new features and respond to feedback. He's also open to suggestions on how to monetize SpaceHey, for which he's currently paying the server costs.
In any case, he never expected the site to get the attention that it has. ProductHunt founder Ryan Hoover has a profile, as does Reddit cofounder Alexis Ohanian (though neither of them are particularly active). At least four users claim to be MySpace Tom (though it's likely that none of them are). Meanwhile, An's number of SpaceHey friends continues to tick upward.
"I'm absolutely blown away by the amount of people visiting SpaceHey, signing up, and actually using it," he says.