The application process for becoming a wildland firefighter is "so bonkers," says Katrina Mohr, who's been fighting wildfires for nine years now. It's difficult to navigate, and the Forest Service, which hires wildland firefighters, doesn't provide in-depth guidance on its website. Unlike the firefighters that work in cities and towns, wildland firefighters are less visible to the public. Fewer people realize theirs is a viable career, and the Forest Service doesn't emphasize recruitment.
Mohr realized she could fill this information gap after offering mentorship through a wildland firefighter Facebook group. Beginning and aspiring firefighters "had so many questions that I felt were so basic for me," she says, so she decided to consolidate answers on a blog she launched in 2018. Called "The 5ft Firefighter," the blog offers intensive information on the wildland firefighter application process, tips on appropriate gear, and what to do if you're fighting a wildfire and you get your period. (Spoiler: Use a DivaCup, not a pad or tampon.)
Since starting her blog, around 50 aspiring wildland firefighters have reached out to Mohr for advice. That number is steadily increasing. In the summer of 2019, Mohr got requests about once every two weeks. This past summer, she received three to four weekly inquiries. Her blog got 80,000 impressions in September. 
Mohr attributes this heightened interest to the increase in severe wildfires in the Western U.S., and the media attention that comes with them. "So many more people know about the job," she says, "especially people who like the seasonal lifestyle or students." In her area, she'll see around 10,000 people applying to firefight in a forest that's looking to fill maybe 50 posts. "Before, unless you lived in a fire-prone area, you didn't really know that was an option for a job," she says.
Mohr grew up in Colorado, a state that's no stranger to massive wildfires, but she had no firefighting aspirations until her mid-twenties. At that time, one of her friends worked as a hotshot, or a firefighter who works at the hottest parts of wildfires. "In the winter, all he did was ski and have a great time off after he'd worked for basically a full year in six months," she says. "That was really intriguing to me."
A former journalist at Alpinist Magazine, Mohr had grown to dislike desk jobs. Relying on advice from her friends in fire (and an ex-smokejumper she'd once interviewed), Mohr applied to around 50 different wildland firefighting jobs. Only two called back.
The station that ultimately hired her took a chance. Mohr hadn't gone to "fire school" before applying, a weeklong training featuring a few core classes, so her station had to put that on for her. (Other prerequisites included a certain amount of higher education in areas like forestry and biology, and/or six months of general work experience.)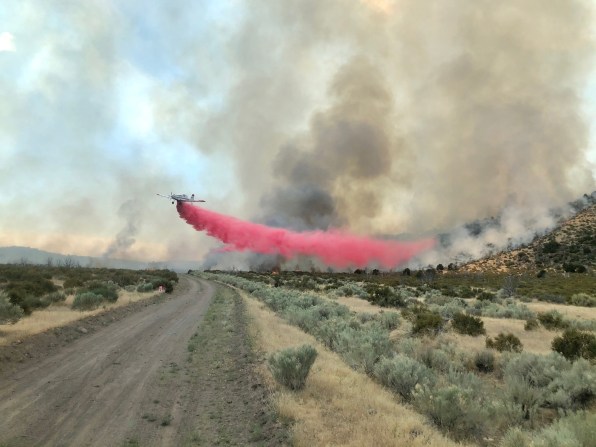 Wildland firefighting is particularly physically demanding, with many days straight on the job during the season, rewarded by months of freedom in the off-season. Luckily, Mohr had arrived in good shape. Every year, wildland firefighters have to take a "pack test," in which firefighters, no matter how long they've been on the job, have to carry 45 pounds on their backs for three miles in 45 minutes. 
At five feet and 110 pounds, Mohr found this challenge "intimidating," but today, she can carry an 80-pound backpack uphill. "Your body's just going to adapt," she says. During a busy season, she'll work 16-hour days for two weeks straight, walking with heavy packs up steep inclines, digging, clearing brush, and moving felled trees. She thrives on the challenge.
The hard work leads to close friendships. "You get this camaraderie that I really didn't expect," she says, born from the intimate conversations that happen on the "fire line." 
Besides being in good shape, Mohr advises aspiring wildland firefighters to call the stations where they're applying to work. Hiring managers tend to put applicants who call at the top of their outreach lists. Applicants should also be prepared not to love where they live during their first year of work. "I've had tons of friends who took jobs in the grasslands of Nebraska, or some rural town in the middle of absolutely nowhere," she says, before they were able to work in more desirable locations.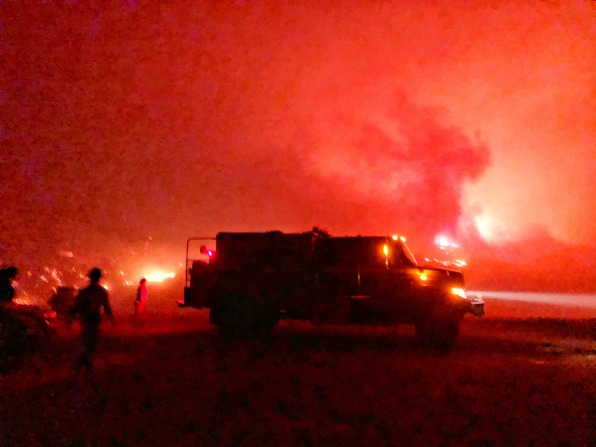 When Mohr started firefighting, she was the only woman on her 20-member crew. Though she's had mostly positive experiences with male colleagues, there are still challenges inherent in fitting into a male-dominated field. She's had to show that she was just as capable as her crewmates. "I may not be able to carry 80 pounds for two hours as fast as someone else can, but I can still do it," she says.
While the guys on her first crew were "awesome," Mohr ended up encountering "subtle biases" later on in her career, when she ascended to squad boss. (On every crew, there's a crew boss, a superintendent that works below them, and then maybe three squad bosses, each leading teams of around five.) Working with other crews, Mohr would sometimes encounter men who didn't expect her to be the squad boss, and would have clearly preferred to be talking with another man.
"That stings . . . but it's also motivating," she says, "just to prove to them that I belong on the fire line and in my position."
 These days, Mohr sees more women in leadership roles than when she started. At her current post, she says women occupy about a third of major leadership positions. They've mentored her on career advancement.
Mohr sticks to mentoring at the entry level. Her most recent emails have come from ex-felons interested in job opportunities newly open to them in California, thanks to a bill Governor Gavin Newsom signed in September. Though inmates have been fighting fires in California for more than 80 years, this bill finally allows the formerly incarcerated to expunge their records and become EMTs, a municipal firefighting requirement.
"My job is to get people into firefighting," says Mohr. The emails from mentees drop off after they've found their way in the profession. "I love that I can give people information to get them started . . . tell them the mistakes I made, so they can skip ahead and not have to do it the hard way, especially [for] other women."