It's a Saturday afternoon at 3:00 in the afternoon, and Taipei Metro's blue line is packed. Riders are standing shoulder to shoulder. Exiting passengers positioned in the interior kindly ask those in front of the doors to make way. All passengers are sporting compulsory masks—including those heading to the four-day Outdoor Show at the Nangang Exhibition Center.
Right inside the exhibition center entrance, a young man is positioned off to the side behind a standup desk. On top sit a laptop and connected security camera. As attendees flow through the doors, the camera captures their body temperature and relays it to the laptop, where their respective temperatures pop up in front of their faces on the screen. They don't have to stop or slow down for the camera, and could easily miss it if they aren't paying attention. Any would-be attendee whose temperature exceeds 99.5 degrees will be turned away and advised to seek medical assistance.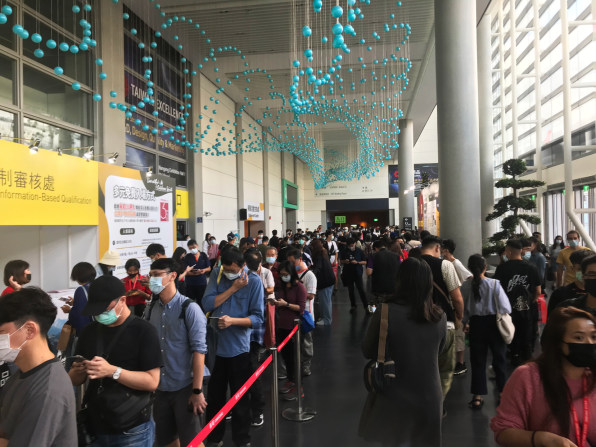 With more than a quarter-million deaths to date, the U.S. continues to be so overwhelmed by the COVID-19 pandemic that even modest examples of normalcy such as allowing outdoor dining at restaurants are being reassessed. Safely holding a large trade show in an indoor venue might sound like a fantasy. But with a population of 23 million, Taiwan to date has had just seven deaths and fewer than 600 total cases, most of which were imported when people flew back to the island. (By contrast, more than 1,400 people have died from the virus in Kansas alone.)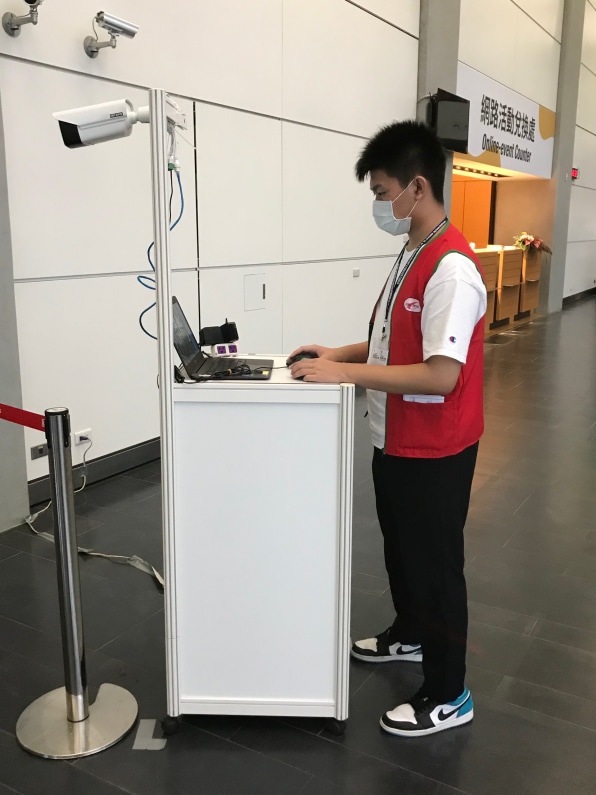 Rene Wu, marketing manager at ultralight tent maker UPON Outdoors, says, "I just feel lucky that we're in Taiwan, a place that is not that much affected by the coronavirus."
The expo's controls are a microcosm of Taiwan's broader initiatives to fight the virus. Temperature checks, hand sanitizer, and sometimes identity registration are not uncommon when entering restaurants, grocery stores, department stores, gyms, movie theaters, public transportation, and government buildings.
A note from abroad: Realizing now that I've been 5 days out of US that many folks back home don't realize how other countries might be living with the 'Rona. Here is what it was like to come to Taiwan. I think we could maybe learn a coupla things… /1 #COVID

— Alice Wu (@thatalicewu) November 21, 2020
Other tables in the exhibition center's lobby have large dispensers of hand sanitizer, which attendees are encouraged to apply. To enter the hall, everyone must scan a QR code on their cell phones, which will enable contact tracing if a subsequent COVID-19 outbreak does occur.
Inside, approximately 75 companies show off their latest outdoor apparel, footwear, sunglasses, chairs, coolers, cook systems, sleeping bags, tents, trekking poles, recreation vehicles, backpacks, bike parts, dive gear, LED lights, and portable power stations. A pitchman demonstrates how to use mini irons designed for outdoor use. Vendors in the food wing sell coffee, craft beer, and braised pork rice, a Taiwanese specialty.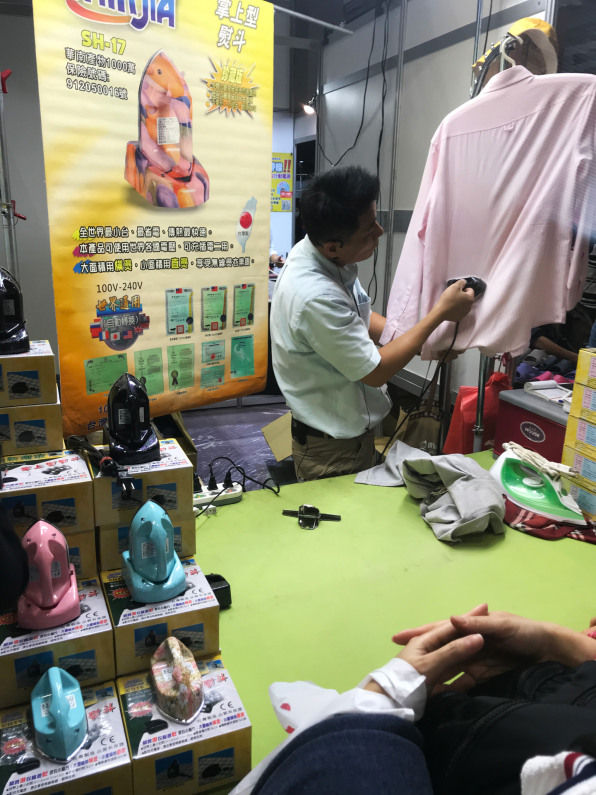 In the crowded hall, social distancing is impossible. The mask stipulation is not strictly enforced, but roughly 90 percent of attendees adhere to it. Others simply go without masks, use them as chin straps, or pull them down when speaking. Although facial expressions are partially obscured by masks, most people appear at ease. Couples stroll hand in hand.
Although indoor life in Taiwan proceeds relatively unencumbered, the pandemic has people looking to beat cabin fever. According to data from travel platform Klook, outdoor bookings through the first half of 2020 increased threefold year over year.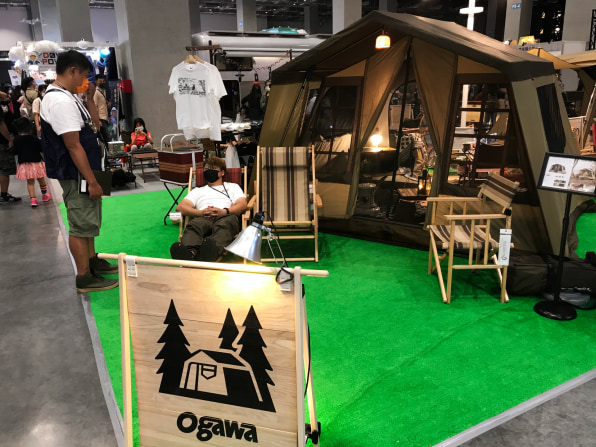 "We can see a lot of people are trying new outdoor activities," says UPON's Wu. "Camping is very popular right now among Taiwanese. Not just camping, but also hiking. We see more bikes out there. People just love to go somewhere to explore more than we used to before."
To buttress the travel sector, the private sector and local municipalities are getting creative, offering nontraditional outdoor activities such as eco-tours, glamping, hang gliding, water sports, and hot-air balloon rides.
Launching new adventures alone, however, is insufficient. Given global mobility restrictions, Taiwan's travel and outdoor businesses continue to languish. To offset this, policymakers introduced stimulus plans for hotel stays, vacation packages, amusement park admissions, and bus tours.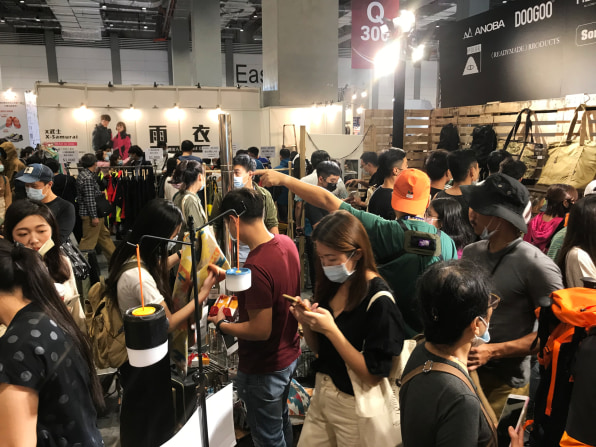 Subsidies that help residents move around the island could help companies such as Shou Hu Xin Keji ("Guardian Heart Technology"), which produces a car rooftop rack that doubles as a dingy. The lid is removable and can be taken out on the water. According to product designer Long-Ping Chou, most buyers are based on Taiwan's west coast but will use the product on the east coast, a natural coastal paradise. "The coastal camping market still has potential," he says.
The bigger issue with tourism is the lack of travelers from other countries contributing to the Taiwanese economy. In January, the country began restricting flights from certain at-risk cities. By mid-March, it had entirely closed off entrance to nonlocals and visa holders. Accordingly, 2020 foreign visitor arrivals are forecast to drop by more than 80 percent, hitting a 40-year low.
For other companies, the travel ban accelerated existing trends. The Scuba Shop Taipei opened its current location in 2012 and at that time relied on foreign customers to buoy its business. Roughly five years ago, though, the customer base began skewing more domestic. Dive instructor Felix Huang said, "Initially, I had very many foreign clients. This year, relatively few." The travel ban has expedited the pivot toward local business.
Other businesses have also pivoted successfully. Taipei-based travel company KKday previously focused on international packages, but COVID-19 caused revenue to plunge 90 percent. Subsequently, the startup began offering local travel experiences that are off the beaten path, such as diving, climbing, and flying journeys. In September, the company closed a $75 million Series C funding round from investors such as Cool Japan Fund, National Development Fund, Monk's Hill Ventures, and MindWorks.
Risks remain, and a future outbreak is certainly possible. But Taiwan's optimism persists. "This year, because of the coronavirus, this outdoor show is one of the world's only outdoor or diving shows, so, we are very happy to be here," Huang says. "But next year, we would be happier if the coronavirus warning has ended and everyone can come here and dive."